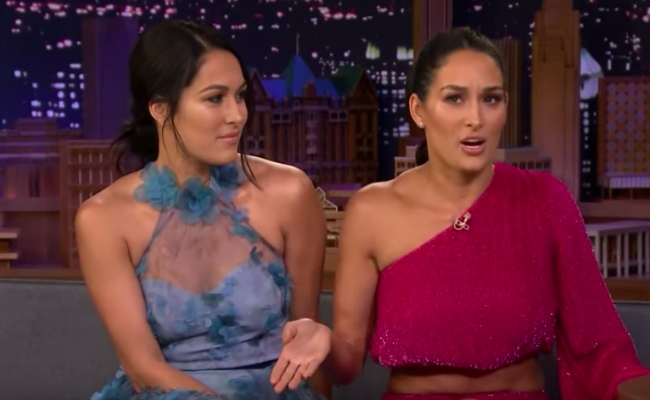 Since Nikki Bella wrestled Ronda Rousey in the main event of Evolution, the Bella Twins haven't performed on WWE programming.
First Brie, then Nikki announced their retirements this spring, but longtime wrestling fans know that retirements in this business rarely take. The Bellas themselves even hinted in March that they might come back to wrestle for the Women's Tag Team Championships.
However, in an appearance on The Tonight Show Starring Jimmy Fallon, Nikki explained why that won't happen.
After revealing that she accidentally spoiled the Game of Thrones finale for both Daniel Bryan and her boyfriend Artem Chigvintsev of Dancing with the Stars, Nikki revealed that she wanted to go back to WWE, but was prevented by injuries.
I really wanted to go back and fight for the tag titles, and, you know, I've always had my neck issues, and after neck surgery, like, it hasn't been okay, and so I felt like I needed to get that checkup before we went back for the tag titles, and then it came back. I herniated the disk above where I had surgery, I have all this inflammation around the metal, and then I have a cyst on my brain. So they were like, "You're done. No more. You're out." So I didn't get a choice.
Nikki didn't give any more details about her health issues and the interview transitioned into promoting The Bellas Podcast. While she'll still be active in the reality TV world, it looks like Evolution might have really been the end of the longest reigning WWE Divas Champion being active in the ring.