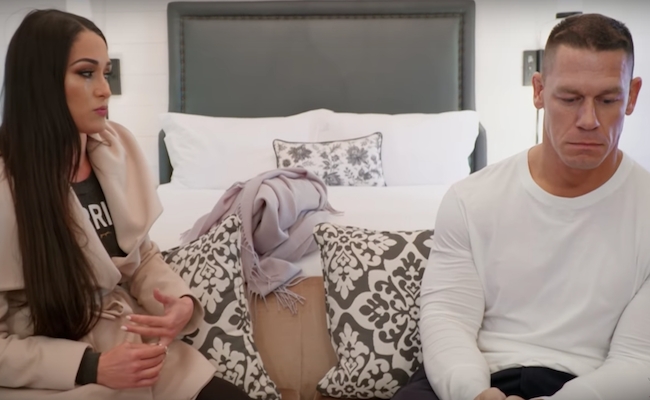 Two months after breaking up, the drama between John Cena and Nikki Bella is apparently still ongoing.
After six years together, Bella abruptly broke it off with Cena. WWE's top star proceeded to go on live television with an impassioned plea for his former fianćee to take him back.
Bella responded with a cringeworthy interview before shooting down rumors that the entire bit was a publicity stunt to set up either an in-ring marriage or something to drum up interest in Total Bellas. What followed was rumors that Cena and Bella had gotten back together, only for rumors to be shot down by Nikki's sister, Brie.
Now, Bella brother JJ has spoken out, only with a bit of a different tune, via Afterbuzz TV's Total Bellas after-show:
"Honestly, my sister asked us not to say anything. Even though we do put our lives out there in the public, my sister [Nikki] is a very private person. And she loves John and what they are going through they want it between them. Even with how public John is, John is super private. The one thing I can tell you for a fact is that it wasn't for the ratings or for the show at all. It actually threw the show for a loop."
Since Cena's television interview and Nikki Bella's response, neither have spoken out publicly on where their relationship stands. Nikki has stayed relatively silent on social media, while Cena has alternated workout videos with self-help tips. It seems like there's a lot up in the air here, but I'm sure they're working through things and we'll figure out what's going on soon enough.
(via 411 mania)