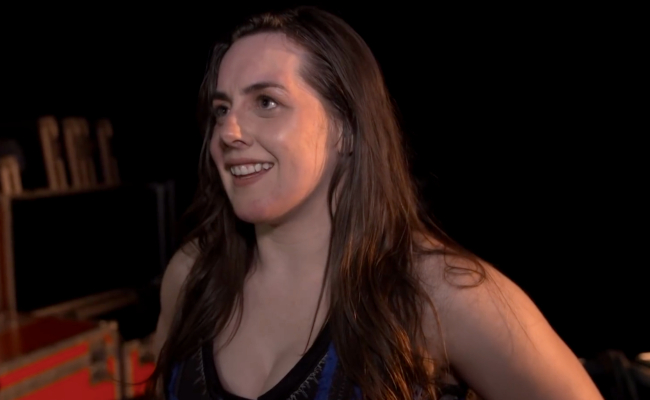 It's always a shame when a wrestler can't compete because of injury, but the other side of that coin is that it often leads to opportunities for other performers who might not have have gotten the chance otherwise. So when word got out that Alexa Bliss was out of this Sunday's Women's Money in the Bank Ladder Match, the concern that I and so many others had for Alexa's health was mitigated just a bit by the hope that Nikki Cross might be called on to replace her.

Nikki's been pretty much ignored since she came up from NXT, taking part in a few early matches, and then largely disappearing from television. She's officially on the Raw roster, but she wasn't even mentioned during the Superstar Shakeup. Then on Monday she showed up on Raw with a much calmer demeanor than she's had in the past. This new Nikki befriended Alexa Bliss and took her place in a Fatal Four-Way between Raw's women's MITB competitors, even helping Alexa set up the ladder to get the briefcase after winning the match. So she was the obvious choice to replace her, although it took WWE a little while to announce it. Late yesterday afternoon, they did just that in a video posted to their official Twitter:
Nikki was obviously excited about the news.
Alexa Bliss herself has even expressed her support for her new friend getting her spot:

What may not be obvious unless you're a big Nikki Cross fan is that this story, including Nikki's new friendlier attitude on Raw, pays off the story she's been telling for months on WWE's YouTube. While Nikki was rarely seen on TV, she was appearing in videos where she hid in dark corners of the arena, monologuing to herself about how she wanted to play. Then last Friday, after a loss to Peyton Royce on Main Event, came a video in which she realizes that hiding in the dark isn't getting her anywhere, and it's time to step out into the light.
That choice leads directly to her friendly approach to Alexa on Monday, and everything that's come since. Hopefully her story with Alexa continues outside the ring, and Nikki gets more in-ring opportunities after Sunday. She's got way too much talent to go back under the bleachers now that she's finally emerged into the light.