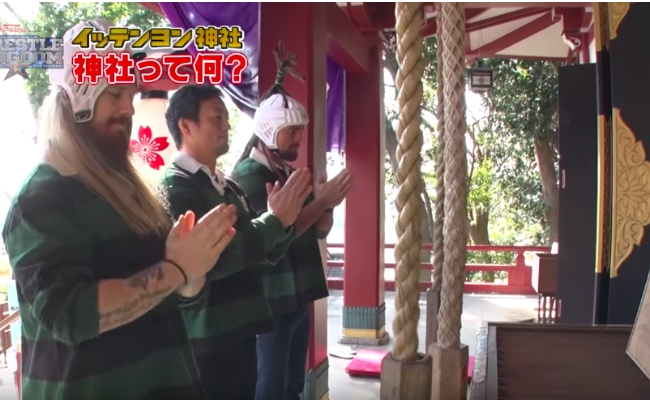 A lot of the build-up to Wrestle Kingdom is similar to that of promotions in other countries' biggest shows of the year, with increasingly high-stakes feuds, lots of hype and speculation about who's going to be on the card, the release of event-specific merch, et cetera. New Japan Pro Wrestling's "New Year's special project," the NJPW January 4th Shrine, however, is a uniquely Japanese method of fan engagement that the promotion explains to their global audience in a video released earlier today.
The video, narrated by Kevin Kelly, is pretty interesting, especially if you, like me, enjoy NJPW and are far from an expert in Japanese culture. It shows stablemates Ryusuke Taguchi, Juice Robinson, and David Finlay at a shrine, with the Coach teaching "Taguchi Japan's youngsters" how to act right, ie, be respectful and don't your practice gimmick rugby at a place of worship.
The main element of this project is the Japanese/Shinto/Buddhist custom of "ema," wooden plaques on which people can write a wish, then hang it at a shrine and pray. NJPW will have ema available at the Road to the Tokyo Dome shows and their January 3 fan festival, which will be displayed on the NJPW January 4th Shrine outside the Tokyo Dome at Wrestle Kingdom, where fans can also write their wishes. The ema will be dedicated at the Tamagawa Sengen Shrine near the NJPW Dojo in Tokyo after the show.
We see the wrestlers write emas in the video, with Robinson wishing to win the United States Championship again, Finlay wishing to win the trios titles with Robinson and Taguchi, and Taguchi wanting to wrestle without injury in 2019. Tanahashi also has a storyline-related wish.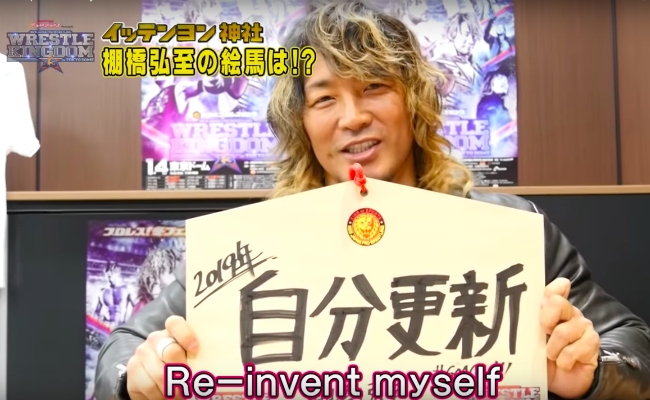 There's also an online aspect of the ema project on the Wrestle Kingdom website where anyone can submit their own wish and see those of other fans. Most of them fall into the category of don't get injured, come to my country or state, or get well soon, Hiromu, but some of my personal favorites are:
"For some dumb reason, come to Oklahoma"
"I wish for Shibata to return and end the pretender Kenneth"
"I wish that Tanahashi's beautiful hair returns to its full glory in 2019"
"Give SANADA the HW belt you cowards"
"I hope Ibushi wins the G1! He's so cute!"
"Bring back Masked Horse" (submitted by George W Bushi)