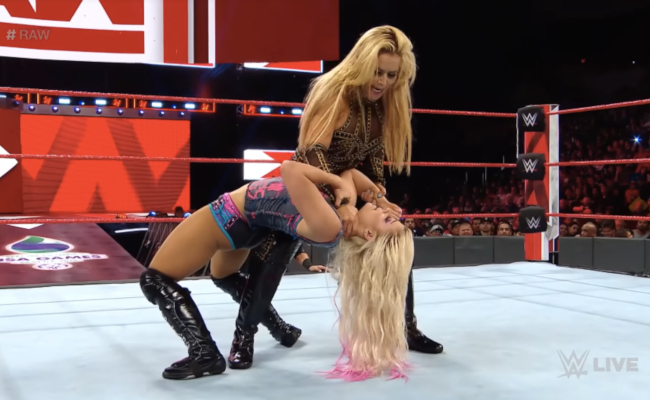 Ever since Alexa Bliss and Natalya and were seen traveling to Saudi Arabia for WWE Super ShowDown there have been rumors that this would be the first show in that country to feature a women's match. Even though it wasn't announced in advance, there were reports that WWE officials were negotiating with Saudi Arabian officials to get a women's match on the card. Dave Meltzer even pointed out that plenty of female athletes and entertainers do their thing in Saudi Arabia, so there's no specific law that prevents them from wrestling. It would obviously be a big PR win for WWE, who have taken nothing but PR hits for working with the Saudi government on these shows.
A women's match would mean they really are bringing about change over there, in whatever way they could. It would also seem like a win for the Saudi government, who could further their project of presenting themselves as a rapidly modernizing, progressive country no matter how many journalists and teenagers they kill.

Now, as the show is just about to begin, it looks like the women's match is probably off. Dave Meltzer at the Wrestling Observer says that the behind-the-scenes negotiations have ended with Saudi officials telling WWE that they can't approve the match.
Other sites are reporting that there may be a last-minute medical test involved, but either way it looks like the upshot is that there's no match. It's possible that Natalya and Alexa will appear at Super ShowDown to tease a possible future match, but that may not happen either. If nothing else, they got to visit some sick kids over there, which is one practice that surely nobody can object to in any country.