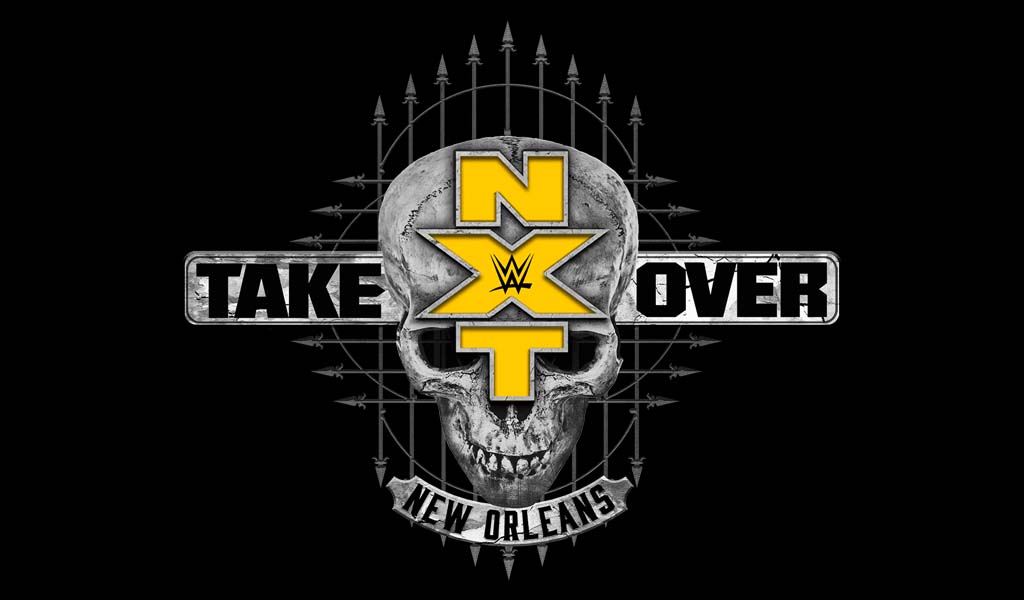 NXT TakeOver: New Orleans airs this Saturday, April 7, live on WWE Network. NXT's latest live special features an unsanctioned match between former tag team partners Johnny Gargano and Tommaso Ciampa, NXT Champion Andrade "Cien" Almas defending his title against Aleister Black, and a six-man ladder match to determine the inaugural NXT North American Champion.
Here's the complete NXT TakeOver: New Orleans card as we know it.
NXT TakeOver: New Orleans card:
1. NXT Championship Match: Andrade "Cien" Almas (c) vs. Aleister Black
2. NXT Women's Championship Match: Ember Moon (c) vs. Shayna Baszler
3. Unsanctioned Match: Johnny Gargano vs. Tommaso Ciampa
4. NXT North American Championship Ladder Match: EC3 vs. Adam Cole vs. Ricochet vs. Velveteen Dream vs. Lars Sullivan vs. Killian Dain
5. NXT Tag Team Championship Triple Threat Match: The Undisputed Era (c) vs. the Authors Of Pain vs. Roderick Strong & Pete Dunne
As always, we'll be here on Saturday night with an open discussion thread, live results and reactions to the show. And, also as always, here's what we think will happen, and what you need to know. Make sure to let us know who you think will win and why in our comments section below.

NXT Tag Team Championship Triple Threat Match: The Undisputed Era (c) vs. the Authors Of Pain vs. Roderick Strong and Pete Dunne
What You Need To Know: The 2018 Dusty Rhodes Tag Team Classic was a shortened affair compared to previous years, allowing 2016 winners the Authors Of Pain to run the field and make it to the finals, alongside the last-minute replacement team of Roderick Strong and Pete Dunne. The winners were slated to face NXT tag champs Bobby Fish and Kyle O'Reilly of the Undisputed Era at TakeOver: New Orleans, but then O'Reilly and faction leader Adam Cole interfered in the finals of the Dusty Classic, resulting in a triple threat being booked for New Orleans where both the Dusty Cup and the tag titles are on the line.
What Should Happen: Man, Bobby Fish screwing up his knee really f*cked this storyline up, didn't it? Apparently the Undisputed Era are using the Freebird rule with the tag belts, though it's never been properly explained yet — or maybe Adam Cole won't actually be in this match after all, as he has his hands full later in the evening. AOP has already held the straps and won the Dusty Cup before, so neither accolade is essential to completing their characters, and while Roderick Strong is the only person in this match to have not tasted gold in NXT yet, I don't think it starts here. Expect the Undisputed Era to retain, and expect O'Reilly to have a new partner, as well.
Staff Picks
Bill Hanstock — This may very well be the most difficult match to predict of the entire weekend. The Undisputed Era isn't at full strength and the team defending the titles isn't even the team that won them. Roderick Strong and Pete Dunne aren't a tag team. The Authors of Pain should probably get called up to the main roster and wreck a tag division for a while. It's so, so hard to decide. But I am forced to make a prediction, so I believe the Authors of Pain will become two-time tag champs and two-time Dusty Classic winners. Congrats to them.
Brandon Stroud — This is such a weird match. Strong and Dunne aren't really a tag team (despite WWE loving booking substitutions to win) and the Authors of Pain are constantly in the "about to be called up" conversation, so despite the Undisputed Era not being the actual TUE team with the straps and Cole presumably pulling double duty, I think they retain. Tough match to call, though. Maybe someone new joins the Era and fills in for Cole? Plenty of ROH guys ready to go, you know.
Robby Kalland — Undisputed Era retain because Strong-Dunne is just a weird team and AOP have already won and are primed for a call-up to go up against Braun and Brains (or whoever is actually inserted as his partner) for the Raw tag titles.
Raj Prashad — Going with Strong-Dunne because they're just the right weird combo to win the belts. AOP is almost certainly getting called up, but Undisputed Era could be in a weird place should they drop the belts. Adam Cole should be fine in the mid-card/main event spot, but Kyle O'Reilly could get stuck in a weird opening spot in the absence of Bobby Fish.
Brian James O'Connell — This is one of those matches where real life and storyline blur the edges and I'm either being too cynical or not cynical enough. AOP has done everything they can at this level. They even have their own book of poetry! They need to cost somebody the tag titles at WrestleMania or debut on Raw with a beatdown from the crowd or something. It's just time. When Adam Cole wasn't removed from the ladder match, I knew that "injury from previous match of the night costs tag teams their titles" was written on the dry erase board in Sharpie. WWE brought Adam Cole in to be a singles star, and he's just filling in here to complete the storyline. Bobby Fish's knee injury could not have come at a worse time, and my heart aches both for him and O'Reilly because they were poised to do some great work in this match. That leaves Strong Bad, and since you've been seeing the Bruiserweight on WWE TV more and more, that can only mean one thing. When he finally moves to the main roster, I insist that Matt Berry be brought on board to be his manager.
NXT North American Championship Ladder Match: EC3 vs. Adam Cole vs. Ricochet vs. Velveteen Dream vs. Lars Sullivan vs. Killian Dain
What You Need To Know: NXT's roster has continued to swell in recent years, and with only so many people able to compete for the NXT Championship at one time, it makes perfect sense to create a secondary title to allow for the mid-card to thrive. Please welcome the NXT North American Championship, the reason this six-man ladder match exists. The field includes everyone from monsters to high-flyers to bona fide one-percenters, all willing to risk their bodies to be the inaugural N.A. Champ.
What Should Happen: You could easily make a case for nearly everyone in this match to come out victorious, but through process of elimination, we can get to an actual pick. First off, Killian Dain and Lars Sullivan barely got to throw hands on NXT TV this week, so that singles feud isn't done — and it doesn't need a belt to juice it up. Velveteen Dream has been calling out Ricochet via social media recently, so there's a perfect first feud for the former Prince Puma to jump headfirst into, and one that also doesn't need gold to feel special. (Plus, both Dream and Ricochet could easily be slotted into a NXT championship feud, no matter who wins between Andrade Almas and Aleister Black.)
That leaves us with EC3 and Adam Cole. EC3 was instantly over from the second he stepped inside Full Sail a few weeks ago, and while Cole has his catchphrase, he also has a pretty dire W-L record and hasn't accomplished much of anything as the leader of his nWo-esque faction. Even though I'd rather see EC3 win, I think Cole needs it more, which is why I also predict Kyle O'Reilly and whoever his partner may be to retain the tag belts earlier in the night. Give their faction most of NXT's gold and let them run wild for the rest of 2018 — or at least until Takeover: Brooklyn IV.
Staff Picks
Bill Hanstock — Another tough match to predict, but I think the two most likely winners are EC3 or Ricochet, who would both be winning on what is ostensibly their first nights with the company. (I know that isn't true, but essentially.) I also think this largely comes down to whether a heel or a babyface winds up as NXT Champion at the end of the evening. But I'll go out on a limb and say that Ricochet blows everyone's minds and becomes the inaugural North American Champion. And yes, I want Velveteen Dream to win this, but he has many years of winning championships ahead of him. He's going to be just fine.
Brandon Stroud — Mayhem and wonderment. While my guts say Lars (because the championship is weird and old looking and kinda red and looks like it was made to fit on an antiquated-ass looking wrestler like Lars) and Ricochet or Dream or anyone could take it, I'm going with EC3. He needs to be a big deal right away, and this is a great way to do it. Especially if everyone else gets the spotlight spots and he just muscle-kills everybody and wins.
Robby Kalland — This one's really tough, because I could see it going a number of ways and all of them would be good. My hope is they put it on Dream, but I think they'll put the newest NXT strap on EC3 and give him a feud with Dream. Ricochet will do dope Ricochet shit off ladders and steal the show, but I don't think he wins.
Raj Prashad — EC3 should be the guy who walks away with he title for the sheer fact that the he just looks like a guy that has a title over his shoulder. Velveteen Dream is another candidate as a guy who's worked his butt off and deserves some semblance of a title run.
Brian James O'Connell — So many ways to go! I don't think this is going to be the match of the weekend for no other reason than six-way ladder matches need a lot of precision timing and I don't think Lars is quite there yet, but holy shit, who cares? There are five guys I can legit see them putting this debut strap on (sorry Killian, you have the Tag Team Curse upon you) and I'd be for any of one of them. Put it on EC3 or Adam Cole and let them All Ego Everything in a heel vs heel feud you could only really pull off in NXT anyway. Put it on Lars and let him say that he's going to conquer each continent one at a time. Let Ricochet just go bananas and let him be King of America. Push Velveteen Dream to the moon and never look back. I intentionally don't read spoilers or dirt sheet stuff because of matches like this. I love being 8 years old again and having no way to know which way this is going.

Unsanctioned Match: Johnny Gargano vs. Tommaso Ciampa
What You Need To Know: Johnny Gargano and Tommaso Ciampa's respective histories with NXT have been intertwined since their debuts in September 2015 as partners in the inaugural Dusty Rhodes Tag Team Classic. Neither man knew much of the other before the tournament, but their in-ring chemistry was palpable, and Gargano and Ciampa's journey to the top of the NXT tag division begun in earnest in April 2016 with victories over the Vaudevillains, TM61 and the Revival. Now, the duo had a name — #DIY — and a shared goal: The NXT Tag Team Championship. They achieved that goal seven months later at TakeOver: Toronto, but they lost the belts to the Authors Of Pain only a few months later in San Antonio when Gargano was pinned. #DIY tried to regain the gold numerous times but continually fell short, eventually leading to Ciampa having enough and delivering a beatdown to his partner so severe, it left an entire arena in Chicago in shock.
Now, nearly a year after #DIY split, Gargano will finally get his hands on Ciampa, but it's a do-or-die situation: Already exiled from NXT (in part due to Ciampa interfering in a recent match), Gargano must win to be reinstated, or else he's gone from NXT permanently — and the blackhearted Ciampa would love nothing more than to officially end his former partner's career for good in this unsanctioned match.
What Should Happen: The house should be torn down. Beyond that? I've typed "Johnny Gargano should win" and "Johnny Gargano should lose" each a half-dozen times, and I still don't know which outcome works better. If Gargano wins, then the feud continues, but it also makes Ciampa look ineffective as a heel, as he hasn't wrestled a singles match since coming back from injury, so he has nothing in the W column — and if Johnny gets reinstated, it's not like Ciampa will be moving on from the feud any time soon. However, if Johnny loses, it will rob us of the emotional catharsis we've all been waiting nearly a year for, though it may mean a main roster call-up following WrestleMania. I'm leaning toward Gargano winning, but this feud is far from over. Expect gimmick matches in the duo's future.
Staff Picks
Bill Hanstock — Obviously this has the potential to be both the most emotional and the best match of the entire weekend. But I'll go ahead and say it: I'm not a fan of unsanctioned matches. I'm also not a fan of the stipulation that if Gargano wins he gets his job back, because what are we even doing here? This match should be on the WrestleMania card instead of TakeOver, but at least we're getting it in New Orleans. I expect brutality, I expect tears … and I expect Blackheart Tommaso Ciampa to emerge victorious.
Brandon Stroud — Match of the weekend, right here. Ciampa wins, because Gargano doesn't need to go back to NXT. Best case scenario, Ciampa finally rids NXT of his rival, then gets mad that his rival's doing well elsewhere and follows him up to try to get rid of him there. Either way, I'm excited to see some real hatred in this. No armdrags, guys, just punches!
Robby Kalland — Ciampa wins in what will surely be the match the crowd is hottest for, with Gargano shuffling off to the main roster. Fans will want to see Johnny Wrestling win, but I don't know what they'd do with him after that and Ciampa has so much heat right now as their top heel that I think they give him a win to bolster that.
Raj Prashad — Match of the Year candidate here. Johnny Wrestling has been on a tear, and the backstory behind this match is the best thing in wrestling right now. I've got Gargano winning a la HBK-Triple H at SummerSlam, but Ciampa getting revenge in the end.
Brian James O'Connell — C'mon, bruh. As soon as the "Leave NXT" stip was added, you knew where this was going. I am all in on Ciampa getting the win, sending Johnny Freakin' Wrestling up to 205 Live and let all of America fall in love with this storyline. He's a pint-sized Bob Backlund, and Vince is going to love this guy for his looks, his physique and his ability to get over with anyone. Tommaso is going to continue to be nuclear hot at Full Sail, and I cannot wait to see who they feud him with next. It probably helps that I am a massive mark for unsanctioned matches.

NXT Women's Championship Match: Ember Moon (c) vs. Shayna Baszler
What You Need To Know: Former MMA star Shayna Baszler has dogged NXT Women's Champion Ember Moon ever since she showed up in NXT last fall. She had her first crack at the title at TakeOver: Philadelphia and dominated the entire match but came up just short when Moon caught her in a flash pin. Since then, Baszler has been demanding a rematch, choking out whoever got in her way. Finally, Moon has answered her challenge, and the two will once again go nose-to-nose this Saturday.
What Should Happen: Shayna's gonna kill you. I expect a match similar to Bayley/Asuka I, though the crowd won't be as nearly behind Ember as they were Bayley, so when Shayna does make her pass out in a submission, the buzz in the audience won't be nearly as troubling. Still, there's no way Baszler leaves New Orleans without having gold around her waist.
Staff Picks
Bill Hanstock — Shayna Baszler has to win. She just has to! There's so much you can do with her as champion, it frees Moon up to go to the main roster, and has the added bonus of giving Ronda Rousey's friend a WrestleMania (weekend) moment and some added cred. Let's throw the women's division at a champion who is just as dominant and even more terrifying than Asuka (in a completely different way) for a while. It'll be fun!
Brandon Stroud — Shayna is your new NXT Women's Champion. Ember's great, but how great she was in the women's Royal Rumble is a pretty great sign that she's one of the post-Mania call-ups. Plus, you need more people who can hang with Asuka on the main roster, right? Aside from all that, WWE's not gonna resist a photo op of WrestleMania main-eventer Ronda Rousey hanging out with her good friend, NXT Women's Champion Shayna Baszler.
Robby Kalland — Shayna Baszler wins to end Moon's reign, allowing Ember to maybe get the SmackDown call-up to continue her battles with Asuka.
Raj Prashad — It would seem about the time for Baszler's NXT reign to start, but I'm going with Moon here. With Ronda Rousey destined for the spotlight on Raw, I think Baszler has a shorter stint at NXT leading to bigger success on the main roster.
Brian James O'Connell — Gather around, gang, I have a confession to make: I'm sort of over this feud. No offense to either of the women involved, who are both dynamic performers and have charisma for days. It's just that I've already seen a one-armed Ember Moon hold her own with the rest of the main roster in the Royal Rumble, so the idea of her getting her arm broken doesn't track with me as a real danger. I also don't know how Ember Moon is supposed to debut on Smackdown when she had her arm broken by Shayna three days previously but maybe Triple H can show her how he bounced back in record time from Brock's Kimura Lock?

NXT Championship Match: Andrade "Cien" Almas (c) vs. Aleister Black
What You Need To Know: Andrade "Cien" Almas has held the NXT Championship since WarGames last November, and he has survived a series of challenges from Johnny Gargano since then, including a five-star match in Philadelphia back in January. But there is no question that mysterious newcomer Aleister Black will be Almas' biggest challenge to date. Will Almas fall victim to Black's crushing kicks, or will El Idolo find a way to retain in the Big Easy this Saturday?
What Should Happen: Aleister Black should be renamed Aleister Green, for how many dollars he is going to generate for WWE over the next decade or so. Almas' reign as champ has been phenomenal inside the ring but massively underwhelming everywhere else — if your champ can't speak effectively, why is he the champ? Black is tailor-made for this title, and Almas is ready to get pulled up to Smackdown to see what he can do on a larger stage consistently.
Staff Picks
Bill Hanstock — I'm really torn on this one! I think it makes a lot of sense for Black to win, and I certainly want Black to be the champion for at least a little while at some point, but it might make even more sense for Almas to retain. I'm going to predict Black wins, but here's my real prediction: Whichever man doesn't leave as NXT Champion will receive a main roster call-up at some point in the next month. Bold!
Brandon Stroud — The NXT Championship needs Aleister Black's name on it more than Aleister Black needs the NXT Championship. The guy showed up fully packaged and ready to go, and could go up and be what he's gonna be on TV yesterday. Almas has developed tremendously and grown as a character and even as an in-ring performer, plus his title reign is nowhere near old enough yet, so I'm picking Cien to retain, probably via nefarious means.
Robby Kalland — Aleister Black wins in a pretty brutal, physical match that should once again deliver the goods like so many of Almas' recent matches.
Raj Prashad — This is probably the toughest match to choose from the entire slate. Black has been waiting for his time to take over the NXT brand, but Almas is just hitting his stride. Simply because he needs the belt right now and the chase is what gets people behind Black, I'm going Almas retaining.
Brian James O'Connell — BLACK OR I RIOT.