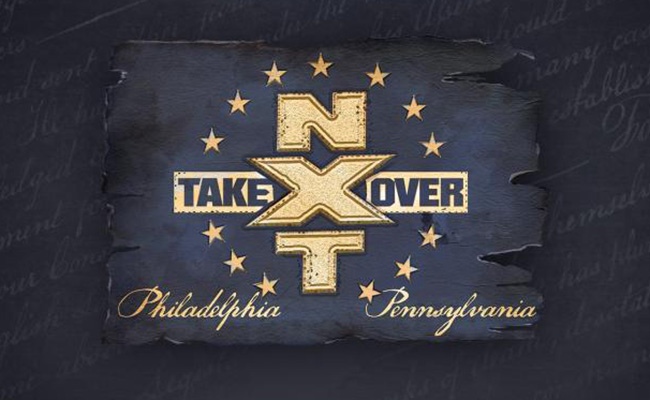 NXT TakeOver: Philadelphia airs this Saturday, January 27, live on WWE Network. NXT's latest live special features Johnny Gargano challenging for Andrade "Cien" Almas' NXT Championship, Ember Moon defending the NXT Women's Championship against newcomer Shayna Baszler, and the Authors Of Pain trying to recapture the NXT Tag Team Championship from Bobby Fish and Kyle O'Reilly. As always, we'll be here all night with reactions, results and discussion.
Here's the complete NXT TakeOver: Philadelphia card as we know it.
NXT TakeOver: Philadelphia card:
1. NXT Championship Match: Andrade "Cien" Almas (c) vs. Johnny Gargano
2. Extreme Rules Match: Aleister Black vs. Adam Cole
3. NXT Women's Championship Match: Ember Moon (c) vs. Shayna Baszler
4. NXT Tag Team Championship Match: The Undisputed Era (c) vs. the Authors Of Pain
5. Kassius Ohno vs. Velveteen Dream
As always, we'll be here on Saturday night with an open discussion thread, live results and reactions to the show. And, also as always, here's what we think will happen, and what you need to know. Make sure to let us know who you think will win and why in our comments section below.

Kassius Ohno vs. Velveteen Dream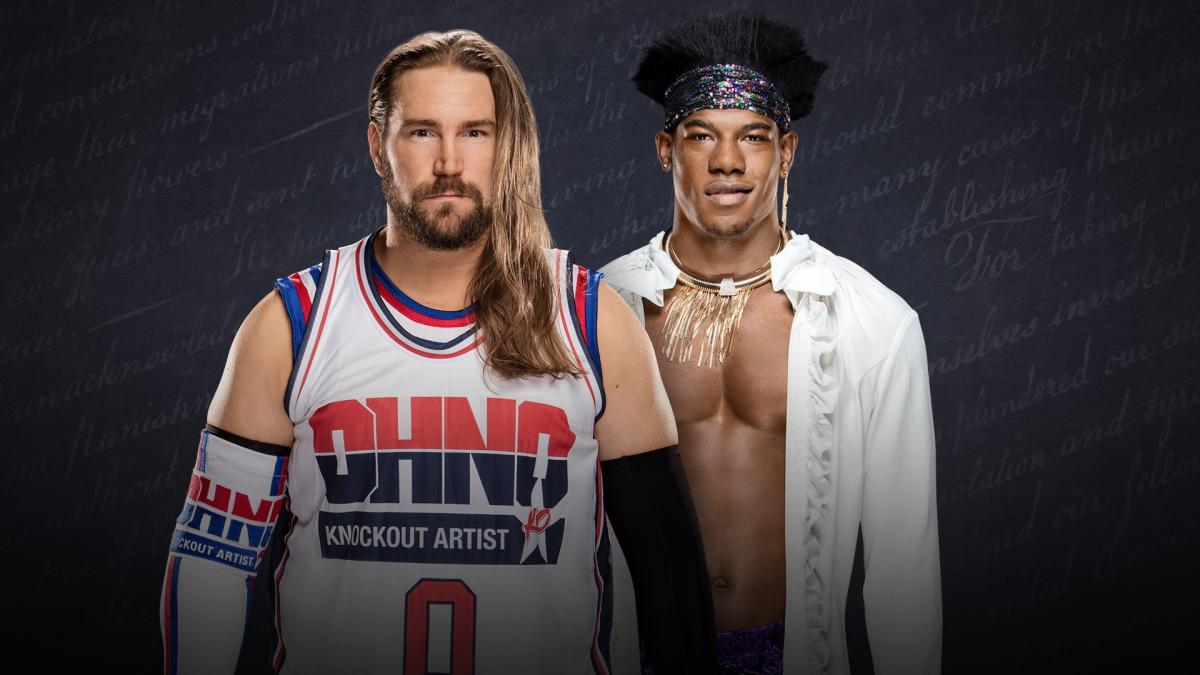 What You Need To Know: Velveteen Dream had one of the best rookie years in NXT history, going from a half-cooked Prince gimmick to a fully-formed heel who is as androgynous as he is angry. He is going up against journeyman Kassius Ohno, who has experienced moderate success in his second NXT run, but is still looking to break through to the top of the card.
What Should Happen: Given that this match was added with zero build-up (outside of a 30-second confrontation on YouTube), it's pretty clear this match is just a way to get one of NXT's hottest young stars on TakeOver and score an easy duke. Kassius will spend his Saturday night looking at the lights.
Staff Picks
Bill Hanstock — ALL DREAM EVERYTHING. As impeccable a specimen as Velveteen Dream is, this is the biggest and hardest-hitting opponent he's gone up against so far. We'll get to really get an idea of the range of his true strength and power, and that's very exciting. It makes me very excited in the purple-pants area. Dream should win, because Ohno is basically just a gatekeeper to important things at this point, and Dream is already an important thing.
Brandon Stroud — Dream all the way. After losing to Aleister Black and Johnny Gargano, Velveteen Dream needs to rebound in a big way, and losing to huge future stars is really the only reason Kassius Ohno is (or should be) around. SAY HIS NAME.
Elle Collins — Dream is on the rise, and this is literally what Ohno is around for. Velveteen Dream wins, obviously.

NXT Tag Team Championship Match: The Undisputed Era (c) vs. the Authors Of Pain
What You Need To Know: We first saw Bobby Fish and Kyle O'Reilly appear in Full Sail Arena losing to Aleister Black in respective singles efforts last summer, but their true NXT debut was at TakeOver: Brooklyn III as two-thirds of the Undisputed Era, where they jumped both SAnitY and the Authors Of Pain after their NXT Tag Team Championship match before helping their leader Adam Cole beat down Drew McIntyre just minutes after he won the NXT Championship.
Fast-forward six months, and while Cole has yet to score singles gold, Fish and O'Reilly won the belts off SAnitY last month — only to end up in the sights of the monstrous AOP, who are looking for receipts for that original beatdown as well as the teams' WarGames match in November. Akam and Rezar put an end to the Street Profits' modest winning streak on the way to their No. 1 contendership, and are looking to write a few more chapters in their book of suffering.
What Should Happen: The Undisputed Era will only succeed as a faction if they have gold in their ranks, so expect Fish and O'Reilly to retain, by hook or by crook. AOP can't be much longer for this world (in reality, they should've been called up already), so a title change here would be legitimately shocking and do nothing to help Fish and O'Reilly's status. I don't think SAnitY will get involved here, but I do think they'll show up later in the card.
Staff Picks
Bill Hanstock — The Authors won't be winning this match, but how? That will be a theme for all of these predictions, more or less. Will Roderick Strong turn on his kinda-sorta friends to join his actual friends? Will Cole distract the Authors by superkicking Paul Ellering's head off? Fish and O'Reilly almost certainly can't overcome these two authorial monsters through sheer might and wrestling, so it'll have to be their underhanded tricks that turn the tide.
Brandon Stroud — I don't know how much longer the Authors are gonna be down in NXT, but I don't see them walking way with the titles here. Undisputed Era is the kind of group that only really works if they build some street cred within NXT, as "we were good in other places" only lasts so long. They should have a near-endless run with the tag titles, at least until the next Revival or American Alpha or DIY shows up. I love a lot of the current NXT teams, but none of them have that "these are the guys" thing for me, so it's CFO dollar sign.
Elle Collins — Whatever they're doing with the Undisputed Era, they're clearly not done doing it yet. On the other hand, the Authors of Pain feel like they could show up on Raw at any moment. So I'm going with the Undisputed Era.

NXT Women's Championship Match: Ember Moon (c) vs. Shayna Baszler
What You Need To Know: Ember Moon is a sexy werewolf warrior who spent the the entirety of 2017 chasing the NXT Women's Championship, finally winning it in November (but only after Asuka relinquished the belt and moved onto Raw). She only has one televised title defense in the books: a win against former MMA fighter Sonya Deville.
Unfortunately for Moon, her next title defense is against another former MMA fighter, Shayna Baszler — a woman who has stepped inside the octagon 25 times and has a winning record to show for it. Baszler nearly won the inaugural Mae Young Classic last fall, losing to Kairi Sane in the final, and now that she's officially in NXT, she smells blood in the water, and she's ready to bite.
What Should Happen: It would be a bizarre booking choice to have Ember Moon chase the title all year long, finally win it, then lose it in her first major title defense — but then again, the exact same thing happened with Drew McIntyre (won it in Brooklyn, defended it successfully once on TV, lost it in Houston). I don't think they'll pull the trigger on Baszler yet, though. From this week's Best and Worst Of NXT:
This feels a bit like when Brock Lesnar returned and murked John Cena at Extreme Rules, and I think something similar may happen this Saturday: Shayna might not leave with the title, but I think their match will cause the crowd to start murmuring and questioning whether or not everything else they're seeing was fake, but this is real. In short: You're f*cked, Ember.
My prediction is Moon winning by DQ, after Baszler just goes to town on her (possibly drawing Kairi Sane out for the save).
Staff Picks
Bill Hanstock — I see this ending one of two ways: Baszler winning the title, or Moon retaining due to a no contest or Baszler being disqualified (say, for refusing to release a choke hold). Baszler feels so new and so revolutionary, that the one single incorrect way to book this is to have a long, competitive match with Moon winning clean. Moon cannot win this match clean to retain. The match can be long and competitive, but it should end with Baszler either as new champ, or not winning the title simply because she went too far in destroying Moon. I would also accept a CM Punk finish, where Moon swings and misses, and Baszler chokes her clean out in seconds.
Brandon Stroud — I thought Shayna was going to take this, but then I saw the WrestleMania weekend VIP signing schedule with Cien Almas and Ember Moon as a duo. The only reason that's VIP is if they're both still the current champs as of WrestleMania weekend, right? I say Shayna takes her to the limit, and maybe gets disqualified for kicking too much ass. Chokes for days. This should rule.
Elle Collins — I really need Ember Moon to win this match. I think Shayna's nasty bully character is working really well, but I think it only works if she can be beaten. If they try to make her another unstoppable character, her obnoxiousness becomes a real problem. She's too mean not to get comeuppance. That's why it's hard to believe that she'll win this for any reason other than if they decide she just wins every time. So if Ember retains here, everything's good, and they can even put the belt on Shayna later. But if Shayna wins now, I'm going to be worried about the future.

Extreme Rules Match: Aleister Black vs. Adam Cole
What You Need To Know: Aleister Black is a tattoo-covered death monk who has been shrouded in mystery since his NXT debut last year. After coming off one of NXT's best-ever feuds, in which he triumphed over Velveteen Dream, Black tried to become No. 1 Contender for the NXT Championship, beating Adam Cole to qualify for the No. 1 Contenders fatal four-way match. He ended up taking in the pin in that contest, though, largely because Cole interfered and potentially cost him the match. If there's one thing you should not do, it's piss off a tattoo-covered death monk, and NXT GM William Regal agreed, making a match between the two — and throwing on an Extreme Rules stipulation because, hey, we're in ECW country, so why not?
What Should Happen: As the rest of the exceptionally smart and good-looking With Spandex crew all predicts below, the Extreme Rules stipulation is pretty much telegraphing the appearance of Cole's underlings, Kyle O'Reilly and Bobby Fish, helping win their boss the match. However, I'm going to hedge my bets that here where we see SAnitY appear, finally getting their receipt for Fish and O'Reilly's beatdown a few weeks ago, and helping even the odds. Because of that, I'm going to go out on a limb and pick Ali for the win.
Staff Picks
Bill Hanstock — Poor Aleister Black. He signed up for a match that doesn't do anything but favor Cole and his cronies (Bay Bay's Kids). Black will lose this match due to rampant f*ckery, but here is my big prediction: Black will not resort to any extreme rules silliness, won't use any weapons … and will still nearly beat Cole. Only the combined no-DQ might of CFO($) will put Black down for the count.
Brandon Stroud — "Extreme Rules" screams "Black dominates, Fish and O'Reilly show up because it's legal for them to and help Cole win." It's a chance to do a screwy finish without really doing a screwy finish.
Elle Collins — Defeating the undefeatable Aleister Black might be just the thing Cole needs to make him look legit on his way to the title. I wouldn't be surprised if Black ends up on the main roster before long, and Cole seems like the guy who could most use the rub.

NXT Championship Match: Andrade "Cien" Almas (c) vs. Johnny Gargano
What You Need To Know: Johnny Gargano began his singles run in the worst possible way: by being betrayed by his longtime tag partner Tommaso Ciampa after a barn-burner of a main event at TakeOver: Chicago. That sent the undersized underdog on a path toward self-discovery, one which had plenty of surprising losses along the way — including two to Andrade "Cien" Almas.
Cut to this month, and Gargano — despite having not even originally been scheduled to compete in the No. 1 Contenders tournament — managed to score the pinfall victory in a fatal four-way match to book his ticket to the main event of TakeOver: Philadelphia — against none other than new NXT champion Andrade "Cien" Almas, the same man who's had his number for the last six months.
What Should Happen: Gargano has gamely filled the void of Sami Zayn in NXT as the purest whitemeat babyface they have on the roster, whose win-loss record doesn't really matter due to overwhelming fan support. The question is, will they pull the trigger on Johnny Wrestling, or is his losing streak against Almas going to start rivaling that of his beloved Cleveland Browns?
Really, we have four scenarios here: The first is Gargano wins clean. The second is Gargano wins and gets jumped by Ciampa afterward. The third is Gargano loses clean. The fourth, and in my opinion most likely, is Gargano loses because of Ciampa. The title doesn't need to be around Gargano's waist; it won't make him any more over than he already is. Let Almas retain due to f*ckface Ciampa's dumb bald head interfering (sorry, I spend too much time on r/SquaredCircle) and give us what we really want: Gargano/Ciampa in the main event of TakeOver: New Orleans. To reiterate what I wrote six weeks ago:
How weird is it that Johnny Gargano wasn't even included in the original batch of qualifiers for the No. 1 contendership match? I mean, Trent Seven got a shot. Trent Seven. The weird thing is, based on Gargano winning here, I could see him actually taking the whole thing, ending with Gargano/Almas at TakeOver: Philadelphia, which he would lose via Tommaso Ciampa interference. Ciampa should be good to go in-ring by March, so that gives us our long-delayed Mega-Powers Explode match at TakeOver: New Orleans, while Almas drops the belt to someone, anyone.
Staff Picks
Bill Hanstock — It seems as though the main question for this match is whether Tommaso Ciampa, Candice LeRae, or both will get involved prior to the finish. Gargano sure looked good holding that title belt at the end of this week's NXT, but it sure doesn't seem like it's in the cards for him to win it outright … at least not at this stage in the game. I believe he'll either fall short or Ciampa will cost him his opportunity, but either way Gargano won't be leaving Philadephia with the title. What he WILL be leaving with is staring down the barrel of a new and improved Ciampa, who he will then gear up to face over WrestleMania weekend.
Brandon Stroud — Much like the Ember Moon pick, I'm picking Almas to retain. Gargano is next level right now, but he's also better when he's not entirely successful. The reason people love him so much now is because DIY really earned their victories, and came up short more often than they didn't. There's real money in that, and while I think Gargano could certainly be a great NXT Champion, his best role is in giving Almas a hell of a match and coming within an inch of victory.
Elle Collins — Maybe it's wishful thinking, but I really feel like Johnny might win here. Put the belt on him and then send Adam Cole after him.