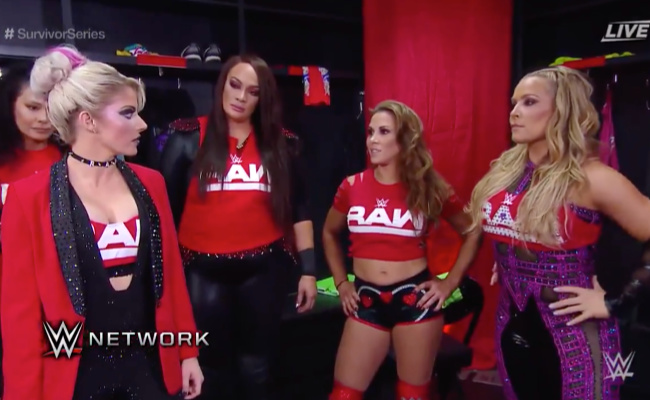 One of my favorite things to write about in wrestling is ring gear, and wrestling fashion in general. Coming to wrestling from a background in theatre arts, I think a lot about how the clothing a character wears, and the colors they surround themselves with, affect our understanding of who they are. So whenever possible, I like to talk about the gear at WWE's big PPVs, where most wrestlers decide to show off something new and fancy.
There's just one problem: This is Survivor Series, and specifically Survivor Series in the era of the Second Brand Split. That means almost everyone is expected to wear T-shirts with their brand logos, so that even people who don't watch weekly TV know whether they're representing Raw or Smackdown. You can cut up those T-shirts however want, but at the end of the day you're still wearing a pretty ugly T-shirt that all your friends are wearing too. That's just no way to be stylish. On the other hand, that makes it all the more impressive when some fo the superstars manage to look cool anyway. With the understanding that there are far fewer good looks for this show than usual, I'd like to spotlight a few who pulled it off, or at least did their best.
Poor Shinsuke Nakamura. He's on Smackdown but usually wears red, in the name of brand solidarity, he wore this fantastic new jumpsuit in Smackdown blue. As you can see, it looks great on him. It's not normal-people clothing, and it's not exactly wrestler clothing. It's glam-rocker clothing, which is Shinsuke's preferred aesthetic. Unfortunately, you had to look to social media to see the whole jumpsuit, because somebody made him wear a Smackdown T-shirt overtop of it for his match against Seth Rollins, thus quashing Shinsuke's unique identity. Is it just me, or is this symbolic of his whole WWE career?
Sonya Deville also wore a Smackdown T-shirt, but she made it work by trimming it perfectly and matching it to some cool blue gear. She happens to have the same initials as the brand she's on, which gives the "SD" on her war skirt a nice double meaning. She even put blue in her hair, which looks great. She'd still be better off if she didn't have to wear the T-shirt at all, but she's pulling it off more than most.

Carmella took it a step further. The Smackdown logo on her top is so perfectly integrated into her gear that I'm having a hard time determining for sure if it's actually a cut-up T-shirt, or if she had her own custom gear made with the logo on it. Either way, she's matched it with shimmering blue gear that's 100% her aesthetic without looking quite like anything she's worn before. Carmella's killing it so hard right now — she can dance, she can wrestle, and she can rap better than anyone else from her old NXT faction, that's for sure — she's even gotten me the most into R-Truth that I've ever been. Solving the Survivor Series gear problem to the degree she did only makes her that much more impressive.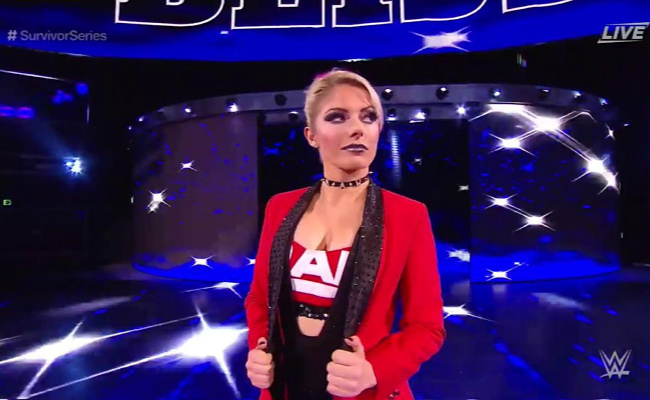 Alexa Bliss isn't able to wrestle right now, but she's doing amazing in a manager role. This outfit, which is easily my favorite look of Survivor Series, exemplifies that. She wore a blazer, as most managers do, but the bright red with the sequined black lapels gave her the look of a very glamorous circus ringmaster, which, particularly considering the chaos within the team she captained (and still managed to lead to victory!) was not at all inappropriate. Under the jacket she wore a high-fashion black bodysuit with a plunging neckline which revealed… wait for it… a cut-up Raw T-shirt! Anyone who knows style can tell you that a T-shirt can be chic if it's integrated into a stylish enough outfit, and Alexa, goddess that she is, proves that with this look. The punky choker is also an important element, adding the hard edge to her glamour that's so key to who Alexa is.

Those four were the clear standouts, but there were some other looks worth a brief mention. Naomi wore sparkling blue gear that perfectly matched her T-shirt, but the shirt still dominated the look. Sasha and Bayley were coordinated in red racing-flag checkerboard patterns, which was an especially fun look for two wrestlers who theoretically didn't expect to be on the show until the last minute. Ronda Rousey finally wore something that looks like wrestling gear, so that's a step up for her. Charlotte Flair had a pearlescent entrance robe that made her look like a being of pure light, which was ironic considering what she was about to do.
There may be some looks you liked that I've missed, and I'm sure you'll let me know in the comments. I hope to do another gear-focused article for the Royal Rumble (and maybe sooner, depending on how good people are looking at TLC), where there will be far fewer branded T-shirts and hopefully much more style.