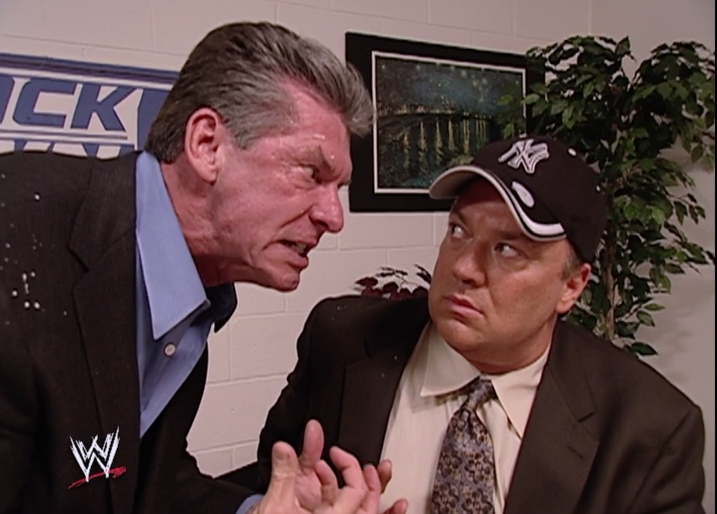 With the news that Paul Heyman and Eric Bischoff are set to take over as executive directors of Raw and Smackdown and gotten the wrestling world talking, the question becomes this: How long until Heyman and Bischoff are evil general manager characters?
If you think general manager characters are extremely tired, you aren't alone. Heyman, who is already an on-screen character on Raw and served as Smackdown's General Manager in 2003 and 2004, thinks the concept of the GM — good or bad — is played out.
"The role of the General Manager is played out. I don't want to do it because its been going on for 20 years and whether you're the hero General Manager, the villain General Manager … I don't know how many people really turn on WWE or any form of sports-entertainment to see how a match is made. The show has become too much of, 'Here's the story behind the show that you're watching', and I think sometimes, people just want to see the show … I think people just want to understand who the characters are and see the characters pitted against each other in compelling situations or riveting storylines that have nothing to do with the corporate structure that orders the match because the General Manager needs to sign the contract."
Preach.
"People just want to see the show," and everything after is one of the most refreshing statements from WWE creative in ages, and I guess we have to wait and see how much power Heyman and Bischoff actually have over the direction of their shows to see if it holds true. They still report to the ultimate Evil General Manager character, Vince McMahon, after all. This could be a real change for WWE, or it could just lead to Paul Heyman booking Brock Lesnar's enemies into handicap matches and Eric Bischoff standing beside Hulk Hogan and clapping on Smackdown. Who knows?
(h/t to Fightful)