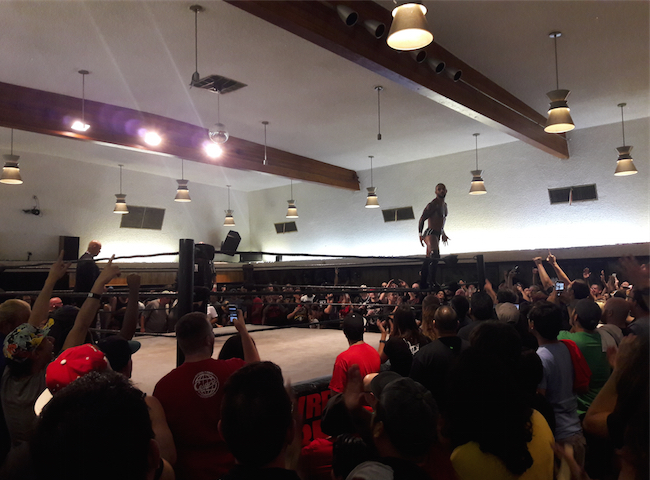 On the afternoon of Friday, September 2, I was down in the parking garage of my apartment complex packing up my car with everything I would need to get me through the long weekend. Sunblock, towels, a cooler full of ice and bottles of water, a few changes of clothes, a couple of edibles, and a bottle of ibuprofen. Looking around the garage, I could see a lot of my neighbors doing the same thing.
It was the start of Labor Day weekend and everyone was headed out of town. Some were driving to the beach, others headed up to Lake Arrowhead. Me? I was going to Reseda. Against all odds, a friend of mine was able to get me tickets for all three nights of Pro Wrestling Guerrilla's Battle of Los Angeles. I would be spending the next three days packed into a Legion Hall in the San Fernando Valley watching the most talked about independent wrestlers in the world almost kill each other feet away from me. Fuck going to the beach!
Reseda, California is a very unremarkable town, one of many post-war suburbs in LA's San Fernando Valley that you pass while driving up the 405 and never have a second thought about. Probably best known as the home of Daniel in the original Karate Kid movie or for being name checked in Tom Petty's "Free Falling," Reseda can probably be described best by this picture I took of one of its sidewalks.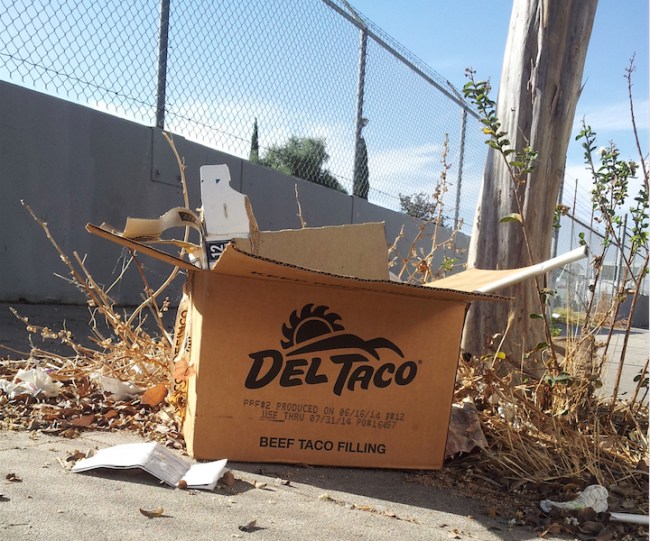 Since 2008, Reseda has been the home of PWG (Pro Wrestling Guerrilla), one of the most popular independent wrestling organizations in the world. PWG regularly brings together the top names in independent wrestling from all over North America as well as Europe and Japan, to have some of the must fun, interesting, and creative wrestling matches out there today. Imagine ECW, but replace the violence with comedy, and replace the guys Paul E found hanging out in bars in Philly with the best wrestlers in the world. It's the punk rock version of NXT and in some ways kind of the original NXT. In recent years a lot of WWE's best talent have come through PWG. Guys like Daniel Bryan, Kevin Owens, Seth Rollins, Sami Zayn … the list goes on and on.
Once a year, PWG holds the Battle of Los Angeles (or BOLA, as it's commonly known), featuring a 24-man, three day long tournament. Past winners include such names as Kenny Omega and El Generico. The mix of talent on this year's BOLA was unbelievable. You had your PWG mainstays like the Young Bucks, Ricochet, and Chris Hero, then the guys you've recently seen on WWE's Cruiserweight Classic, like Zack Sabre Jr. and Tommaso Ciampa. There are also former WWE Superstars like Cody Rhodes and John Morrison, lucha stars Pentagón Jr and Fénix, and even Japanese legend Jushin Thunder Liger. It's a mind-blowing group of people to have together under one roof; the fact that said roof is over a small Legion Hall in Reseda makes it even crazier.
American Legion Post No. 308 sits behind a Pep Boys, and is sandwiched between an apartment complex and a retirement home. On Night One, I pulled up outside the building about an hour before bell-time, and yet there was no sign that an event of this magnitude was about to take place. The church at the other end of the block had way more activity happening around it.
The line to get in is hidden behind the building. I've been told this is to keep the noise complaints from the retirement home at a minimum. There are people who have been in line all day; not to buy a ticket, but to get their desired seat inside. In fact, there are no walk up ticket sales. If you didn't get a ticket within the first minute of them going on sale, you are out of luck.
Part of PWG's growing legend has at least a little bit to do with how difficult it is to get into the show. For the past few years, tickets for every PWG event have sold out practically instantaneously when they go on sale. The anticipation leading up to the moment you can attempt to buy tickets is panic-inducing. With so many people flying in for the event, you're not just up against Southern California wrestling fans, you're fighting people who are trying to buy tickets from all over the world.

Some people have tricks they claim help their chances, like already being logged into their Paypal account when tickets go on sale, or attempting to buy tickets on multiple devices at once. But I think the reality is it just kind of comes down to luck. It's even more nerve-wracking for BOLA, because you're attempting to buy tickets for three shows instead of just one. Most people I know only got tickets for one or two nights, but you won't hear anyone complaining about that. They know how lucky they are that they have tickets for any of the shows, period.
Unlike almost anywhere else in Los Angeles, being a celebrity won't help you get tickets to PWG, either. At last year's BOLA, people in line witnessed Jerry O'Connell get turned away when he showed up without a ticket.
They may not cater to celebrities, but they do look out for their regulars. Mike Roe has been coming to BOLA since 2008, but failed to get tickets this year. Luckily after selling out the show, PWG tweeted asking for any regulars who couldn't get BOLA tickets to contact them. Mike tweeted back and was able to buy a ticket for one of the nights.
If you end up without a ticket you can't just stay home and watch it live either. Unlike other major independent wrestling companies who stream their events live on iPPV, PWG still does it the old-fashioned way; they release their shows on DVD over a month after they take place.
When you consider how difficult it is to see the show, the line to get into the Legion Hall can feel like a victory celebration. No matter what happens on that night's show, just by being there you've already won. As the line moves slowly, the anticipation grows. Once you're about five feet away from the front door, you can begin to feel the heat coming from inside, as well as smell the unique aroma seeping out. It smells like a hundred sweaty fat guys visiting your grandmother's house.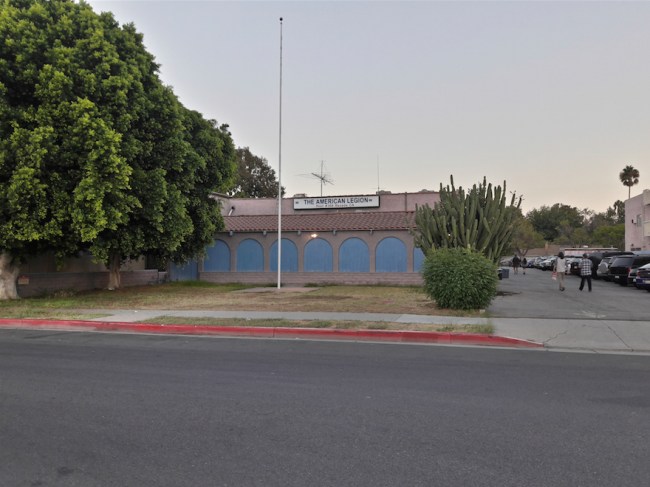 The interior of the building is straight out of the seventies with walls covered in wood panelling, and a white popcorn ceiling. The ring takes up most of the space, and around it they have crammed in as many chairs as humanly possible. On one side of the room is a bar, the other a stage reminiscent of a middle school auditorium.
When entering the building for the first time before a show, there are two things you immediately notice. The first is that there's no room for gimmick tables, so the wrestlers surround the ring and use the ropes to display their t-shirts and other various pieces of merchandise they have for sale. The second is the enormous line for beer that stretches out from the bar and around two sides of the ring.
You somehow push your way through both of them to find a seat. There's not a bad seat in the house for viewing the show; the building only holds roughly 400 people. The last row at PWG is closer to the ring than the first row at a WWE event. The action takes place right in front of you, then around, and sometimes on top of you, but if you want to be even remotely comfortable, you need to choose wisely.
It always feels a good ten degrees hotter inside the building than it is outside, and BOLA regularly takes place during one of LA's hottest weekends of the year. Most seats in the first three rows are bearable. Sit anywhere past that, and getting through the show can become an endurance test. It gets even hotter in the last few rows. That mixed with the density of the crowd can leave you gasping for what little air conditioning there is.
There's also a mobility issue. Find yourself in the middle of a row and you may not be able to leave your chair until intermission, because logistically you cannot figure out how. I somehow managed to get relatively comfortable seats for Nights 1 and 3 this year, but on Night 2 there was so little room between myself and the person sitting in front of me that I was literally up the guy's ass. I could feel a butt cheek on each side of my knee.
The heat this year was nowhere near as bad as it's been in years past. At both the 2014 and 2015 BOLAs, I would go outside at intermission, take off my shirt, and wring out the sweat before going back inside for the second half. But no matter how uncomfortable it gets inside, it never bothers you too much, because every other aspect of the experience makes up for it. There have been some fans who have been very vocal over the past few years about wanting PWG, or at least BOLA, moved to a bigger venue. But there's something special about the Legion Hall. I don't want to see PWG leave it, even if I know I'm bound to pass out from heat exhaustion at some point.

Once you've found a seat and get settled in, you start to look around and notice the rogues gallery of regulars in the crowd. There's the guy who reviews every PWG show from his hot tub, the guy in the WCW hat, the guy in the front row who always falls asleep during the show, the drunk guy in the headband … the list of people I know only by description goes on and on. Then you have your pseudo wrestling fan celebrities, former WWE Creative team members, comedians from TV who you see tweet about wrestling all the time, Bill from Mattel who makes the WWE action figures, Dave Meltzer, Max Landis. It's an eccentric group of people to say the least. BOLA brings out not only the PWG regulars, but also hardcore fans from all over the world.
Orlando Hill, a 23-year-old from Alabama, got on an airplane for the first time to come to BOLA and only had tickets for two of the three nights. Michael, a radio producer from Washington, D.C., flew in this year for his first BOLA. He's here because he's a big NXT fan. NXT led him to discover the world of independent wrestling for the first time and that led to him learning about BOLA. He had flown to Florida for an NXT show earlier in the year and felt that the biggest difference between NXT and PWG is the fans. Michael said "everyone at PWG is super nice, they share stuff, no one is trying to put themselves over anyone else. A lot of the NXT fans in Orlando like to make the show about them."
Not to take anything away from the athletes in the ring and the amazing job they do, but one of the most important parts of PWG's dynamic are the fans. They are unlike any other audiences. Not just other wrestling audiences; they are unlike any other crowd I have ever seen at any live event. It feels like a family, or at the very least it feels like we're all in this together.
If you put any other group of 400 drunk, adrenaline filled knuckleheads together in a hotbox that would comfortably fit 300 drunk, adrenaline filled knuckleheads it's a good bet problems would ensue. The PWG fans are some of the most respectful you will ever find.

For example, when asking people outside in line before the show who they were most looking forward to seeing that weekend, most would have told you either Cody Rhodes, or Cruiserweight Classic standout Jack Gallagher. At the top of the show when PWG's Master of Ceremonies, Excalibur, announced to the crowd that Gallagher could not make the show due to travel issues, the audience was disappointed, but nobody took it too hard. No one demanded their money back or threw anything at the ring. It was taken in stride.
When one of the ring ropes broke during the first match, the fans didn't seem to care too much about it causing a long delay between matches while it was being fixed. You didn't hear any chants of "boring" or heckling of the ring crew. The audience just went back to socializing or back to the beer line. It didn't even seem to effect the crowd's energy at all. Once the rope was fixed and the second match started, the energy in the room felt like it hadn't missed a beat.
The first night delivered a great show. It kicked off with the quintessential BOLA match, Pentagón Jr. vs. "The Villain" Marty Scurll. One of the top stars of Robert Rodriguez's Grindhouse Mexican wrestling show Lucha Underground vs. a fur coat-wearing English villain from Littleport, Cambridgeshire. That's a match you are only going to see in Reseda.
Other highlights from Night One included a fantastic match in Jeff Cobb vs. Ricochet, with Cobb's power and Ricochet's agility working together, they at times felt like they were defying physics. There was a high flying match between Fénix and Will Ospreay where they both defied death, flip after flip, and a stiff match between Tommy End vs. Zack Sabre Jr. that was my personal favorite of the night.
It was also super cool to see Jushin Thunder Liger. At fifty-one years of age, Liger doesn't exactly perform at the level he once did, but it doesn't matter. When I was a kid I thought of Liger as a mysterious, almost magical figure. Seeing him wrestle in such an intimate venue was still special to me, even if he's past his prime. All in all it was the perfect first night show with great matches that still left you wanting more.

Night Two was possibly the most consistently good night of wrestling I've ever seen live. Just one great match after another. An unbelievable energy ran through the building all night. It can probably best be described by my friend Zach Reino who at the end of the night said, "There were so many great things that happened early in the night, and then there were so many great things that happened after those things. Each of those things I want to think about for a whole day. It's almost too much good stuff."
The show concluded with a crazy six-man tag match pitting Will Ospreay, Ricochet, & Matt Sydal against Adam Cole & The Young Bucks. Take the LMFAO song "Shots" and replace the word shots with spots and you would have the perfect soundtrack for this match. The six-man tag earned a coveted five-star rating from Dave Meltzer, the Harvey Levin of pro wrestling. Only three other matches this year have gotten that rating and they all took place in Japan. Tokyo, Osaka … Reseda.
Day Three is a blur. All of the matches in the second round of the tournament were great, but they started to blend together after a while. The second half of the day was mind bending. The Young Bucks vs. Fénix & Pentagón Jr. was my favorite match of the weekend. The Will Ospreay/Ricochet rematch lived up to expectations. The traditional BOLA Ten Person Comedy Tag Team Match came at just the right time and was definitely one of the most memorable matches of the weekend. The tournament final was a fitting end to the marathon event.

When it was all over it took me a while to want to leave. I needed to stand there in that shithole building that I love so much and take it all in. I know not everybody is a fan of PWG. Its critics that will tell you that the matches are just spots and flippy shit, that the matches are too fast-paced and don't tell stories, that the action is unbelievable and maybe exposes the business. I'm not going to argue with you on any of those points because wrestling is a subjective form of art. But no matter how you feel about PWG, one thing about this year's BOLA is undeniable: this group of performers will never be together in this building again. And that's one of the big things that makes this year's BOLA so special.
Part of the increased demand for BOLA tickets is the buzz about being able to see future WWE superstars before they are stars. Everybody wants to be able to say "I saw him back when … " Max Landis told me he thinks BOLA "is now professional wrestling's version of the Sundance film festival." You get to see that year's Oscar winner before anyone else. You used to see a wrestler at BOLA who had "it" and three to four years later you would see them in WWE. Recently that timeline has shrunk dramatically.
Two weeks after this year's BOLA two of its competitors, Cedric Alexander and Brian Kendrick, were performing on RAW. Tommaso Ciampa is now officially signed with WWE. Tommy End is on his way to NXT. It can't be too long before Zack Sabre Jr. is with WWE full time. What about Adam Cole, Kyle O'Reilly, or The Bucks? There were many points during the weekend when you could see William Regal peeking through the curtain scouting talent for WWE.
The things I heard people saying the most as they were walking out of the building was "How are they going to top that?" "What are they going to do next year" "Who will they have left if WWE signs everybody?" I remember thinking PWG would never be as good without Kevin Steen and El Generico. I couldn't imagine who could replace guys like Drake Younger and Rich Swann as one by one they left for Orlando. But here we are in 2016 and my BOLA experience this year was the best one yet. I can't wait to go to the 2017 BOLA.
If I can get tickets. I'm already panicking about that.