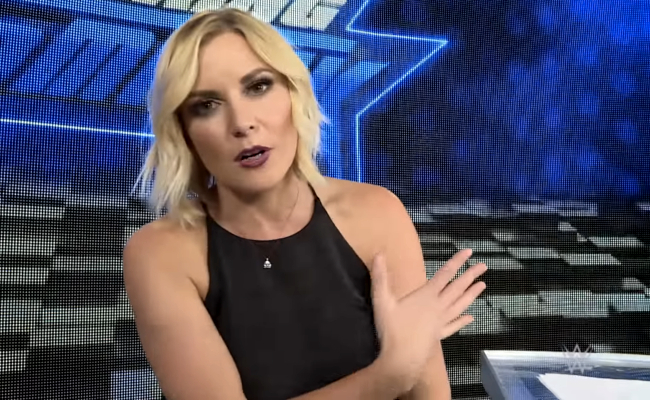 It's been nearly a year since Renee Young became the first woman to commentate on an entire episode of Raw, and only slightly less time than that since she permanently joined the Raw commentary team, becoming the first full-time female commentator in WWE (she's since been joined by Beth Phoenix on NXT). The problem with WWE commentary, particularly on the main roster, and most particularly on Raw, is that it's almost impossible for anyone to be good at it. Whether it's the voice in their headsets or just the way the show is put together, nobody seems able to make Raw commentary fun to listen to, although Corey Graves comes close through sheer force of personality. Nevertheless, in the past year Renee always seems to get the worst of it, even being told to talk less, as if talking isn't the whole job.

This weekend, she made a joke about men's baseball caps on Twitter, which inspired a guy who wears his cap that way to tell her she's a "shitty announcer." She initially responded by pointing out that she gets paid for it anyway, but when another random dude decided to tell her that was a bad look, she got vulnerable in an unexpected way.
Here's the truth. I know im not great on commentary, but it's my job. I try to get better each week. People love to tell me how bad I am at it as if I think I'm great at it. So I should just quit? What would that say about me?Not easy to learn a skill on a gigantic global tv show

— Renee Young (@ReneeYoungWWE) July 28, 2019
Personally I think she is great at commentary (within the restrictive confines of Raw), and she's certainly a hell of a lot better than Coach was when she replaced him, but she makes a good point that this is still her job, and she can only get better by doing it. Someone else replied that he misses the version of her that hosted Talking Smack, but as she points out, that's a whole different set of skills.
Well a lot of people say that but don't realize that Talking Smack and raw commentary are completely different jobs. I'm a tv host and have been for a decade- so talking smack was my jam- commentary's entirely different. Different skills.

— Renee Young (@ReneeYoungWWE) July 28, 2019

Throughout all of this, other fans were replying to Renee to say that she's great at her job and doesn't need to listen to these guys, but I think we all get how drawing that line can be hard when the criticisms of randos line up with things we don't have the greatest confidence in. Everyone from Karl Anderson and Gail Kim to Nia Jax and Beth Phoenix also weighed in to defend and comfort Renee Young. Personally, I think Paige said it best, so I'm giving her the last word:
Sis don't pay attention. You're doing a job that's extremely more difficult than it looks. Having to learn it on the go and also have multiple people in your ear without being distracted is hard but you're nailing it. Twitter is an ugly place. You're a beautiful bad ass. ❤️ https://t.co/96kfMflkZ5

— PAIGE (@RealPaigeWWE) July 28, 2019