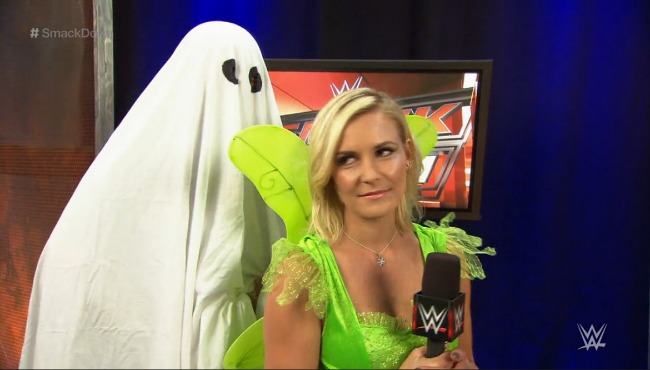 Hot off the announcement that the commentary team for WWE's second annual Mae Young Classic tournament would have two women in the booth, ESPN broke the news (via WWE, who love the modifier "first reported by") that Renee Young will also make history by becoming the first female announcer to call an entire episode of WWE's flagship show, Monday Night Raw.
Young will work alongside Michael Cole and Corey Graves for all three hours of the broadcast, making this the first time a woman has called an entire episode of Raw. (via WWE.com)
According to the report, Jonathan Coachman will be "out fulfilling another obligation," which makes us ask, "can Jonathan Coachman fulfill other obligations every week?"
Young will be part of the broadcast team for entirety of the three-hour broadcast, working alongside play-by-play announcer Michael Cole and color commentator Corey Graves.

"I believe this is the first time ever that we have had a woman in the booth for an entire episode of Monday Night RAW," Cole told ESPN.

"When Michael told me, I was like, 'This Monday?! What are you talking about?!'," Young said. "I am so excited for this opportunity. To be sitting with Cole, who has been such a great champion of mine since I've been working for WWE, it's going to be really cool."
Be sure to tune in this Monday for what should be a dramatic improvement.