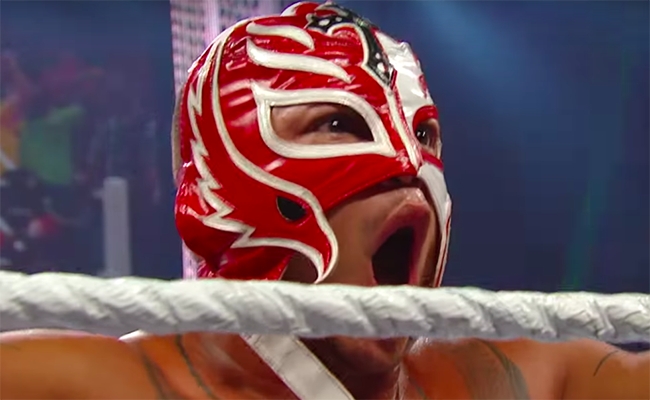 Rey Mysterio had been rumored to be talking to several different companies for months before his surprising Royal Rumble appearance. While talks with Lucha Underground and Impact Wrestling may have fallen through, his full WWE return seems pretty likely at this point.
Despite scheduling a match since then at New Japan Pro Wrestling's Strong Style Evolved at the end of March, Mysterio is still reportedly deep in talks for some sort of deal that will bring him back to WWE on a more regular basis — although the word is that he is looking for a very part-time schedule, rather than the usual grind of the road.
Unfortunately, with the worst possible timing (as is usually the case in pro wrestling) Mysterio may have suffered an injury — reported to be a bicep tear — at an independent show over the weekend.
Dave Meltzer of the Wrestling Observer noted Mysterio worked a tag team match with Flip Gordon against Joey Mercury and Caleb Konley at Northeast Wrestling, and the belief is he tore the bicep muscle at some point during the bout. Mysterio was able to finish the match, but there's been no word on what this means for his scheduled NJPW appearance or a possible WWE deal.
During this clip of the match, which was posted to Twitter, Mysterio does indeed appear to come up nursing his bicep at one point.
If Mysterio is injured, the timing couldn't be worse for all parties involved. Droves of fans are looking forward to his dream rematch against Jushin "Thunder" Liger at Strong Style Evolved in Long Beach, as Mysterio appeared to be taking the Chris Jericho route and bouncing between NJPW and WWE.
Now, his status remains unclear. Depending on the severity of the injury, he could miss one or both shows. Here's to hoping there's either no serious injury at all, or that Mysterio will make a full recovery, as soon as possible.