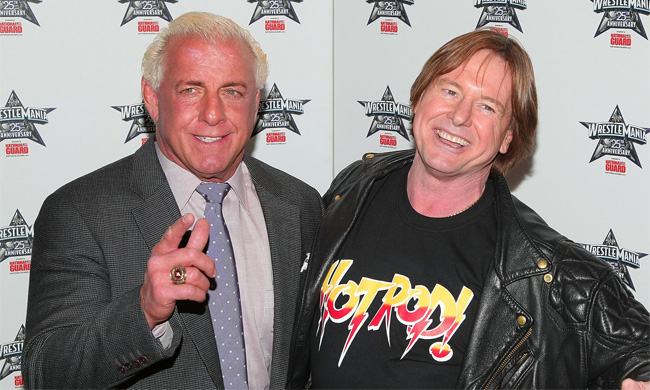 As we reported yesterday, wrestling legends Stone Cold Steve Austin and Rowdy Roddy Piper have become embroiled in a bit of a feud. Piper had Will Sasso on his podcast and of course Sasso did a Stone Cold impression, because that's basically the main thing he's known for. A surprisingly thin-skinned Texas Rattlesnake apparently objected to this impersonation, had the episode pulled, and may have had Piper booted from the PodcastOne network. At least that's what Piper implied.
On his latest podcast, Austin gave his side of the story. According to him, he did take offense to the Sasso impersonation, and did get the show pulled, but he didn't push to get Piper kicked off the network. Austin says Piper requested a meeting with the president of PodcastOne and it was Piper who decided to move on. Austin then tried to smooth things over a bit…
"To Roddy, you're one of the all time greats in the professional wrestling business. I cheered for you as a babyface, I booed for you as a heel, and respected everything that you did. Your Hall of Fame career speaks for what it is… to that, no hard feelings. I don't want to back and forth on this, it's a closed book. That's my side of the story. I will not respond to anything else. What I have spoken is the bottom line, and what I've spoken is the truth. I had nothing to do with Roddy Piper leaving PodcastOne. End of story."
Sorry Stone Cold, you don't get to pull that "bottom line" stuff in real life. Saying "I had nothing to do with Piper leaving" when he obviously quit as a result of you pulling rank and yanking his podcast is a tad disingenous.
And now there's further evidence things might not be quite as amicable behind the scenes as Austin would like us to think. On the latest episode of Ric Flair's Woooo! Nation podcast, the Nature Boy mentions that Piper has also had his WWE Legends contract canceled over his squabble with Austin. Man, it's one thing to mess with a guy's podcast, nobody makes any money of podcasts, but the loss of a Legends contract means money out of Piper's pocket.
For his part, Piper promises to further address the issue on his next podcast…
I hope Piper really does clear things up, but I have my doubts. Give a bunch of old-timers podcasts and it they turn the internet into a high-school lunch room.
(Via WrestleZone and What Culture)