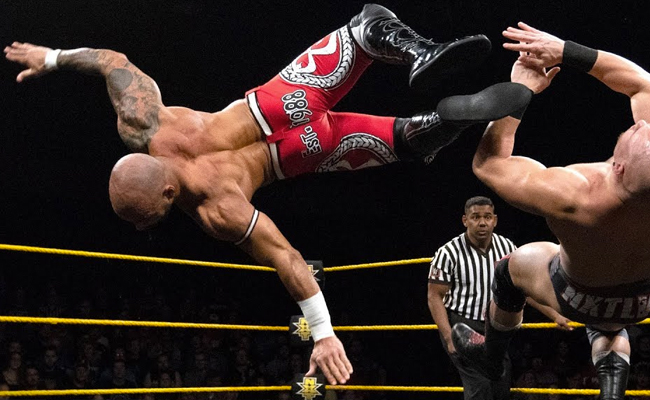 When you fly through the air as much as Ricochet does, you're bound to land badly now and again. To be sure, Ricochet has flown plenty since his signing with WWE early this year and his in-ring debut at NXT TakeOver: New Orleans. So it shouldn't be too shocking that he took a bit of a spill at an NXT Live event in Paris, where he dove out of the ring, completely overshot his opponent Velveteen Dream, and just sort of landed on the ramp with a thud.
The following day, Ricochet missed a live event he'd been scheduled for, leading to speculation that he might be injured and could even miss this weekend's NXT TakeOver: Chicago, where he and Dream are slated to have a highly-anticipated match. Today on his TakeOver: Chicago media conference call, however, Triple H did his best to put everyone's worries to rest, stating that Ricochet is not injured, and then helpfully explaining the nature of his injury.
He tweaked himself a little bit in Paris. He's not injured, we just didn't want to take a chance with it, and with TakeOver being just down the road a bit here. And you know, the one thing with athletes, and you know this, across the board from any sport, and for us especially, these guys are thoroughbreds, and the girls. Somebody has to pull the reigns on them and tell them 'let's back off today,' 'let's step up here.' It is a physical business. And yeah, he just tweaked his shoulders a little bit, but he's fine.
Trips' slightly flustered language aside, it sounds like Ricochet's not hurt as badly as some feared. If that's true, we will get to see the payoff to this highly enjoyable feud with Velveteen Dream this Saturday.