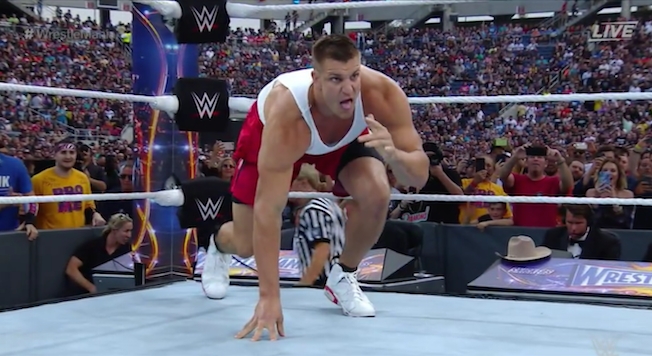 Two weeks before the Super Bowl is even played, rumors of Rob Gronkowski's NFL future, or lack thereof, are already the focal point of many in the league's media.
According to NFL reporter Ian Rappoport, there's a "strong possibility that Gronkowski retires this summer," but he's not expected to make the long-rumored jump to his inevitable second career, WWE.
"Last offseason was filled with uncertainty as Patriots tight end Rob Gronkowski weighed retirement, I'm told this offseason it will be the same thing for Gronkowski. When you talk to people close to him, they do think there's a strong possibility that this is the offseason he decides to hang it up and potentially go into a second career, maybe in the WWE although that is probably unlikely. More likely from Gronkowski, he'll try to be a movie star. As far as why he'd consider retirement, Chris Rose, just think about this — he's battled so many health injuries over the course of his career. Finally healthy now and feeling good, but clearly not the same player. No doubt Chris, Gronkowski has a lot to ponder."
Gronkowski is just 29 years old, but his body has taken a beating over the last few years with serious back and knee injuries. Many speculated that he could walk away from the game before this season started, but he returned for at least one more run with the Patriots despite rumored interest from WWE.
The All-Pro tight end has appeared at numerous WWE events over the years, including when he helped good friend Mojo Rawley win the Andre the Giant Memorial Battle Royal by tackling Jinder Mahal at WrestleMania 33. Gronkowski seems like a natural fit for WWE with his size (6'6″, 265 pounds) and charisma, but after years of grinding through the NFL season, it makes sense why he'd pass up traveling across the world and getting slammed on his back for life in Hollywood.