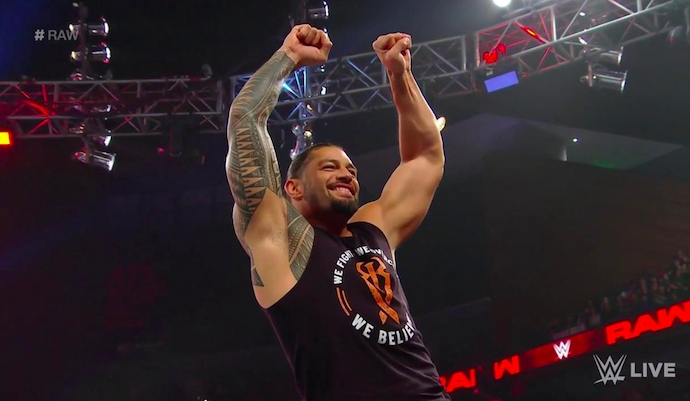 "The good news is … I'm in remission, y'all."
Let's just lead with that. Four months ago, Roman Reigns stunned the world when he announced that he'd been living with cancer for the past 11 years, and would be taking time away from WWE to fight it one more time. Four months later, Roman stepped into a WWE ring to let us know he'd done exactly what we'd predicted: he'd beaten cancer into remission, because even cancer's job is to take a loss to Roman. We wouldn't have it any other way.
Roman returned at the top of the show to a thunderous and heartwarming reaction, which you can watch below.
After taking his time getting into the ring and making sure to greet everyone at ringside, he extensively thanked the WWE Universe for their support, mentioning that the support he'd received was so overwhelming that "God's voicemail was full."
"We didn't just swing for the fences, man, we hit a home run. So when I tell you this I'm so grateful, I'm so humbled, and I'm so honored to announce this." The crowd chanted "WrestleMania," but Roman said we'd get to that later. He announced that he was in remission, that The Big Dog was back, and even got a hug from Seth Rollins on his way out.
Our hearts are full tonight, and no fussy arguments or commentary on the Roman Reigns character or how he's been booked or whatever matters. WrestleMania and Fastlane don't matter. Tonight was about Joe, and how much we needed him to get better, and that he did. We can save all the other stuff for later. Welcome back, Roman.