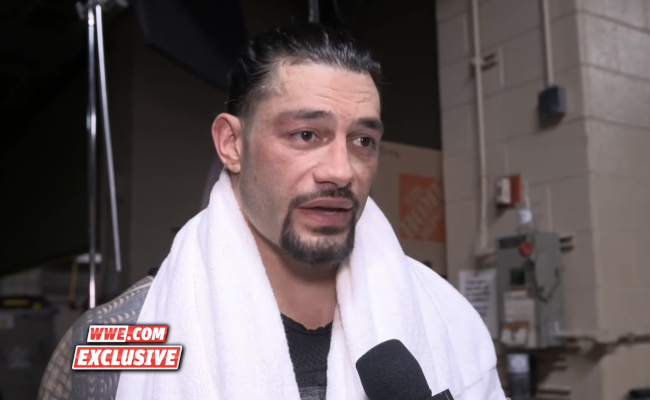 It's been about five months since Roman Reigns returned to WWE from the leave of absence he had to take to get treatment for leukemia. His illness affected not only his wrestling career, but his potential movie career as well. Fortunately both seem to be going well despite that obstacle, and even more so now that he's on his feet and in the ring again, not to mention an ESPY winner.

Roman's hometown newspaper, the Pensacola News Journal, interviewed him about his return to wrestling and how these past few months have felt for him:
I feel really good. It's nice to just have a greater perspective of everything and not just necessarily worrying about getting everything done. When you're in a position like I've been in for a while, you're just trying to look out for everybody and make sure your family's all good. Sometimes you can lose track of yourself, sometimes you can put yourself on the back burner.

It was really nice to see everybody drop the character and just pick up the man behind the character. Everybody got behind Joe. For me to have that type of support, that type of love, those type of positive vibes being sent my way, I mean, I couldn't have asked for a better reception. Especially when you speak about something so personal, something that's just so tied into who I am and what I've been through and just my story. It was really nice just to see everybody bring that positive light and pick up somebody who was struggling at the time.
The News Journal followed by specifically asking how he's doing physically, which he's also very positive about.
Man, I've been killing it lately as far as my nutrition and my training so I feel really good right now. But, yeah man, there was definitely that transition getting back, just before [WrestleMania]. And I think that's why you saw me kind of leaning on The Shield at the time, in that very first match back. I mean, it's live out there, anything can happen, so they just wanted to make sure to kind of keep the training wheels on me for that match, and I was gliding in there. I felt really good with the role I was playing.

Then we made the next move going into 'Mania against Drew [McIntyre] and I felt really good there. It gave me a good result. I was able to go in there and kind of feel like my old self and kind of do my thing. Over the past few months now, I've really been able to hone in and take my time, work through things, and get my feet down back solid to where I'm rooted in my routine. Everything's just running on all cylinders now, it's smooth.
Roman Reigns seems to be in a good place in his life, and he's definitely in a good place in his wrestling career. His absence and fans' sympathy got him past all the boos he used to get, and hopefully as WWE moves him back up the card, they can manage to keep that goodwill alive this time.