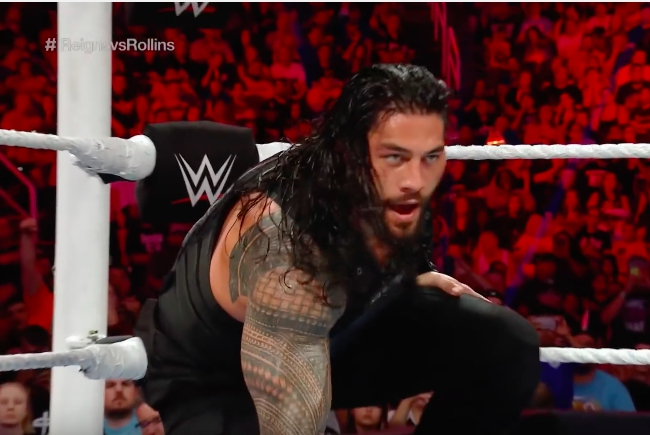 Roman Reigns' suspension has been the biggest story in wrestling for the last few weeks. WWE has been pretty tight-lipped about the entire situation as we still don't really know what the exact drug it was Reigns was caught with. What we do know is the case seems pretty cut and dry: Roman Reigns took an illegal substance and is paying the price for it. According to the Wrestling Observer, however, he had to serve some locker room justice as part of his penance.
Before flying home for his suspension, Reigns was ordered to apologize to everyone in the locker room on his way out. The order was delivered by Mark Carrano, which apparently means it was sent down by Triple H and not Vince McMahon. So this might be a simple act of old-school justice by a guy who was actually in the locker room, or it could be a sign that WWE officials are looking to humble and punish Reigns beyond just his suspension. I would think, though, that Roman should have probably taken the initiative to offer up an apology or some sort of speech to the guys in the locker room before being ordered to do so from the higher ups since he didn't drop the ball while holding the title.
Some in the locker room thought that him being forced to apologize was over-the-top and demeaning, while others were reportedly happy to see him have to eat a little crow after his screw-up. No word yet on if he made the apologies barefoot while everyone yelled "shame" at him or not. There's also no indication of what this all means going forward. Does WWE pull the plug on the Reigns experiment or at least cool him off for a bit? Or does he hop right back in as the new face of the company? This is the most dramatic storyline in wrestling and it'll be fascinating to see it unfold.