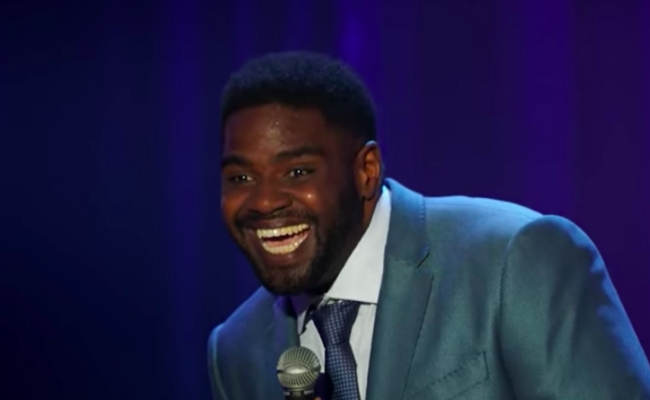 Actor and comedian Ron Funches is the furthest thing from ashamed about being an ardent pro wrestling fan. Talking about his fandom multiple times on late night talk shows and during stand-up comedy routines, enlisting Ric Flair to advertise his Comedy Central special "Giggle Fit," and commentating at Joey Janela's Spring Break are just a few of the ways he's been involved in the wrestling world over the past few years.
Over Memorial Day weekend, Funches will be a part of Starrcast II, the convention partner of AEW's Double or Nothing. He'll host the Starrcast Stand-Up Comedy Show on Thursday, May 23, and his "Get High Watch Wrestling" show with X-Pac on May 24, and play the roastmaster for one of the events that has created the most buzz for Starrcast, the Roast of Ric Flair. The Roast of Ric Flair will take place on Friday, May 24, starting at 9 PM Eastern, and will stream live on STARRCASTonFITE.com and will feature comedians Don Soder, Taylor Williamson, Mike Lawrence, Dan St. Germain, and Tony Hinchcliffe, as well as figures from the wrestling world.
Funches spoke to With Spandex about Flair, roasts, and what he thinks this the match to look out for at Double or Nothing.
With Spandex: You've talked about your love of Ric Flair in the past. Do you think your personal fandom will make you more likely to want to go easier or harder on him?
Ron Funches: Oh, I'm not holding any punches but I'm not there to be the meanest and that's not in my nature. I'm there to be a fan and to talk about my love of wrestling and make fun of all the true things that have happened to Ric.
If you could be the roastmaster for any wrestler besides Flair in the future, who would be your pick?
Flair is the only choice for me. I'm not actually a big fan of roasts and wouldn't host a show for anyone else unless it's The Rock then I'd be there in a heartbeat.
What do you think is the key to a good roast?
Honesty, really funny comedians, and people who actually love and know about the people they are roasting. Too many roasts you can tell the people don't know each other at all and that makes it too mean and impersonal to me.
Is there a comedian or other person on the show you're most looking forward to seeing take part in this event?
Tony Hinchcliffe is one of the meanest joke writers in the world and he's gonna destroy.
It seems like you've become more involved in the wrestling world over the past year or so and you mentioned in the past that you were training. Could people see Ron Funches in a wrestling ring one day?
It's possible. I know I'm not a wrestler and I have too much respect for the business to come in and do harm but if something made since I'd be all over it. I've taken a few bumps and I learned a couple things. The first is it's addicting and the second is I'm not very good at it.
I'm guessing you're going to Double or Nothing later the same weekend. What match are you most excited for on that show?
The whole card is shaping up quite well but if I had to pick one match to look out for it's PAC vs Adam Page I think they are both looking to prove that they are main event talents and this match could be a great showcase for that.