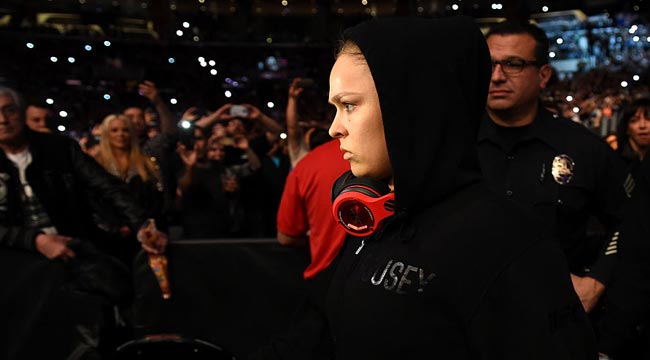 Ronda Rousey and CM Punk are in a curious, and not often seen position. Rousey's a former MMA superstar who is making the transition to pro wrestling, while Punk is a pro wrestling superstar making the move to MMA. The jury is still out on how Ronda will do in wrestling, but in MMA, Punk has shown that he still has a way to go. That doesn't matter much to Ronda.
When it comes down to it, both stars are following the path they want to take. Ronda may have lost her last two fights, but she doesn't need to prove anything to anyone in MMA. She changed the game, and Punk was one of the biggest superstars in wrestling for years. Both want to climb a new mountain.
So when MetroUK spoke to Ronda about Punk, she explained that she would love to work with him, but he's doing his own thing, and that's absolutely fine.
I think everybody on Earth would love to see him back in WWE, and I would completely fall all over myself and be honored if he wanted to be involved with me in any way, shape or form. But also, it's not all about everyone else. It's his life and it's about him. He's doing what he enjoys, what he's passionate about and what brings out the best of him.

I'm sure there's a lot of people that wish I would come back to fighting, but you know what, I don't fight for them, and he doesn't wrestle for us. He should do what he wants to do and what makes him into the person he feels like he's meant to be. If that's fighting right now, then all the power to him. Fight to your heart's content. Everyone in the world knows he has a gift for wrestling and he has something special, and if he ever feels like sharing it with us again, then hell yeah, please, even if it's not with me, I just hope I'm there to see it. If he never wants to get back in that ring again, he has every reason not to, and all the respect in the world from me.
Ronda is currently on the road to Wrestlemania while all signs point to CM Punk fighting in his hometown of Chicago for UFC 225.