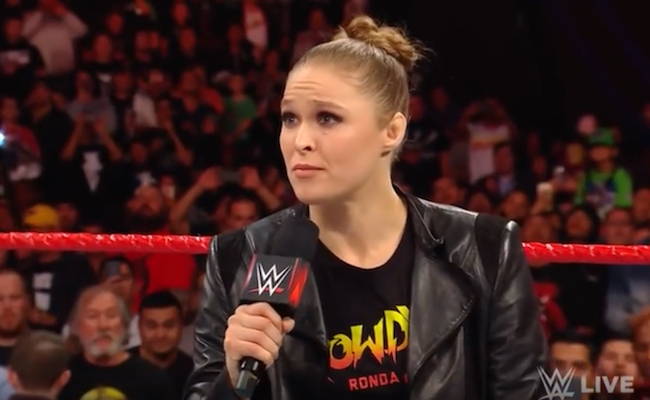 Ronda Rousey is officially a member of the WWE Monday Night Raw roster after showing up at the Royal Rumble, pointing to the WrestleMania sign and signing a contract at the Elimination Chamber.
Rousey followed that up with showing up on Raw the next night and watching her new buddy/general manager Kurt Angle get unexpectedly socked in the face by Triple H.
Rousey capped off her week outside of the ring in Columbus, Ohio, where life was a little less hectic as she was inducted into the International Sports Hall of Fame at the 2018 Arnold Sports Festival. Rousey also received her sixth degree black belt at the event.
Angle even made an appearance at the event, even calling his daughter, "Little Ronda."
Rousey's accolades speak for themselves, as she was easily the most dominant woman in MMA not named Cris Cyborg.
She was unbeaten as a professional MMA fighter from 2011 until 2015, when Holly Holm nearly kicked her head off in one of the most shocking upsets in sports history. Rousey returned to the Octagon in 2016, suffering a TKO loss to Amanda Nunes. She also won the bronze medal in judo in the 2008 Summer Olympics.
As of January, though, Rousey has landed squarely in WWE land, fully entrenched in a rivalry with The Authority, Triple H and Stephanie McMahon. No one seems to know for sure what's in store for Rousey on the road to WrestleMania, but taking into account what's currently happening onscreen, and Angle's show of support at the Hall of Fame ceremony, it appears rumored plans for her are accurate.
Rousey isn't confirmed to be at Raw this Monday, but
WWE.com's official preview
hints that her issues with McMahon and Triple H aren't quite over.