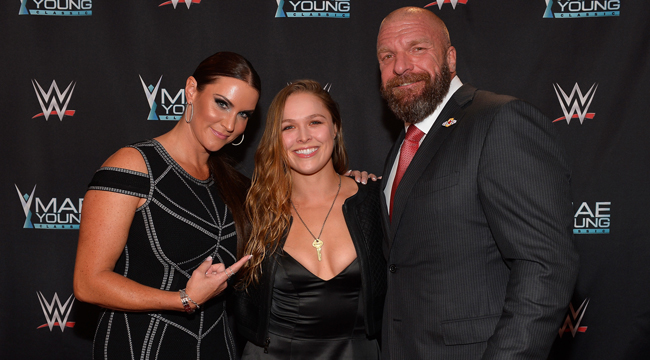 On Sunday evening, the Royal Rumble will go down at the Wells Fargo Center in Philadelphia, and it will include the historic first 30-woman Royal Rumble in WWE history. That sure seems like the perfect place for Ronda Rousey to make her long-rumored return to wrestling, and some insiders are saying she won't just show up at the Rumble, she's going to win it.
Countering all these stories of her participation in the Royal Rumble is Rousey herself, who was caught by TMZ leaving the country on Thursday for South America where she's filming the Mark Wahlberg action flick Mile 22. And just in case you thought she might deke out the press and fly to Philadelphia instead, her generally inactive Instagram account sprung back to life soon after with photos of Rousey on set in Colombia.
Instead of that settling the issue, though, it has only convinced some pro wrestling fans that Rousey is in the middle of some A++ pro wrestling deception. She's totally going to hop an 11th-hour flight back (if she ever really left at all!!!) and shock the world on Sunday night. Hey, maybe. It is possible. But we certainly wouldn't go ahead and buy the Royal Rumble just because you're expecting Rousey to storm the ring at some point in the night.
*UPDATE* A makeup artist working on Mile 22 just posted a photo of Ronda Rousey getting prepped for a day's worth of filming at 11AM EST, making any participation from her in the women's Royal Rumble a near impossible feat of time and space.