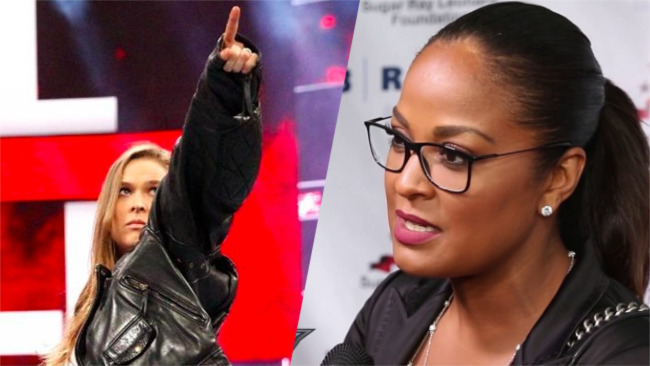 Looks like the war of words between Ronda Rousey and Laila Ali has entered Round Four, and I guess we're ending this thing in a draw.
Noted scions of reserved analytical sports journalism, TMZ, caught up with Laila Ali on the promotional tour for her new cookbook Food For Life: Delicious & Healthy Comfort Food From My Table to Yours:
As we've covered here at Uproxx before, TMZ started this whole thing way back in 2015 by asking She Bee Stingin' what she thought of Rousey as a fighter and, after some polite demurring, Ali couldn't help but fall into the family trademark trash talk and compare Rousey's size to Ali's three year old daughter. This lead to the rest of the kids on the playground going "OHHHHHHHHH" and Rousey's inevitable response to "come get these hands" the same year Braun Strowman debuted on Raw.

We all know how Ronda's MMA career ended and Ali perhaps got a little too into her feelings when people had been quick to compare Ronda to her father, the OG People's Champion . When fighters start throwing around the word "exposed" to describe another fighter, you know you've got some Grade A beef hanging in the freezer. You don't have to run up a lot of steps to see the shadow on the wall. You'd have to be a real palooka to not – you get where I'm going with this.
It appears though now that we're all a little older and a little wiser. In that clip above you can see that Laila Ali isn't even all that interested in talking about boxing (hey, she's got a book to promote, ya big galoots) and when the subject of Rousey signing with WWE is broached, Ali drops her defenses and seems genuinely warm on the concept.
As she and her assistant rightly and sprightly point out in an amazing one-two punch:
"She can wrestle!" (fingerpoint)

"Wrestle with that cookbook right there!"
I think we all know it is unfair to compare boxers and mixed martial artists in the first place and it appears this contest of wills has cooled now that everyone is moving on to the second acts of their lives. Rousey is moving into a long term deal with WWE and looking forward to Wrestlemania. Ali is writing best selling cookbooks and trying to win Celebrity Apprentice.
From all of us at Uproxx, we agree with Ali here: We wish you the best of luck, Ronda Rousey. Asuka's gonna kill you.