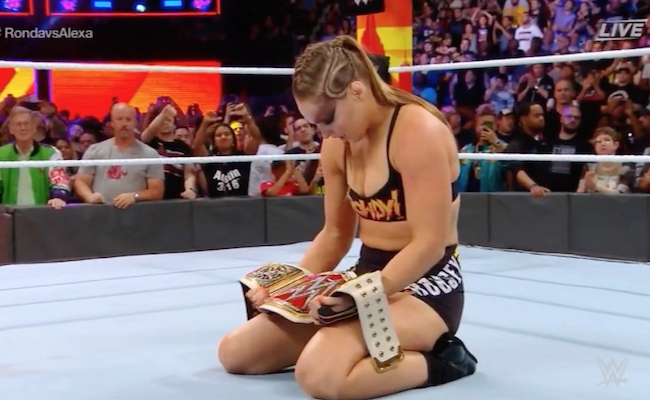 Tonight was only Ronda Rousey's third PPV match in the WWE, after her debut mixed tag at WrestleMania and her match with Nia Jax at Money in the Bank (which Alexa Bliss interrupted with a Money in the Bank cash-in). Nevertheless, a raccoon-eyed Rousey managed to defeat five-time champion Alexa Bliss to begin her reign as WWE's new Raw Women's Champion.
Despite Alexa doing her best to not even stay in the ring long enough for Rousey to lay hands on her, she eventually put Bliss in her famous arm bar, and quickly forced the champion to tap. Ronda celebrated her victory with Natalya and the Bella Twins in the ring, and then with her husband, who was in the front row.

Alexa Bliss has become famous (some might say infamous) for winning title match after title match even when the story didn't seem to be going her way, so Ronda's victory tonight was anything but a foregone conclusion.
On the other hand, obviously Ronda Rousey's inexperience as a professional wrestler is balanced out by her background in judo and mixed martial arts. She arrived in WWE this year as a former UFC Women's Bantamweight Champion and the first woman in the UFC Hall of Fame, not to mention being a world champion in judo prior to that. And yes, she also arrived as the most famous woman ever to sign with WWE, which is perhaps the most important factor of all.
However you look at it, Ronda Rousey is now the Raw Women's Champion, and it's going to be interesting to see how she does in that role. It'll mean more promos (probably starting tomorrow night), and if she's going to avoid the pitfalls that turned WWE fans against Brock Lesnar as Universal Champion, it's hopefully going to mean more wrestling as well.
As for Alexa Bliss, she's got a huge match to look forward to at Evolution, and she probably gets to lose a rematch with Ronda along the way.