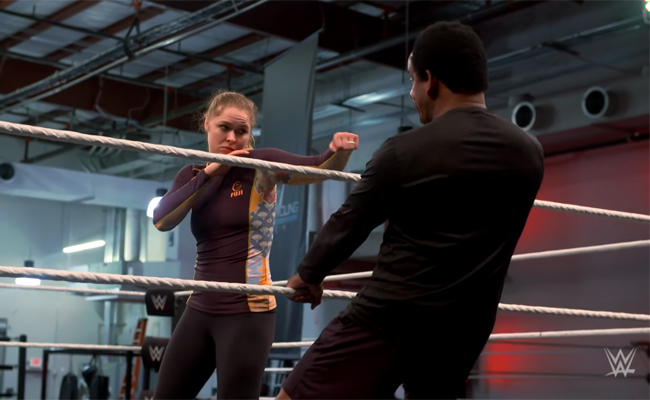 WWE has released a YouTube video of Ronda Rousey training at their Performance Center as she prepares for her Raw Women's Championship Match at SummerSlam this Sunday. While footage shows her working out by herself and practicing in the ring with WWE trainer Norman Smiley, Ronda provides a voiceover about her feelings and motivations on the Road to SummerSlam:
I always consider myself a student at all times. Even if I'm an absolute master of something, I still have things to learn.

We're just throwing ideas around for what we think could work for an opponent like Alexa Bliss. With every opponent you have to kind of customize your training around them. Nia Jax and Alexa Bliss could not be anymore more different from each other. So a match with Alexa Bliss, she has a lot of unique problems to present for me that I haven't prepared for before, so I'm trying to be as ready as possible. I feel like I'm just laying the tracks down in front of the train as it's going, and this is just a very fun and unique way to learn, and just because it's different, doesn't mean that it's wrong. It's just the way that's there for me. I'm excited to show people that there's more than one way to make it to the top.
Obviously there's some kayfabe in play here, as she presents her training as getting ready for Bliss specifically rather than having more to do with practicing a worked style of fighting that doesn't really hurt anyway. Still, I like hearing Ronda talk about stuff like always considering herself a student. After the speed with which she's arrived in wrestling and made her way to the title scene, it's nice to hear some humility from the probably future Raw Women's Champ.

As for where things are headed after SummerSlam, WrestlingInc. is reporting that Dave Meltzer predicts that the long-predicted match between the Four Horsewomen of MMA (Rousey, Shayna Baszler, Jessamyn Duke, and Marina Shafir) and the Four Horsewomen of WWE (Charlotte Flair, Becky Lynch, Sasha Banks, and Bayley) will happen at Survivor Series. Duke and Shafir are currently training at NXT, while Shayna Baszler is at the top of that brand's women's division, so it makes sense that the time for that match is nearly at hand.
Meanwhile, Charlotte called out Rousey on ESPN this morning, saying "They keep saying she's the toughest woman on the planet, but I think I'm the toughest woman on the planet."
I really want to tell Charlotte you shouldn't say "shots fired" about something you said yourself, but her occasional awkwardness is part of her charm. If the Horsewomen match does happen at Survivor Series, it's not hard to imagine how it leads directly to a singles match between Charlotte and Ronda at WrestleMania next year, but we'll cross that bridge when we get to it.