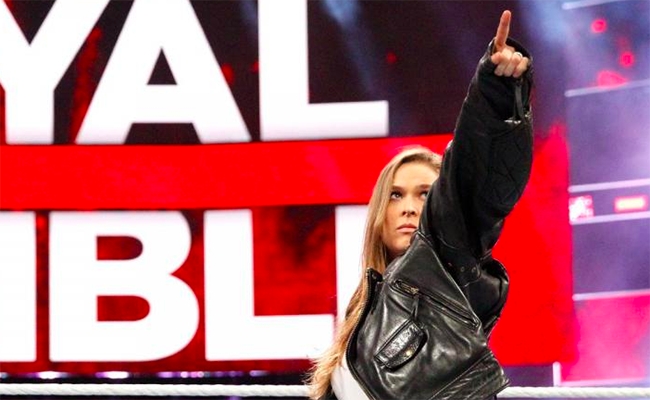 By now, the entire world (and probably large swaths of Venus) knows that Ronda Rousey made her WWE debut at the end of Sunday's Royal Rumble, and that she is now "full-time" with WWE.
(Of course, she isn't so "full-time" as to show up on Raw the next evening, but she's definitely committed to her new life as a pro wrestler, which is something she's been wanting to do for a very long time.)
Many were left scratching her heads that during her debut, she didn't talk, or make any specific challenges apart from the traditional (nay, obligatory) point at the WrestleMania sign. There was speculation leading into the Royal Rumble that she would win the women's Rumble match and/or face Asuka at WrestleMania, which is why Asuka has moved to using the armbar as a finisher in recent months.

This, of course, followed even older reports circulating around the time of the Mae Young Classic that Rousey and the rest of her MMA Four Horsewomen would be gearing up to face WWE's Four Horsewomen in a massive WrestleMania eight-woman tag team match. They even filmed a vignette to tease the rivalry!
But at the end of the day, Rousey was reportedly never considered to be part of the women's Rumble match, and they might have something even more massive planned for her WrestleMania match — which they intend to be her debut match, which will give her a couple more months to train as a pro wrestler.
According to Wrestling Observer Live, the ideal and tentative plan for Rousey at WrestleMania is to make good on the promise of WrestleMania 31, and to team Rousey with the Rock in order to take on Stephanie McMahon and Triple H. WWE has apparently been hard at work trying to make that happen, but given Rock's beyond-hectic shooting schedule, there's no telling whether he can make it on April 8.
There's still the possibility that Rousey vs. the Authority will go down, perhaps with a different partner if the Rock's dance card is full. You can also never rule out a Rousey vs. McMahon singles match. One thing is for sure: there are pretty much limitless opportunities for Rousey's WrestleMania opponent. Things will become clearer over the coming weeks, but regardless, it looks like they want this one to be a very, very big deal.