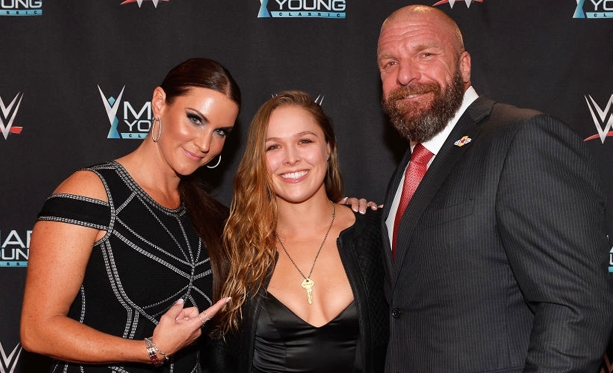 It's been nearly a year since Ronda Rousey effectively ended her career after a TKO loss to Amanda Nunes at UFC 207, and in the time since, the possibility of her joining WWE has increased seemingly week by week. During the height of her UFC championship run, Rousey made multiple appearances in WWE — from teaming up with The Rock to Judo-throw Stephanie McMahon to hanging out ringside — but this year, it seems as if something more substantial is brewing.
Now people close to Rousey have told USA Today and MMA Junkie that she is "finalizing details of her move to WWE." She likely won't be a worker like her friend Shayna Baszler, but someone who comes in during tentpole events for big storylines. Kind of like Brock Lesnar but with way less experience. They'd make a cool tag team, wouldn't they?
So now the waiting game continues, but weeks/months/years of a Rousey move to pro wrestling seems to be coming true. Rapidly. And it's just in time for a Wrestlemania appearance. Back in September, Rousey and Charlotte Flair had a bit of a run-in that culminated in Rousey growling: " "You name the time. You name the place."
Maybe that time and place is this March at Wrestlemania in New Orleans?
(Via MMA Junkie)