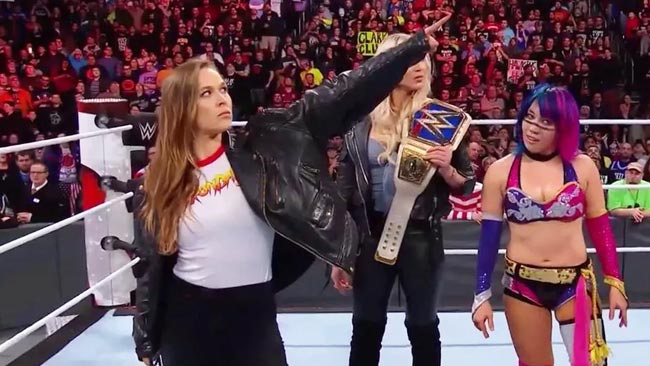 Ronda Rousey's grand entrance into WWE as a full-time performer led to fans wondering where she was at the RAW following the Royal Rumble. As of right now, she actually really is in Colombia filming her movie Mile 22 and she'll be there for at least the next few weeks. But, Triple H is here to assure fans that she's in it for the long haul, and she'll be back in WWE soon.
Speaking to USA Today's FTW, Haitch clarified just when Rousey will be back:
She'll finish up this movie, and then she's in. She'll be at the Performance Center, she'll be training and working with us every day. And we'll see where it goes. It is not for lack of desire or motivation, if anything. The two times she has been at the Performance Center training, we've had to try to get her to back off because she will train all day and all night if we let her.
In the interview, Triple H made it known that a year before Rousey signed her name on a WWE contract that she was training and preparing for a jump to pro wrestling. It doesn't hurt to have one of her best buddies, Shayna Baszler, showing her the ropes. So now the question is exactly when she'll make her in-ring debut.
It seems like a foregone conclusion that she'll be making more appearances on the road, but if Triple H wants her to be back in the performance institute by mid-February when she's done filming, does that give her time for a warm-up match, or will she be debuting at WrestleMania?
Read the entire story of how Rousey made the jump to WWE here.