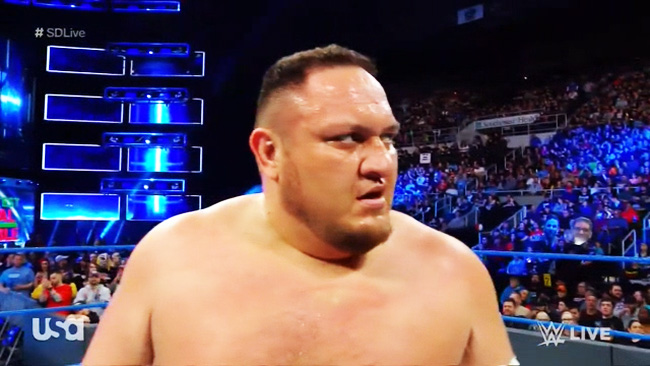 Samoa Joe returned to Monday Night Raw television just one week ago after missing his second consecutive WrestleMania due to injury.
The Samoan Submission Machine found his way right back into the main event scene, immediately challenging Roman Reigns for a bout at the upcoming Backlash premiere event.
Joe's stay on Raw was short, however, as the former NXT champion became the latest to make the jump to Tuesday nights.
Joe choked out Sin Cara in his debut, then called out the Smackdown roster, saying he'd put to sleep Daniel Bryan, de-fang Randy Orton and emasculate AJ Styles. Before he left, Joe also called out Reigns, saying he'd put the Big Dog out to pasture.
Joe is slated to compete in the Intercontinental championship ladder match against The Miz, Finn Balor and current champion, Seth Rollins at the Greatest Royal Rumble event on Friday. Reigns also has a rematch with Brock Lesnar for the WWE Universal title.
Should Reigns win, his battle against Joe at Backlash could possibly be for the Universal title. In theory, Joe could bring both belts to Smackdown, but that almost certainly won't happen. With brand crossovers happening at pay-per-view events this year, anything is possible though.
Hopefully in the land of opportunity, the 39-year-old Joe can find his way back into the title picture and eventually make his long-awaited WrestleMania debut.