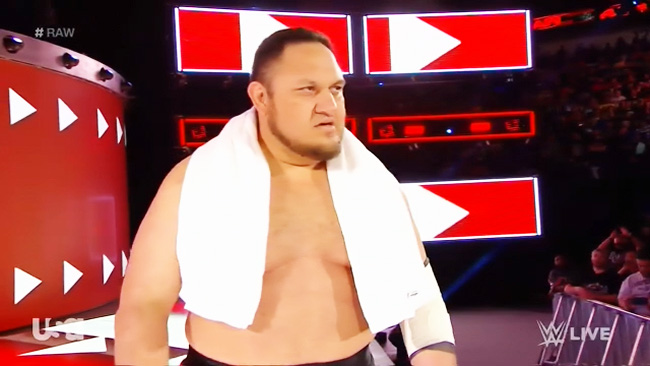 WWE's night of big returns continued, when Samoa Joe ended his three-month absence and appaered on Monday Night Raw. Joe picked up where he left off, rubbing Roman Reigns' face in the beatdown he suffered at the hands of Brock Lesnar just one night prior at WrestleMania 34.
Reigns was beaten and bloodied (literally) by Lesnar at 'Mania, but showed up on Raw to vent yet again on the current WWE Universal Champion. Reigns called out management for re-signing Lesnar and expressed frustration over finding out he'd be competing for the title at the Greatest Royal Rumble event like everyone else did — on the internet.
Just as he seemed to be wrapping up his moment on the mic, Joe's music hit and he made his first appearance on Raw since early January.
Joe called out Reigns for previously saying how he could beat Lesnar, only to fail yet again. He then said he'll be waiting for Reigns at Backlash after the title challenger fails again in his battle with Lesnar at the WWE Network special in Saudi Arabia.
Joe missed WrestleMania after suffering a foot injury. He was positioned in the main event picture throughout much of 2017 before he was sidelined with the untimely injury.
Hopefully this next year will be the year the 39-year-old Joe can cap his successful main roster run with a WrestleMania appearance.