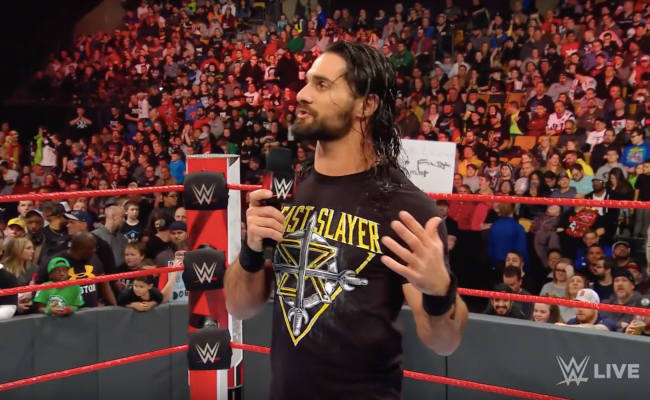 Seth Rollins already had one of the greatest Mania moments of all time at WrestleMania 31, when he cashed in his Money in the Bank contract on a title match between Roman Reigns and Brock Lesnar, and then became the WWE Champion. Now after relinquishing that title due to injury, taking time off, and returning for another long journey to the top (this time as a babyface), he's about to face Lesnar one-on-one for the Universal Title at WrestleMania 35. Rollins gave an interview about all of this to Yahoo Sports, and he had some harsh words about Lesnar, who has only occasionally appeared on WWE TV since he's had the belt.
Seth Rollins spoke about his journey from returning after a bad injury to fighting for the Universal Title and let loose about Brock Lesnar.

I think people are just sick of it. You've seen and heard it every single week. They want to see a champion who is going to be there, that's going to represent them, that's a champion they can be proud of and one that inspires people. Brock Lesnar doesn't inspire anybody. He's an industry killer, not an industry builder. He cares about no one but himself and he'll tell you that, it's been that way his entire life. He was given the opportunity years ago to carry the mantle here in WWE but it was too tough for him and he walked away. Granted, he's been able to come back and do things on his own terms, but his own terms only serve himself.
Some people will be sure this is nothing but kayfabe storytelling, while others may take it as Seth expressing his real opinions. My own question is, why can't it be both? That's the sweet spot.