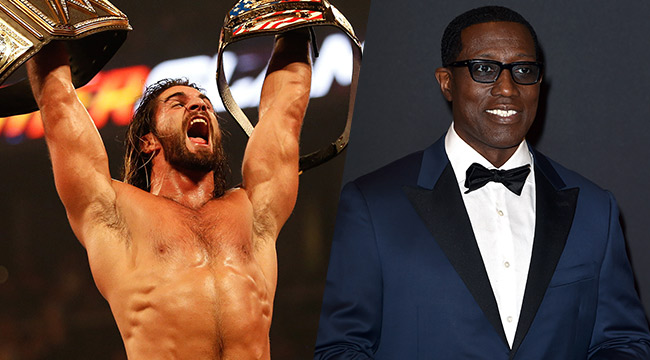 When times are tough, it's pretty hard to stay upbeat and positive. Then, news so great comes across your metaphorical desk that it makes you remember, oh, wait, life is beautiful.
From the people who brought you Countdown, a.k.a. Rusev with a Gun — the film that gives us Rusev with a gun — comes Temple, a real life movie starring Seth Rollins, Anne Heche, and Wesley Snipes, produced by Gene Simmons from KISS.
No, seriously.
From the press release:
Los Angeles, CA (April 5, 2016) – Erebus Pictures, the genre specialty label formed by Multi Media Magnate and KISS co-founder Gene Simmons and WWE Studios, announced today that Wesley Snipes (The Expendables 3), Anne Heche (Wild Card), Dave Annable (Brothers and Sisters) and WWE Superstar Seth Rollins are on board to star in the John Stockwell directed thriller TEMPLE.

TEMPLE, written by Matt Savelloni (Exile to Babylon), and directed by John Stockwell (In The Blood), follows a team of trained operatives consisting of Snipes, Heche, Annable and Rollins, who find themselves trapped inside an isolated military compound after its artificial intelligence is suddenly shut down—and then begin to experience strange and horrific phenomena.

Erebus Pictures plans to use WWE's extensive platforms from weekly TV shows, including WWE's flagship programs, Monday Night Raw® and SmackDown®, digital, social media and WWE Network, to market the film.
So, to recap: a KISS demon is producing a movie with CrossFit-and-cute-dog-enthusiast Seth Rollins, Blade, and the lady who once insisted she was the daughter of God here to take everyone away in her spaceship and any of them could show up on WWE Raw or SmackDown at any time.
I think Wesley Snipes himself best sums up my reaction: