On Tuesday, Mattel announced their San Diego Comic Con exclusive for their WWE Elite line, via their Matty Collector blog. And it's a doozy. Yes, for the first time ever, there will be an honest-to-god, official Shockmaster figure.
You know, the Shockmaster. From WCW.
Yes, that Shockmaster. But the existence of this figure isn't even the best part. The best part is how the figure will be packaged, which should definitely win the Pultizer or Nobel Prize in Toy Marketing. That's a category, right?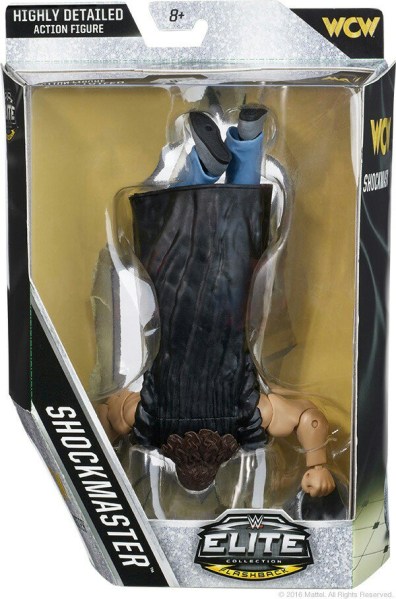 Yep, Shockmaster's blunder (which was also recently the subject of an entire episode of The Edge & Christian Show That Totally Reeks of Awesomeness) will live on for all time in glorious peg-hanger form. In fact, it's probably a good idea to buy two of this figure: one to pose, like Mattel did in this helpful illustration …
And one to keep in the packaging on the shelf, suspended for all time, mid-tumble. It's probably how Fred Ottman would want it. He seems pretty cool with the whole thing these days. And let's be honest: a be-glittered fat stormtrooper wearing the skin of a fallen Chewbecca is really a big step up from "is literally a tugboat." I don't care how many walls you fall through.
The only bit of bad news about this bad boy is that you have to actually be able to go to the SDCC (no small feat, since it has been sold out for months, as usual) to pick it up, even if you pre-order. The details on how to order the figure, via Matty Collector:
This product will be available for pre-order at MattyCollector.com on June 16, 2016 for subscribers only (Early Access), and from June 17 through June 26 for everyone else (All Access). Orders must be picked up in person at San Diego Comic-Con. Products will also be available for purchase at the convention.
Bonus points for this figure if the helmet comes off SUPER easily.
(h/t Action Figure Insider)