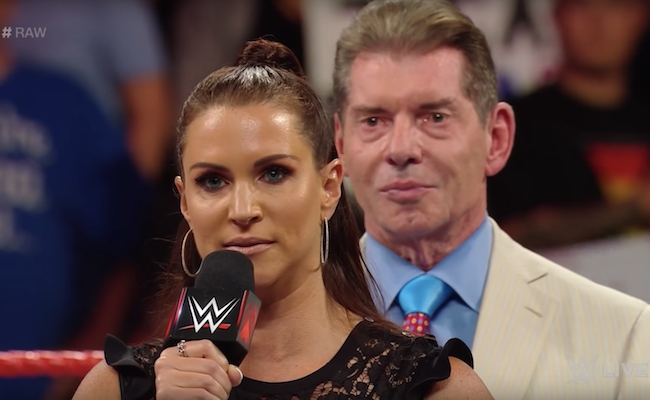 WWE's Stephanie McMahon announced its first ever all-women's pay-per-view, Evolution, during Monday Night Raw earlier this week. The PPV event will take place on Oct. 28 and will feature matches for the Raw Women's Championship, Smackdown Women's Championship, NXT Women's Championship, and the final of the Mae Young Classic. As noted by McMahon, 50 women will participate in the event.
McMahon spoke with ESPN about the massive announcement and what her vision of the all-women's show is into the future, hyping up the event for its inaugural show and as it goes into the future.
"What's awesome about this pay-per-view event is that it's being treated the same as every other pay-per-view, because we believe in it so much," McMahon said. "It has the creative writing team. It has all of our live events production, talent relations — all of the different departments that go into making every pay-per-view a success are behind this pay-per-view. In terms of my role, I'm going to do everything I can to make it as big and as successful as it can possibly be. I'm hoping, at any rate, that this is going to be the WrestleMania of the women's division."
McMahon's comments come in addition to Triple H noting the assertion that the women's show is in response to the Greatest Royal Rumble as a "ridiculous statement." Whether the women's show grows to reach McMahon's ambitious aspirations remains to be seen, but this is certainly a major step in the right direction.