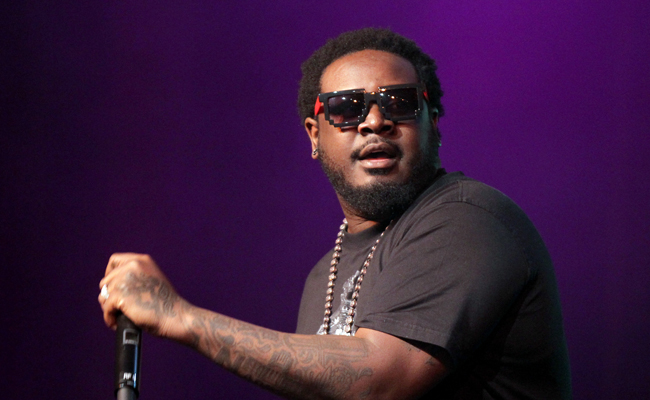 Rapper T-Pain was at LaGuardia airport with his manager Andy Kambaba and bodyguard Chris Britto, when an elderly white woman looked at them and was pretty sure they were famous. She approached them to ask: "Are you the New Day?"
The three embraced the Power of Positivity and took a New Day-esque photo together, with bearded-and-braided T-Pain in the Kofi Kingston spot, muscular Britto standing in for Big E, and long-haired Kambaba as Xavier Woods. T-Pain Instagrammed that pic alongside a matching one of the New Day, and tagged the four-time Tag Team Champions in the post.
Obviously getting these guys mixed up ought to be pretty embarrassing for the old lady in question, but it would be hard to be insulted by a comparison to the New Day. They're one of WWE's greatest factions, they've recently had some truly amazing matches with the Usos, and they're the longest-reigning Tag Team Champions in WWE history. Plus, they're just stylish and fun. They've even tried their hand at rap battles, although they're definitely not coming for T-Pain in that regard anytime soon.
But if this leads to any kind of crossover between the New Day and T-Pain, whether on WWE TV or just social media, we'll all be thankful to that unobservant old lady for making it happen.