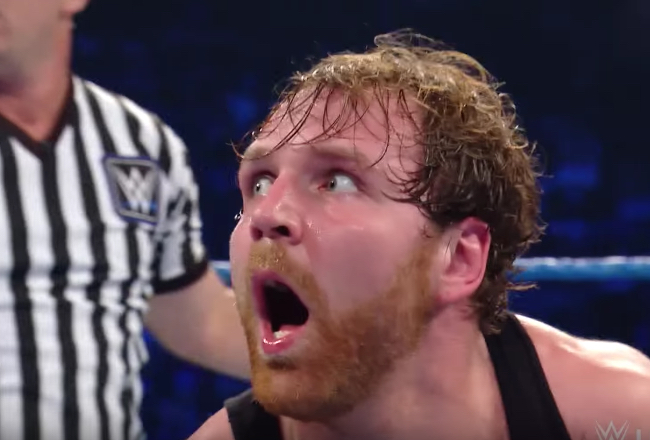 Hey, Blue Team!
Interesting Smackdown this week. Due to AJ Styles' injury, I'm sure the writing staff had to rewrite the show an hour before (as opposed to two hours before the show, which is when they normally write it). In some places the show can feel like they are killing time, running out the clock on this year. But they are at least running the clock out with some different things than normal, so they are keeping my attention. It'll be interesting to see if WWE can keep the rest of the year from getting stale.
It's the holiday season. The time of year where everyone loves giving. So why not give the gift of snarky internet wrestling commentary, and take a moment to give The Best and Worst of Smackdown Live a share on your favorite social media platform. While you're at it, follow With Spandex on Twitter and like us on Facebook.
And now without further ado, here is The Best and Worst of Smackdown Live for December 6th, 2016.

Best: Dirty Rotten Scoundrels
The three main characters of Smackdown Live are all horrible people. AJ Styles, Dean Ambrose, and James Ellsworth are all horrible people. They'll do anything to win. They don't think much of each other. They are constantly name calling and degrading one another. Pranking each other. Screwing each other over, sometimes under the guise of trying to help. These are all horrible people.
It's kind of fascinating. It's definitely done on purpose, or at least The Miz makes it seem that way later in the night. There's a part of me that enjoys it, seeing to what level these men will stoop. But I also kind of want to see John Cena return, stack Ambrose, Styles, and Ellsworth on top of each other, and AA all three of these A-holes at once.
I'm giving it a best because it's more compelling television than we usually get from WWE between Survivor Series and the Royal Rumble.
Worst: RKO From A Mile Away
Randy Orton vs. Rhyno and Heath Slater for the Smackdown Tag Team Championship was an ever-so-slightly better match than the one they had this past Sunday at TLC. Neither of these matches set the world on fire, but to me this one was just a little more impactful.
Both their Smackdown Live match and their TLC encounter suffered from poor endings. I appreciate the effort Bray and Randy have put forward in trying to combine their finishers. In theory, I see the Sister Abigail into the RKO (Sister-ARKO?) working much better than the Spider Walk Distraction RKO, but pick up the pace a little guys!
Does the set-up for Sister Abigail somehow put Bray Wyatt's opponents into some kind of voodoo trance? Is that one of his powers that we don't know about? Because Heath Slater was knocked out for so long that he should have brain damage. Maybe Bray could just throw their opponent in the air for Randy to RKO. That would probably be less convoluted. It was a good match, but that ending definitely took away from my enjoyment.
The finish from the match isn't the only thing that tips this into the "worst" column. Later in the night on Talking Smack, they began the unfortunate break-up of Heath Slater and Rhyno. I don't understand why they feel like they have to break up Beauty and the Man Beast. I'm all in on switching the belts to Randy and Bray, but I don't think Rhyno and Slater's time should be up as a team.
It's like Smackdown Live has a seven tag team cap. Now that Orton and Wyatt are together, somebody's gotta go. And they're not through punishing Simon Gotch enough to future-endeavor him yet, so they have to break up Slater and Rhyno. Even if you don't have any plans for them as a tag team and want to return both men to being singles competitors, you don't need to turn them on each other. They work so well together, why not have them have each other's backs in singles action? Kind of like what Raw is doing with Enzo and Cass, without the sexual overtones.
Doesn't that sound more fun than them feuding with each other? Couldn't you get more mileage out of that than a couple of singles matches between the two? Yes, both Heath Slater and Rhyno are desperately needed in Smackdown's mid card. Kalisto, Baron Corbin, and Apollo Crews alone does not a mid card make. But you don't need to break them up to get back there.

Worst: Ain't Gonna Stop Me Now
This past Sunday at TLC, Carmella accused Natalya of being the one who attacked Nikki Bella from behind at the Survivor Series. I think this was supposed to be some shocking revelation, but this should come as no surprise; Nattie attacks everyone from behind. She's done it to everyone she's feuded with this year, even before she turned heel. It's become one of her defining character traits, like owning a cat and flatulence.
Nattie of course disputes these claims, so she and Carmella are scheduled to have a match on Smackdown. The match never takes place as Natalya attacks Carmella. See there you go with the attacking again. Maybe not from behind, but still.
They fight up the ramp and to the back, and if the segment had ended there, this would have been a best. Instead, they cut to a backstage segment that has absolutely everything wrong with it. I could make a joke here about thinking I had changed the channel to Total Divas, but Total Divas has never aired anything this bad. From the way it was staged to the way it was filmed, to the heavy-handed drama … yuck.
Did I miss something? How is Natalya jumping Nikki from behind some sort of major betrayal? Is this one of those synergy things where I have to be watching Total Divas or Total Bellas or both to understand what's going on? Natalya's still a heel, right? Isn't she supposed to do things like that? What is going on?
Also, Nattie was wearing an outfit made from the scraps of Kalisto's TLC attire. Just an observation.

Worst: You Lose Some, You Lose Some
Smackdown Live's Tag Team Division. Winners and Losers. Winning teams almost always win and losing teams always lose. Period. No exceptions. It's a great hardworking division, but it's set-in-stone hierarchy of winners and losers is holding it back, making it seem less competitive. Three of your seven tag teams can't be teams that exclusively lose.
Sooner or later The Ascension have got to win a match. There's no reason for them to be a team if they don't. Why couldn't The Ascension have won this match? Or one of the many other matches they've have against The Hype Bros on Smackdown in the past few months. Would that really do The Hype Bros much harm? I don't think Mojo would be any less hyped after losing to The Ascension.
At this point, how much is beating The Ascension every week even really doing for Rawley and Ryder? They may as well be defeating a team comprised of the Brooklyn Brawler and the Brooklyn Brawler. But if The Ascension just won one match, just one … The Hype Bros beating them again after that may mean something. The Ascension winning a match really isn't that crazy of an idea. It's not like I'm suggesting The Vaudevillains win a match. Now that would be bonkers!
Later in the night, they had an even better opportunity to make one of their loser teams seem a little less worse.
Chad Gable faced Tyler Breeze in a one-on-one match, in what could have been the perfect opportunity to give at least one half of Breezango a win. Wouldn't it make sense to have the not-as-experienced Gable lose to veteran Tyler Breeze to set up that when joined by his partner, Jason Jordan, they become tag team specialists who can then defeat Breezango?
I'm not saying that what we got this week was bad. I enjoyed the match. But at some point, these losers have to win. And particularly in the case of Gable vs. Breeze, it could have been the perfect opportunity for it.

Best: So Much Miz
Up next is Miz TV with The Miz's guest, Dean Ambrose. The Miz once again steals the show this week. The Miz is the epitome of doing the most with the time you are given. He fits so many things into one segment, and they're all good. He's milking the crowd for heat, slipping in great one liners like "What, no 'you deserve it' chants?", putting over Miz TV, putting over TLC, wrapping up the Dolph Ziggler storyline, putting over his Intercontinental Championship Reunion Tour, and perfectly laying out the hypocrisy in Dean Ambrose's character. He antagonizes Ambrose, hides behind his wife, and on top of all that he then gives Smackdown its very own version of The List, The Miz Participation Award.
The Miz is doing everything a professional wrestling heel can do in one segment, shy of wrestling. It's beautiful to watch. And luckily The Miz TV guest, Dean Ambrose, didn't wear his big foam cowboy hat either. We got serious, talking-like-a-human Ambrose. That's one of my favorite kinds of Ambrose!
The segment ends up being about making a match between The Miz and Dean Ambrose for the Intercontinental Championship for tonight's main event. It's fitting to insert Miz into the main event feud, because he's a horrible person too. That means the top four characters on the show are all horrible people. Come to think of it, Daniel Bryan has been a real dick from time to time since he became the general manager. Are there any decent human beings on this show?
Best: The Mid Card
Another fun match between Kalisto and Baron Corbin. A good follow-up to their Chairs Match at TLC. These guys compliment each other so nicely in the ring. Between the two matches, their TLC encounter was the better one, and not just because of the crazy chair spots. It had a lot more time, whereas the Smackdown Live rematch was a little short. Ha! Just like Kalisto. Hey now, sometimes I miss Jerry Lawler.
RIP Jerry Lawler.
?
Am I supposed to know who this is? Is this one of those things that everybody knows, but I'm too old to understand? Like Snapchat, or being woke? Can someone under the age of 25 fill me in on all this?

Best: Hot Fire And Warm Glitter
One of the best segments on this week's show was an in-ring confrontation between the new Smackdown Live Women's Champ, Alexa Bliss, and Becky Lynch. This was good stuff. Well-written and with really strong performances by both women. The segment kind of fizzled out at the end, but it doesn't take away from the rest of it. It did it's job, and I'm ready to see Alexa Bliss and Becky Lynch wrestle each other again.
Worst: Dean Ambrose Is An Idiot
It's official. Dean Ambrose has a below average intelligence. As we all know, most WWE Superstars share one common trait; they are all easily distracted. They're like cats with laser pointers. All it takes is music playing for them to completely forget where they are or what they do for a living. Especially if they are winning the match at the time. Even with that taken into account, Dean Ambrose is an idiot.
There's not a human being alive other than Dean Ambrose who was surprised to see James Ellsworth show up at the end of this match. And boy was he surprised! He had a look on his face like he just saw the ghost of Andre the Giant. I'm fine with all your characters being horrible people, but I can't stand it when they're stupid.
Until next week, I'm Justin Donaldson and I'm not that good of a person either.