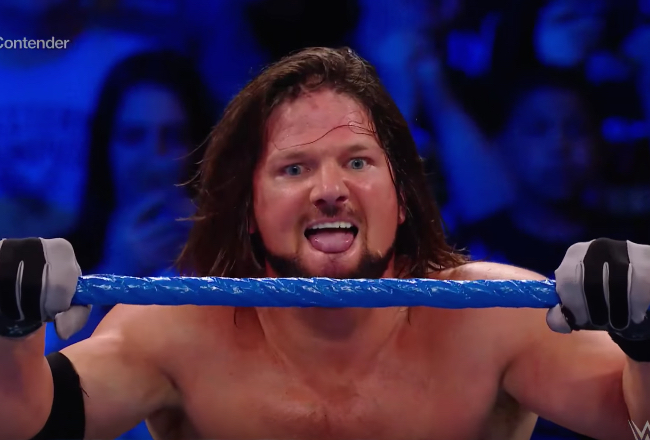 Hey, Blue Team!
I'm sorry, but I have to start off this week's column with some sad news. We have lost a member of the Smackdown Live family. Jack Swagger has asked for his release, presumably so he can go to work on Trump's new immigration policy. I'll miss ol' Swaggy, as I just now started calling him. I'll always remember his time on Smackdown Live, for that strange thing he said about the Rolling Stones and the weird ending of that one Baron Corbin match. Please everyone if you would, stand up, put your hand over your heart and say with me, "We The People."
What's Swaggerin' Jack doing in the Impact Zone!? Oh god. That may actually happen. RIP Jack Swagger. I really liked you in WWECW.
I enjoyed this week's Smackdown Live more than I enjoyed Fastlane. It's basically a one match show, but oh boy, that one match. But the rest of the show's not bad either. I liked it a lot more this week than last week, that's for sure. My one big complaint is that once again this week there was no sign on the tag team division. After a fantastic promo from The Usos two weeks ago, the entire division has once again vanished from the face of the earth.
Oh no. You don't think they were all in Bray Wyatt's house, do you?
The Road to WrestleMania is a long one. To help us down the highway, why not take a moment to give The Best and Worst of Smackdown Live a share on your favorite social media platform. While you're at it, follow With Spandex on Twitter and like us on Facebook.
And now without further ado, here is The Best and Worst of Smackdown Live for March 7th, 2017.

Worst: Last Week On Smackdown
Chrisley Knows Best — This week's Chrisley Knows Best ends with Chrisley and the woman who plays his wife laying in bed, listening to Chrisley's new ringtone. Which happens to be the sound of their son screaming while getting a tattoo.
Hahaha. Oh, that Chrisley. What will he do next?
This week's Smackdown Live opens with a video package reminding us that last week, one of the main characters of the show committed arson and desecrated a grave. USA Network; characters welcome.