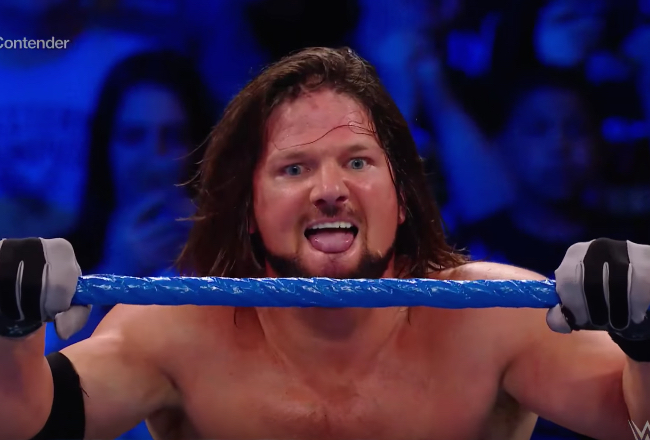 Hey, Blue Team!
I'm sorry, but I have to start off this week's column with some sad news. We have lost a member of the Smackdown Live family. Jack Swagger has asked for his release, presumably so he can go to work on Trump's new immigration policy. I'll miss ol' Swaggy, as I just now started calling him. I'll always remember his time on Smackdown Live, for that strange thing he said about the Rolling Stones and the weird ending of that one Baron Corbin match. Please everyone if you would, stand up, put your hand over your heart and say with me, "We The People."
What's Swaggerin' Jack doing in the Impact Zone!? Oh god. That may actually happen. RIP Jack Swagger. I really liked you in WWECW.
I enjoyed this week's Smackdown Live more than I enjoyed Fastlane. It's basically a one match show, but oh boy, that one match. But the rest of the show's not bad either. I liked it a lot more this week than last week, that's for sure. My one big complaint is that once again this week there was no sign on the tag team division. After a fantastic promo from The Usos two weeks ago, the entire division has once again vanished from the face of the earth.
Oh no. You don't think they were all in Bray Wyatt's house, do you?
The Road to WrestleMania is a long one. To help us down the highway, why not take a moment to give The Best and Worst of Smackdown Live a share on your favorite social media platform. While you're at it, follow With Spandex on Twitter and like us on Facebook.
And now without further ado, here is The Best and Worst of Smackdown Live for March 7th, 2017.

Worst: Last Week On Smackdown
Chrisley Knows Best — This week's Chrisley Knows Best ends with Chrisley and the woman who plays his wife laying in bed, listening to Chrisley's new ringtone. Which happens to be the sound of their son screaming while getting a tattoo.
Hahaha. Oh, that Chrisley. What will he do next?
This week's Smackdown Live opens with a video package reminding us that last week, one of the main characters of the show committed arson and desecrated a grave. USA Network; characters welcome.
From there, we're out to the arena where out comes Shaniel Bryan to participate in a segment that's so pointless, WWE's Youtube channel didn't even bother to upload a clip from it. They talk about the controversy of who will face Bray Wyatt at WrestleMania, and how Daniel Bryan thinks it should be Randy Orton because he wants to keep the tradition alive of the Royal Rumble winner "main eventing" WrestleMania. Which is funny because y'know … Batista. Shane McMahon thinks AJ Styles should get the shot because they need a reason for Shane to look like a good guy in his feud with AJ Styles and make AJ look even more like a jerk for blaming Shane.
Since neither of them can agree, they're here tonight to announce that they already announced on social media that AJ Styles would be wrestling Randy Orton to see who faces Bray Wyatt at WrestleMania. And that's that. Other than gaining Shane more sympathy for his AJ feud, I'm not sure what the point of this segment was or why it would open Smackdown. They could have easily gotten all this exposition out in a thirty second backstage segment. You know, the ones where Shaniel Bryan's watching last week's Smackdown on a monitor backstage. It seemed a little weird to drag this out with an in-ring segment.
The other thing Shaniel Bryan managed to do was replay the footage of Randy Orton burning Bray Wyatt's house down. A while six minutes after it played in the opening video package. I have to imagine that this is only the beginning of this being shown ad nauseam from now until WrestleMania and then in video packages for the rest of WWE's existence. If you're gonna pay to burn a shack down, you're gonna get your money's worth out of it.
Since WWE has no problem using the footage over and over again, neither do I! Because they didn't upload this week's opening segment to Youtube, I took it upon myself to once again embed the video of Randy Orton burning Bray Wyatt's house down for your continued enjoyment.

Best: Austin vs. The Rock/Flair vs. Dusty/Cena vs. Love 
The first match of the night is John Cena and Nikki Bella vs. Carmella and James Ellsworth. It wasn't as fun as it should have been, but not as bad as it could have been. But ultimately the match would end up playing second fiddle to guest commentators, The Miz and Maryse, who would end up attacking John and Jill Cena during an act of affection between the two before beating them down outside. But the real star of this segment is the Miz promo that follows it all up.
Last week I complained about The Miz dredging up all the typical John Cena bashing bullet points that everyone Cena has feuded with this decade have hit upon. But this week, The Miz brings up things about Cena that no one's ever talked about on WWE programming. In fact, he touched upon a lot of stuff that myself and other fat bearded men talk about on the internet all the time. It's like The Miz wrote this in his mom's basement.
He talks about John Cena being an emotionless robot who only cares about his brand. He talks about Nikki Bella being as fake and money hungry as Cena is and how that makes them perfect for each other. But most of all, he talks about something that has been a problem for John Cena for years. Cena's true arch enemy …
Love.
For years John Cena has responded to love like Frankenstein responds to fire. We know all current WWE babyfaces hate or are at least afraid of love. And John Cena is the top babyface, so he fears it most of all. If the only way John Cena can overcome The Miz and win at WrestleMania is by learning what the true meaning of love is, then I'll gladly give the WWE my $9.99 for the month of April.
Who am I kidding? I was gonna give them my $9.99 anyway. There are a few Saturday Night Main Events I've seen fewer than 20 times; I gotta get those view counts up.
Maryse puts a weird exclamation point on the whole thing by awkwardly yelling, "Brongbroom bitch" or something to that effect. Perhaps leave the mic work to The Miz for the rest of this feud.

Best: No Laughing Matter
Lot of ups and downs in this week's Dean Ambrose and Baron Corbin segment. And that's not just a forklift pun. Much like last week, Dean Ambrose takes out Curt Hawkins (or Chad Hawkins as Mauro Renallo likes to call him) before chatting it up with Baron Corbin who appears on the big screen from somewhere backstage. But unlike last week, this time Ambrose is going back there to find him. But not before we watch this video about Women's History Month and a Mojo Rawley where he announces himself as the first entrant into this year's Andre the Giant Battle Royale.
I was really hoping Ambrose would get to the back only to discover that the only thing back there is a lone wolf. A real life wolf, roaming the arena. Ambrose could wonder out loud, "where did Corbin go?" all the while we know that IS Baron Corbin. But what we got was pretty good too!
Ambrose gets to the back and Baron Corbin attacks him with a security guard, then blasts Ambrose across the back with a metal pipe. He lays Dean out with one more pipe shot and then begins to walk away. That is, until Ambrose makes one of his snotty jokes. That causes Corbin to do what all of us want to do when Ambrose starts cracking wise. He kicks him in the face and then squishes him with a forklift à la Halftime Heat without the cheesy overhead POV camera. This time, good ol' shaky camera work is used instead.
Officials come to the aid of Ambrose, and we've progressed one step further in their feud. Even though it got cheesy at times, I'm giving it a best because overall I liked it. And you can't give a worst to a segment where one man uses another man as a weapon. Plus this was a lot better than their segment last week and possibly indicates that this feud could start to get a little more serious. Maybe Dean Ambrose will finally get that harcore WrestleMania he wanted last year at this year's show.

Worst: Next Time On Total Divas
Another lackluster week for women's promos. What starts out as Alexa Bliss and Mickie James in the ring getting ready to announce Bliss' WrestleMania opponent (in what she has dubbed a "Blissertation"), ends up with Becky Lynch and Natalya out there as well and them all whining about who deserves the Mania match. Oh, and a lot of excessive name-calling.
As far as the Women's Division has come, sometimes they still can't help but write their promos to sound like reality show arguments. Catty dialogue and WrestleMania matches with a bunch of women crammed together is a little too Total Divas for me. But unlike a reality show, this storyline isn't bad; all the women focused on the belt is what we want. It's the dialogue that sucks. It's stuff like that as well as women not being allowed to have a one-on-one match at Mania that keeps holding this division back from reaching it's full potential. Now that we have great women in the ring, it's time to have at least one in the writer's room.
Daniel Bryan makes the save and announces the inevitable — Alexa Bliss will be defending her title at WrestleMania against everybody. Well, my dream of a one-on-one Women's Title match at WrestleMania is dead for now. But in fairness, the way they're going about this multi-women's match may not be as bad as I had feared. Instead of a big tag match or a standard triple threat or fatal fourway, Smackdown's going to do something a little different and open it up to any woman on the roster. If you're not going to have a one-on-one match and you need to cram all the women from the brand into one thing, this is a fun way to do it, adding that element of surprise of who will end up in the match.
Besides the women we see on the show every week, will Eva Marie return? How about Tamina Snuka? Or maybe even … La Luchadora? This will also give us all a reason to complain when Asuka doesn't show up. How fun will that be? But best of all, if Naomi somehow makes it back in time, her WrestleMania moment is all set. It's smart booking and could end up being very entertaining. Maybe we can get that one-on-one match next year. Though we still don't know what kind of match it's going to be.
Daniel Bryan's not just there to announce the Mania match. While he's out there he pays tribute to future Hall of Famer, Teddy Long, by teaming them all up in a match that starts … right now.
I still think that every time they're gonna do a tag 'em up like this, they should fly Teddy Long out and have him announce it himself. But Bryan mentioning him was at least a nice touch.
The match itself was fine. I didn't see two turns coming, which was nice. Once Nattie turned on Becky, I figured we weren't going to see the same with Mickie James. Does it make sense to have them go their separate ways that fast? No. But it honestly doesn't bother me. I wasn't in love with them as a duo anyway. And now the focus for everyone in that Mania match can be the belt.
Overall, the match and the mic work before it were not as strong as we know these women are capable of.

Best: My Mania Main Event
Shortly after the draft, once we found out what the brands were going to look like, people started asking me what I wanted Smackdown's main event of WrestleMania to be. I would tell them I don't care, as long as it involved Bill Goldberg. No actually, I would tell them AJ Styles vs. Randy Orton. It's a dream match, it really is. Not just because the announcers are telling us that.
I thought AJ and Orton were the two most logical wrestlers on that roster to be feuding over the title come WrestleMania. I felt like together they could put on a pretty incredible match. So when I found out that my dream Mania match would be taking place on this week's Smackdown, I decided that I was going to try to put aside the silliness of last week and let the match speak for itself, instead of spending the majority of it wondering to myself, "why isn't Randy Orton in jail?"
Though not the WrestleMania classic I had hoped for, their match this week was great. And for being the first match between the two on a random Smackdown, I thought it was absolutely perfect. You could feel the importance of the match throughout. Usually when I use the term methodical to refer to Randy Orton, I'm using it to shit on Randy for how boring he is. But I can honestly say here that it felt like both men were being methodical. Trying not to make mistakes, not being too flashy, nothing too high risk. They knew what was at stake. Each man waiting for the other to make one small mistake they can capitalize on.
When Randy Orton finally does take a risk, perching AJ on the top rope while setting him up for a superplex, he pays for taking that risk when Styles drops through his legs and slams his chin into the turnbuckle. Late in the match, Styles makes his first attempt at a high risk top rope maneuver and gets caught.
It was a smart match, right up until the end where AJ and Orton put together one of the best finishes I've seen on Smackdown. They tease the big spot, the Phenomenal Forearm into the RKO, but AJ sees Randy going for it and jumps back down from the top rope. The crowd is shocked, which then makes Styles eating an RKO moments later feel all the more surprising. It's really great, and at the same time leaves so much on the table that these guys can do in the future. This was definitely the match I needed after last week's show.
In his pre-match promo, AJ Styles stated that he turned the B show into THE show. I couldn't agree more.
Until next time, I'm Justin Donaldson and you'll find me in the Tom Phillips section.