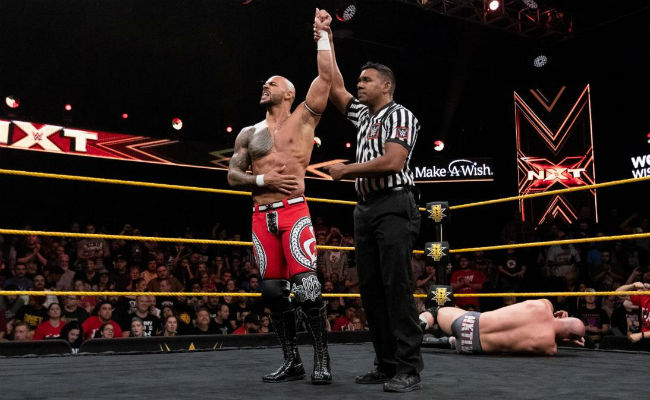 We didn't see Dwayne "The Rock" Johnson at Raw 25 or WrestleMania this year (outside of a movie clip), but that doesn't mean the People's Champ is totally checked out from the wrestling world. He recently took to Twitter to issue some high praise to recent NXT signee Ricochet:
Ricochet has been performing the People's Moonsault, a move that pays tribute to his hero while showing off his own more acrobatic athleticism, for years now, but many wrestling fans no doubt got to see it for the first time at a recent NXT show.
This also isn't the first time Ricochet and the Rock have expressed their mutual admiration on social media. In August 2016, Ricochet posted a picture on Instagram with a caption that began, "Anyone who knows me knows how much #therock has influenced me. He's literally the reason I wanted to become a wrestler … " The Rock shared the post, adding, "I'm honored to be your inspiration as you go down that long hard road for success," and offered some advice and feedback to the then-indie star.
Earlier that year, the Rock replied to one of Ricochet's tweets to promote his "good bud" Robert Rodriguez's Lucha Underground. (For those wondering why Ricochet would be promoting the show as well, he happens to have the exact same tattoos as masked LU wrestler Prince Puma, so it makes sense that they would be aware of each other.) The Rock has also repped a Lucha Underground shirt at the gym at least once, and Ricochet has worn UnderArmour Project Rock gear at the gym several times.
We have yet to see The Great One and The One And Only together on social media or WWE programming. However, the Rock's non-wrestling (at least, for now) relatives took a selfie with Ricochet after NXT TakeOver: New Orleans.