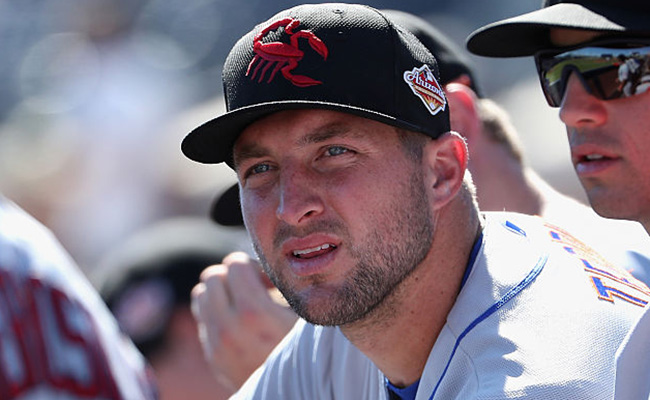 The dream of 2001 is alive and well, because the XFL is back, baby! (In 2020.) Yes, former quarterbacks everywhere are moderately stoked following the recent announcement by Vince McMahon that the XFL will be returning in two years' time.
The announcement has been subject to plenty of derision from sports fans, but XFL and especially WWE are sitting pretty following the big reveal. The XFL is even feeling saucy enough that its social media account spent Super Bowl Sunday trolling the NFL.
But there are still a loooooot of questions remaining about the XFL. What it's going to be, what it's going to look like — and just who the heck will be playing in it.

During that initial press conference, Vince McMahon name-dropped two former NFL players specifically — Johnny Manziel and Tim Tebow — as people who would be welcome in the XFL. So naturally, these guys are about to be asked about this nonstop for the next two years. And it's already begun.
In an interview with Sports Illustrated, Tebow — who is currently pursuing a baseball career within the Mets organization — was asked point blank about whether he's going to be in the XFL. You may be surprised, but Tebow gave a perfectly neutral response.
SI.com: On his conference call, McMahon said you'd be welcome in the league. Have you thought about seeing what happens when that league launches?

Tebow: That's very nice of him, but 2020 is a long way from now. I'm focused on today, I'm focused on spring training and a lot of things before that. I'm not even close to thinking about that right now.

SI.com: So that's not a "no" or a "yes."

Tebow: What if it's a "I have no idea?" That's in 2020 and I'm super excited about baseball.

SI.com: Are you or have you ever been a WWE fan?

Tebow: I didn't watch it that much when I was young, but as I got older, I became friends with some of the guys and watched them and some of the stuff is they have to do is actually really hard and some of them are pretty talented and also good actors, as well. I have respect for what they do.

SI.com: If Vince wanted you to make an appearance on Monday Night Raw, do you think you could cut a good promo?

Tebow: Oh, I think I could cut a good promo. I think we could do something fun.
Tim Tebow thinks he can cut a good promo. I think there's only one way to prove this — MEET ME ON THE DANG GRIDIRON IN TWO YEARS, JOHNNY MANZIEL, AND I'LL KICK YOUR STINKIN TEETH DOWN YOUR THROAT. [football explosions]