If you were wondering where Tommaso Ciampa was on this week's Raw and Smackdown, Ye Olde Wrestling Observer may have the answer.
Per today's report, the NXT Champion was kept off TV this week (aside from his pre-taped appearance on last night's NXT, obviously) due to an "unknown" injury. The thought is that whatever it is, he'll wait to deal with it until after NXT TakeOver: New York on WrestleMania 35 weekend. No details on what he's dealing with, its severity, or when it happened, but considering his most recent match was teaming with Johnny Gargano to take on The Bar on last week's Smackdown, it's not hard to put the pieces together.
During the match, Ciampa went for a sunset flip powerbomb to Sheamus from the top rope and landed with all of Sheamus' 267 lbs. on his bent knee. If you missed it, here it is in motion: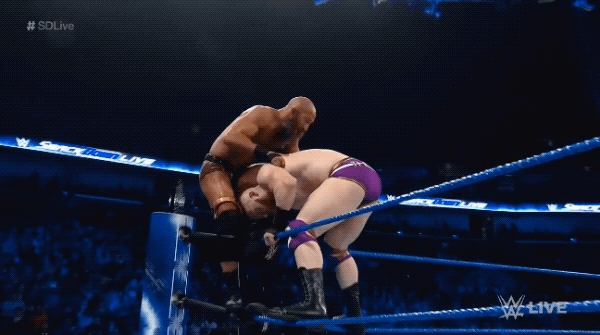 Here's a still frame, in case you missed it:
Ciampa came up holding his shin, but the fall looked to wreck both his knee and his ankle. The champ has a well-documented history of knee injuries throughout his career, from tearing his anterior cruciate ligament in Ring of Honor back in 2012 to suffering a ruptured ACL in 2017.
We'll keep you updated on any official injury announcements or upcoming match changes, as NXT TV has already taped through March. Best wishes to the Blackheart, and we hope he'll be back in the ring being the worst person in the world again very soon.