Previously on Total Divas, Paige was understandably emotional about giving her retirement speech, TJ was finally nice to Natalya, and Nia Jax was nervous.
But enough living in the past, let's look at the biggest matchups on Season 8 Episode 2 of Total Divas:
Natalya Versus Humiliation
Remember when Natalya had a wardrobe malfunction at WrestleMania and it went viral? I'll admit, I don't remember that at all, but I'm willing to believe it happened. There were so many other things to talk about in the days after WrestleMania, especially for those of us who cover wrestling online. Also it's entirely possible (and happily so) that the particular branch of the online wrestling community that I spend my time in is not the same branch that's going to pass around photos of a wrestler's accidentally exposed genitalia.
But anyway, Natalya's gear apparently split open when she was thrown out of the WrestleMania Women's Battle Royal, and some fan snapped a photo and put it on the internet. Now Natalya's worried that everybody's judging her, and her Mom's trying to give her giant underwear. At one point Nattie gets her dad to put on a pair of the panties over his pants to demonstrate how huge they are. I don't know if that's going to be Jim the Anvil Neidhart's final Total Divas appearance, but this episode does end with a memorial slide of him, so it very well might be. The honest truth is, in the context of his role on this particular show, it wouldn't be a bad way to go out.
Way back in Season 3, there was a story about Disaster Bisexual Rosa Mendes having a wardrobe malfunction in the ring, but her response was to try to have another one for the attention! So actually Natalya has already won by being embarrassed and realizing it's not necessarily a good thing for her career. Once Nia Jax helps Nattie calm down and realize nobody is blaming her, Nattie moves past the incident and everything is fine.
Ronda Rousey is also a part of this storyline, because this is when Nattie was first paired with her on TV, which is the career thing she's excited about and doesn't want her exposed crotch to get in the way of. Ronda even has lines in this episode, which demonstrate that talking like a human being is something she struggles with backstage as well as in the ring. It's still better than everybody talking about how great she is when she's not even around.
The weirdest part of all of this is that out of all her family and coworkers, nobody ever says to Nattie, "You know, you don't have to wear a shiny skintight bodysuit with sheer cutouts. Nobody else wears that, and nobody else's junk pops out when they take a bump."
Winner: Natalya, by letting go of shame.
Lana (with Rusev) Versus WWE
Meanwhile, Lana is living the second half of that Season 3 Rosa Mendes story, where she decides that nudity is a great way to get attention. Fortunately she's not trying to strip down in the ring, and in fact her wrestling isn't the only thing she's hoping to get attention for. It seems that she and Rusev have made a movie with her brother called Other Versions of You. Lana's trying to get publicity for that, and also deal with the fact that she hasn't been booked to wrestle in months (except she was in the Mixed Match Challenge during that time, but maybe some E!/Facebook tension keeps them from mentioning that).
Lana tries to get the paparazzi to pay attention to her and Rusev, which also involved her trying to explain to him who the Hadid sisters are, which is some great Rusev content. When nothing pans out, she books a photographer to take some pics of them on the beach, reenacting a moment from From Here to Eternity (which she keeps calling "Eternity To You") where they will look naked but are actually wearing nude-colored swimwear.
This is absolutely the sort of thing that only happens on Total Divas when they want to do a "Mark Carrano chides someone" story, which is of course where this ends up. The photos of them on the internet have been pixelated so Carrano thinks they were really nude, and it turns out that photos of what looks like public sex on a beach aren't really what the WWE suits are looking for from their performers in the PG Era. Obviously nobody actually gets in trouble (we probably wouldn't be invited into the office if it was going that way), but Lana is sufficiently chastised. Rusev, for his part, seems to find the whole thing amusing. That's what's great about Rusev.
Winner: WWE, by actively enforcing shame.
Naomi Versus Jimmy Uso
I love Naomi and Jimmy "Jon" Uso. I like them both as wrestlers, and they're constantly delightful as a couple. Unfortunately, this story includes all the things I hate on Total Divas. First, it's not believable that Jon would just decide one day in catering that he needs to take an interest in how his wife eats, let alone that he'd go through their pantry and put her fruit loops and strawberry marshmallows in a trash bag. Jon's the good husband on Total Divas. That's like the whole point of him on this show.
That gets to the other trope I hate, which is when a husband tries to educate his wife about something, like they're not both sensible adults. In the past Daniel Bryan has been the worst about this, although John Cena's been guilty of it too. But I'm not even necessarily blaming them, because it wasn't believable then either. It's a reality TV trope about how married couples behave, not a real phenomenon.
The other reality TV trope at play here is where they do a big telegenic activity as though it's a random idea they just had. In this case it's hanging out with bees and pretending like they might actually become beekeepers in the interest of satisfying Naomi's sweet tooth with natural honey. It's a fun few minutes with the suits and the smoke and so forth, but it was never a real thing that was going to happen.
Winner: Naomi and Jimmy, by making it through one of the episodes where they're required to pretend they have some kind of conflict with each other in the name of television, so they can hopefully relax for a while.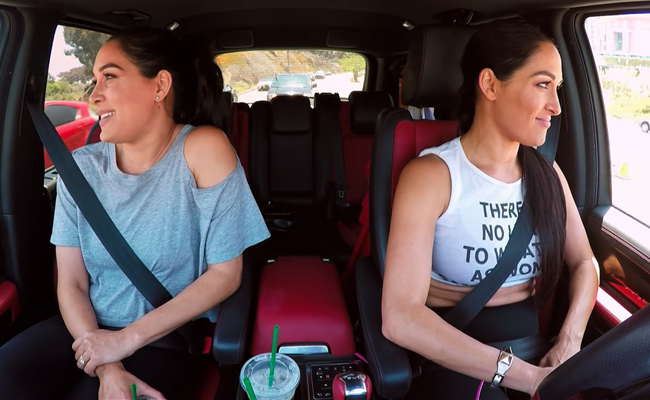 I'm skipping "Lower on the Card" this week because there weren't really any subplots, and sadly no Sonya Deville. There was a classic "Brie and Nikki in an SUV" cold open, in which they talk about the word "penis."
That's all for now, Total Divas fans, but join me next week when Paige has a new guy and is keeping him secret for some reason, and Brie is sad about her baby.