Previously on Total Divas, Paige and Naomi pretended to have regular-people jobs, and Nikki Bella pretended to be married to Rusev.
But enough living in the past, let's look at the biggest matches from Season 8 Episode 8 of Total Divas:
Naomi Versus Jimmy Uso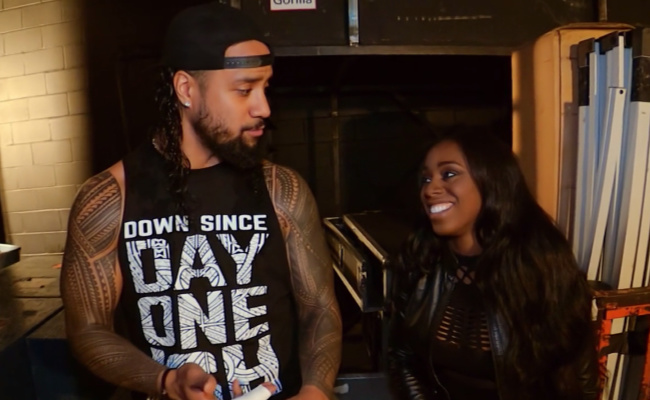 This is a strange episode. It's the first of a two parter, and this storyline in particular comes to no conclusion in this episode (even though all the scenes in the preview of Part Two seem to build on the other storyline). What makes the lack of a finish here a bit more stressful for viewers is that this is the realest-feeling conflict Naomi and Jimmy have ever had on the show.
The couple have lived in Pensacola for years, mostly because that's where Jimmy's kids live with his ex, and understandably his priority is being a part of their lives. Naomi obviously respects that, but also Pensacola is boring. She'd rather spend her time in Atlanta, where she has friends and family, including her super-fun Uncle Buck. Buck doesn't seem significantly older than Naomi, because families are complicated, and they obviously have a close friendship that includes both heart-to-heart conversations and getting wild at gay clubs.
Naomi's obviously struggling with how to respect her husband and his desire to be with his family, while also wanting to be with her own and have the more social kind of life she'd prefer. Admittedly, this show has a hard time handling that level of complexity, which makes things a little more confusing and fraught than they'd probably be without reality TV's influence. For example, most people wouldn't go ahead and shop around for Atlanta apartments without talking to their spouse, which Naomi totally does. She seems at that point to be looking for a second home, so she can stay with Jimmy in Pensacola but be able to easily spend time in Atlanta whenever she wants.
Several times in the episode however, she also says she just wants to move to Atlanta, and wants him to come with her. He seems like way too good a dad to ever move away from his kids, so if you present the problem that way, I don't know that there's any good solution. So it's awkward when she finally talks to Jimmy (minutes before he has to go to the ring for a match) and says they should move to Atlanta. He doesn't react well, says he doesn't have time to talk about it, and the episode ends. Hopefully once they're off the air and out of the ring, they can have an actual nuanced discussion and work something out.
Winner: To Be Determined, but I'm holding out for them to find a way to both win.
Paige Versus Lana (Hardcore Match)
This Lake Tahoe trip turns into the very definition of "that escalated quickly." Lana has complained in the past about getting the worst rooms when the girls go on these big trips, so Brie Bella has the idea to play a prank on her this time. They give her a nice single room with a great view of the lake, but then they tell her when she arrives that she has to sleep on the murphy bed in the living room. Unfortunately pranking Lana does not go great, because she's Lana. Turns out she doesn't like her real room either, and decides she's going to take the huge upstairs room that Paige and Nia were planning to share, or else she's going home.
This is the opportunity Paige has been waiting for, I guess, to tell Lana that she's never liked her, and never forgiven her for a mean tweet from three years ago. Also, Paige is in a heightened emotional state on this trip because the incident where a fan reached into her car window to push on her face just happened, and garbage WWE fans are making a big deal about her weight. Basically it's like Lana is a leaky barrel of gasoline, Paige is a keg of gunpowder, and Brie was like, "You know what would be funny? Lighting a match!"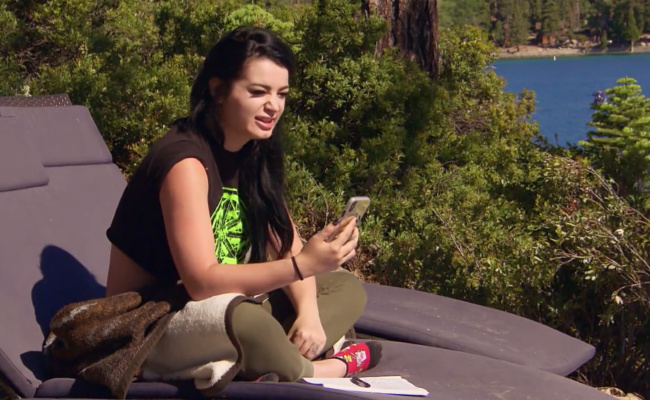 So Paige and Lana fully rip into each other, and one point seem like they might have a fistfight, while the rest of the girls are like "Oh no, what's happening right now?" It's very telling, by the way, that when they call their significant others, Paige's boyfriend says "That's silly, just make up with her and have a good trip," whereas Rusev says, "Then why are you still there? Come home." Ultimately they do make up, although tellingly Paige never says that she hasn't really hated Lana for three years. She just says she doesn't want there to be drama on this trip.
Once that's taken care of, they prank the rest of the girls into thinking things are escalating further. Lana throws a drink in Paige's face, and Paige chases her up the stairs like she's going to kill her. Conveniently, this also allowed E! to show a much more extreme-looking fight in every single ad for this episode and this entire season, only to reveal that it ends with Paige and Lana laughing together about everyone thinking it was real.
Lana repeatedly and apologetically refers to herself as "a brat" throughout this episode. I get what she means, but I'm not sure you can be a brat when you're an adult in your thirties. There are other words that start with the letter B that might be more applicable, but I'll leave it there. The important thing is that the fight ends by the end of the first day in Lake Tahoe, which gives everybody time for hot tubbing and jet-skiing. We'll see what else they get up to next time.
Winner: Paige, who managed to successfully make up with Lana without pretending to like her.
That's all for now, Total Divas fans, but join me next week for Part Two from Lake Tahoe, when the girls face their fears and maybe hunt a cryptid.