We don't want to jump to any conclusions here, but given the past week of WWE news, this being anything more than a typo is too funny to pass up.
The WWE Fan Council is an organization of fans given the "opportunity to voice your opinions and help [WWE] improve our services by answering short surveys." This week's question was, "Which of the following WWE Superstar Shake-Up brand changes are you most excited about seeing?" There were a few obvious choices, like Roman Reigns jumping to Smackdown or Cesaro going to Raw, and one about the "Viking Warriors."

If you're wondering what's wrong with that, that's not the team's name. Not yet, anyway. 10 days ago, Hanson and Rowe were NXT Tag Team Champions The War Raiders. The following Monday, they became THE VIKING EXPERIENCE and, by proxy, the laughing stock of the WWE Universe. There was no announced explanation for the change, they were just suddenly "Erik" and "Ivar." A week later they became "The Viking Raiders," and now two days later (again, pending an internal troll job or a random typo) it's changed again.
The answers in question, with a h/t to Redditor MeepM00pDude.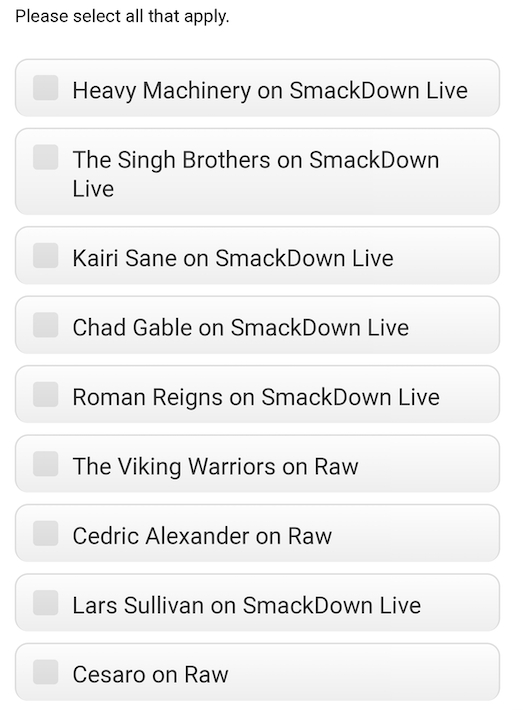 We really do hope the name changes every week, and that nobody ever explains it. On Monday they're the Viking Warriors, on the Monday after that they're "The War Experience," the Monday after that they're "The Four Norsemen," and so on until they're just Man #1 and Man #2. The Personal Experience.
As of publication they're still listed as Viking Raiders on their WWE.com Superstars pages but we'll keep an eye out for any official changes.