Previously on the Best and Worst of WCW Monday Nitro: We engaged in a little Halloween-style Havoc for a great Goldberg vs. Diamond Dallas Page match that too much of the audience didn't see, and a Hogan vs. Warrior match that too much of the audience did.
Click here to watch this week's episode on WWE Network. You can catch up with all the previous episodes of WCW Monday Nitro on the Best and Worst of Nitro tag page and all the episodes of Thunder on the Best and Worst of Thunder. Follow along with the competition here.
Remember, if you want us to keep writing 20-year-old WCW jokes, click the share buttons and spread the column around. If you don't tell them how much you like these, nobody's going to read them. It's almost time for WCW World War 3 1998! Bobby Duncum Jr. pay-per-view pay-days!
And now, the Best and Worst of WCW Monday Nitro for October 26, 1998.
Worst: The Long Halloween
In case you missed what happened to viewers in real life at the end of the pay-per-view, from the Best and Worst of Halloween Havoc:
World Championship Wrestling decided in their great and unmatched wisdom decided Halloween Havoc would be a three and a half hour pay-per-view instead of the standard three, but that they'd just do it instead of, you know, informing the cable companies and service providers. At 11 PM, about a quarter of the people watching at home were treated to a black screen. The show "went off the air" in a lot of markets with the Goldberg vs. Diamond Dallas Page World Heavyweight Championship main event still to come, left with Hogan vs. Warrior as the last thing they saw. You could say this made some people very angry. WCW lost something like a million and a half on pay-per-view revenue due to refund demands and mad fans, and ended up having to show their pay-per-view's main event in its entirety for free the next night on Nitro. I will leave it up to you to decide whose idea it was to run that extra half hour and not tell anyone, while you try to figure out who could've possibly been mad about Hogan vs. Warrior not main-eventing and being the last match people see.
So yeah, this episode features the "one time only" decision to air the pay-per-view main event for free in its entirety on WCW Monday Nitro. Tony Schiavone breathlessly informs us that this isn't something they EVER DO, and will probably NEVER DO AGAIN. The competition says this is a ratings ploy, and it's not. Please do not remember that three months ago Nitro showed the main event of Bash at the Beach '98 on Nitro in full as a ratings ploy!
"All of our wrestling fans tuned in last night enjoying Halloween Havoc and last night in front of a capacity crowd we saw some of the most historic matches in professional wrestling history but unfortunately an instance occurred that was out of the hands of World Championship Wrestling. Some of the systems went down prematurely and unfortunately about, what we understand, about ten to twenty percent of households last night were not about to see the end of the Hogan Warrior match nor were they able to see a match that'll go down as one of the greatest of all time Goldberg and Diamond Dallas Page for the World Heavyweight Title. Well, because of this you can expect that WCW officials have been in meeting all day deciding what course of action to take, and it really came down to two choices.

"Choice number one would be to give the encore, the replay presentation away for free tomorrow night but we thought, 'no it wouldn't be right because a lot of fans out there purchased this event last night,' they saw all 11 matches and by buying it last night we certainly don't want to give away the entire event for free, so it came down to this ladies and gentleman. What to do to make this right to our fans, we have decided tonight on this program, after the first hour, the 9 o'clock hour that we will bring you the match between Goldberg and DDP in its entirety. Now this is a first time ever, one time ever we will bring you a pay per view spectacular but we will bring you this one match tonight. Now our competition all day will make people believe that this is a ratings ploy that we went off the air early last night to bring you the match down the line another night, this is not the case, this is not true. Because of that we are going to give you this not at the end of the program, we are going to give it to you at 9 o'clock tonight, it's the right thing to do for our great wrestling fans."
It definitely makes it feel like less of a ratings ploy when you announce you're airing the match starting as soon as the other show's on. If WWF wanted to win the ratings war, they should've waited until 9, aired Hollywood Hogan vs. Ultimate Warrior from Halloween Havoc in full, and had Stone Cold and The Rock sit around trashing it in real-time. It's my WWF version of, "WCW should've let D-X and their little jeep into the building and beaten the shit out of them on live television." At some point WCW could've just changed their name to Unforced Errors Wrestling.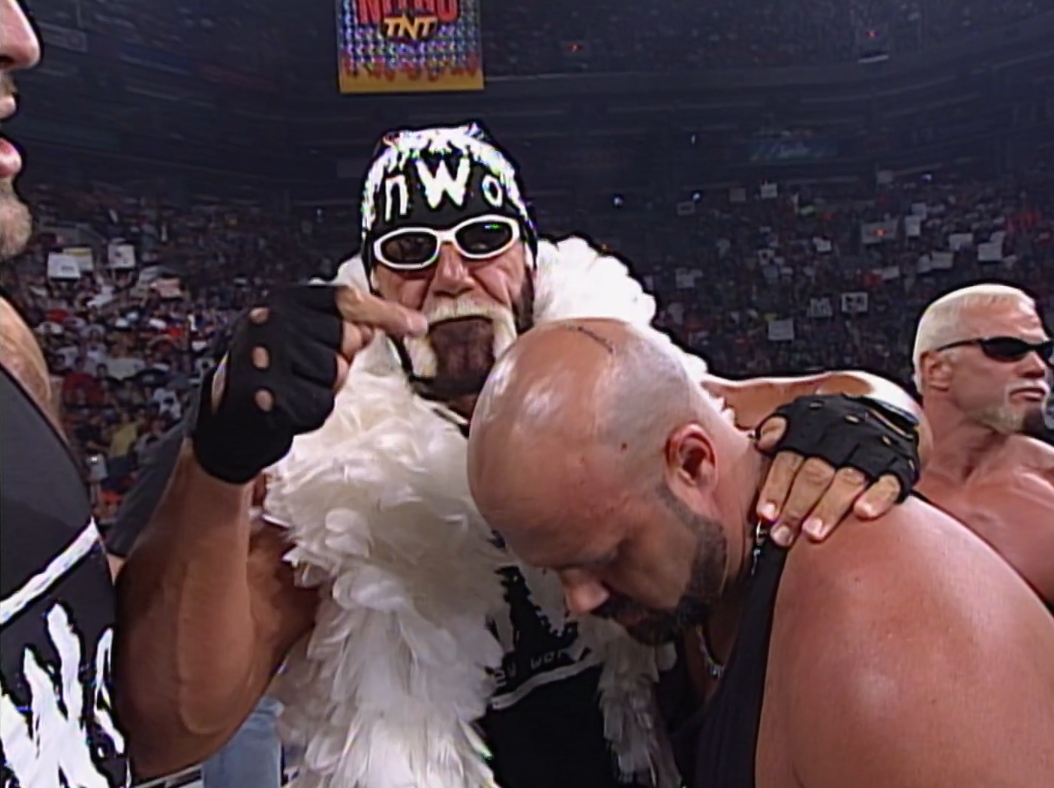 As for Hogan and Warrior, they're still at it (for now) on NItro. Hogan decides to formally induct his nephew Horace into nWo Hollywood for taking a chair to the Warrior's back at Havoc and helping the Hulkster get back his not-real win from the previous not-real fight for a different promotion eight years ago. Basic human needs stuff we can all identify with. Hogan still struggles to remember the word "nephew" ("HE HAS MY BLOOD IN HIS VEINS! HIS BLOOD IS MY BLOOD! HIS FATHER IS MY DEAD BROTHER!" etc.), and gives us a cheat-sheet for any future nWo pledge drives:
"AND IF YOU WANNA BE PART OF THE BLACK AND WHITE ATTACK YOU DON'T JUST TRAIN, SAY YOUR PRAYERS, AND EAT YOUR STINKING VITAMINS. YOU COME OUT HERE, YOU PUT YOUR SOUL, YOU TAKE YOUR BLOOD AND YOU SPILL IT LIKE WINE AND THEN WHEN HOLLYWOOD LOOKS YOU IN THE EYES, YOU STAB YOURSELF IN THE HEART TO PROVE YOUR LOYALTY FOR NWO HOLLYWOOD."
Uh, is it too late to join the Wolfpac? I think their only membership requirements are, "wear black pants," and, "tell Konnan you like his rap video."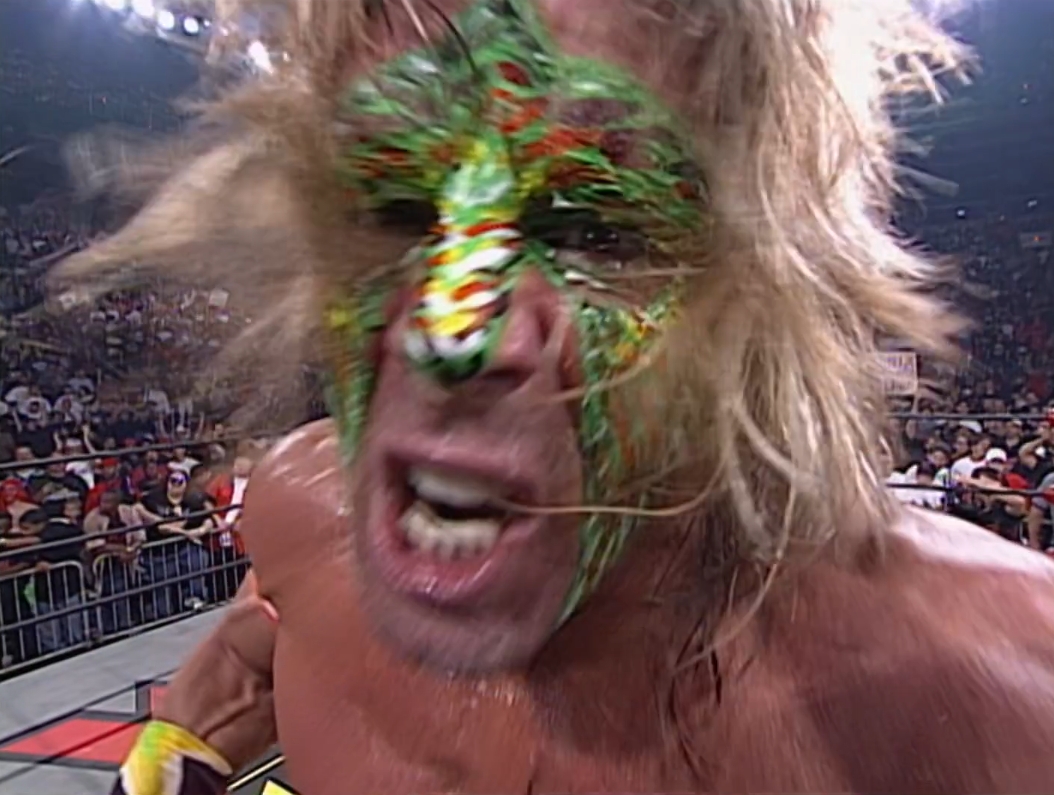 Warrior shows up with his burned-beyond-recognition Sandor Clegane face — wait, is that just from tanning and doing cocaine? — to assure us that THIS IS FINE DOT JPG MY WOYAHHHHHS.
[gassed beyond human perception] "LAST NIGHT HOGAN YOU HAD THE OPPORTUNITY TO FACE THE CHALLENGE LIKE A MAN AND YOU FAILED. LAST NIGHT HOGAN YOU HAD THE OPPORTUNITY TO SET THE FIRE WITH BUT ONE MATCH WHAT WILL NOW HAUNT YOU … FOREVER! YOU SEE HOGAN, THERE'S A DIFFERENCE BETWEEN BEATING SOMEONE UP AND GENUINELY HAVING BEAT A MAN. AND THE WHOLE WORLD OF WARRIORS KNOW I BEAT THE HELL OUT OF YOU LAST NIGHT! AND A BULLSHIT PIN FALL DOESN'T CHANGE IT! YOU HAVE OPENED THE DOOR TO THE WARRIOR'S HELL, AND I AM ITS GATEKEEPER! THE TIME IS NEAR! SAME WARRIOR TIME, SAME WARRIOR PLACE, SAME WARRIOR CHANNEL!"
Hogan shows up to take offense, and Warrior and his running clotheslines manage to fight off Hogan, The Giant, and Horace Hogan, black ninja style. This is of course building to the big November 9 edition of NItro where Warrior saves The Disciple from an nWo beatdown and then disappears from wrestling for 10 years. Hogan got his WrestleMania win back, you guys, we can cut that Bat Signals and magical mirrors budget back down to zero.
In Other Halloween Havoc Fallout News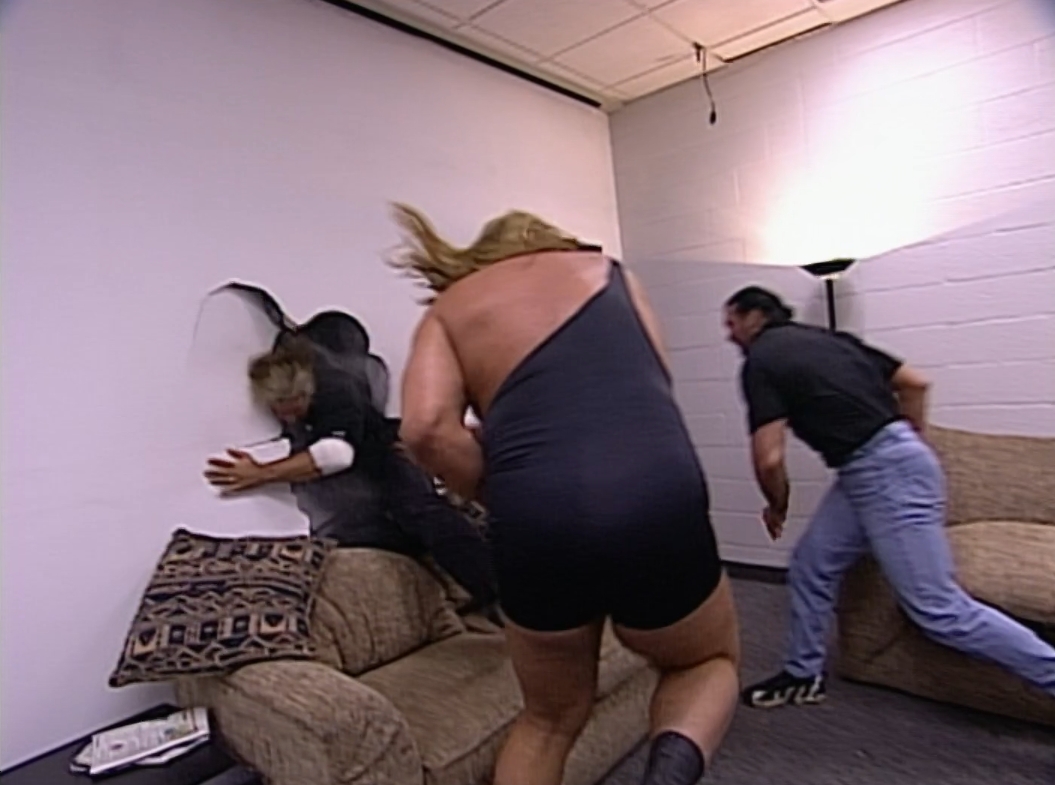 At Halloween Havoc, Kevin Nash threw Scott Hall into the ground until he was unconscious, but decided to just walk out instead of taking the victory. He felt like he didn't have anything to prove, and that he hoped Hall would get the message that Nash just want to help him, not hurt him. Hall shows up backstage to confront Nash about it and thank him, and the two shake hands … just in time for The Giant to show up, and for Hall and Giant to throw Nash through the wall. Hall and Big Show teaming up for the fastest and most efficient heel-to-face-to-hell turns in the business. WCW is like a gritty re-imagining of The Boy Who Cried Wolf where some Hollywood exec was like, "you know what'd make this better? If they boy kept crying wolf and everyone kept falling for it, and he never learned anything."
Hall and Giant were the WCW Tag Team Champions before Sunday, but lost their titles when Giant and Scott Steiner lose a 3-on-1 tag team match against Rick Steiner. It was all another Buff Bagwell swerve — no! — to … embarrassingly lose the Tag Team Championship, I guess? Mean Gene brings out Dame Judy Bagwell for comments: "I'm a mother on a mission! And I'm tahred of being nice! I can tell you one thing now, Mark, if you're listening … I love Marcus Bagwell with all of my heart, but I've had ENOUGH! OF BUFF!"
Buff:
Bagwell shows up in his best Osh Kosh Buff'gosh with a retort:
"So listen up, women! Your job is in the household! Cooking and cleaning! And taking care of your man! Got it? So dad, if you're listening, when mother gets home tonight, SET HER STRAIGHT!"
There aren't enough, "dad's gonna beat the shit out of you later, mom!" promos in pro wrestling. The grander point of the segment is that Scott Steiner feels he's been systematically mistreated by Rick Steiner fanboy James J. Dillon, so he calls him out, kicks him in the stomach, and locks him in an extremely dramatic Steiner Recliner. I want someone to paint this so I can hang it in my living room. At no point during the segment does Dillon respond like he should've, with, "I'm not the one who did a movie hypothetical made-up movie directed by a fictional murder doll housing the tortured soul of a local serial killer and tried to break our fictional universe by having a horror movie animatronic insult my brother on live wrestling television."
So what's got Scotty so upset, anyway?
Well, Nitro opens with Kenny Kaos, master of the press slam and slightly more marketable member of WCW jobber team High Voltage, taking on the "Enforcer" of nWo Hollywood (snicker snicker snicker) Stevie Ray. Buff Bagwell shows up to randomly run interference, and tosses Steve the dreaded slapjack for the win. Kaos losing via slapjack is your Hasbro Interactive GLOVER of the Week, and also presumably the Accolade's Bubsy Claws Encounter Of The Night. Rick Steiner makes the save, and for some reason decides to ask KENNY KAOS to be his new tag team partner and half of the Tag Team Champions. Kaos, understanding this is the first time anyone has ever thought or cared about him, agrees.
In case you're trying to do the math in your head, yes, WCW thought it would be a great idea to have a guy who literally never wins matches be awarded one half of the Tag Team Championship he never won, seconds after we watched him lose a match. We even get the replay of him losing, to STEVIE RAY, after he's been christened. Kenny Kaos: the only guy to ever win the Tag Team Championship by losing a singles match.
Later in the episode, Steiner and Kaos retain the Tag Championship in a match against The Giant and Stevie Ray when Rick does his Rick thing, wins a 2-on-1 fight, and pins Stevie Ray. Because there's nothing a Steiner Brother likes doing more than pinning a member of Harlem Heat to keep them away from the Tag Team Championship. Kaos' contributions are light, as he mostly just stands on the apron, and stays out of the way while Rick's hitting stumblingly dangerous second-rope bulldogs to retain.
Fun note: Rick Steiner and Kaos never actually lose the Tag Team Champions, either. They're forced to vacate a couple of months from now when Rick gets legitimately injured. So that's Kenny Kaos, everybody; he won the Tag Team Championship by losing a singles match, and then lost it by winning. Ah well, that's still one more World Tag Team Championship reign than "Robbie Rage" ever got.
Secondary footnote: Why do both members of High Voltage sound like XFL teams?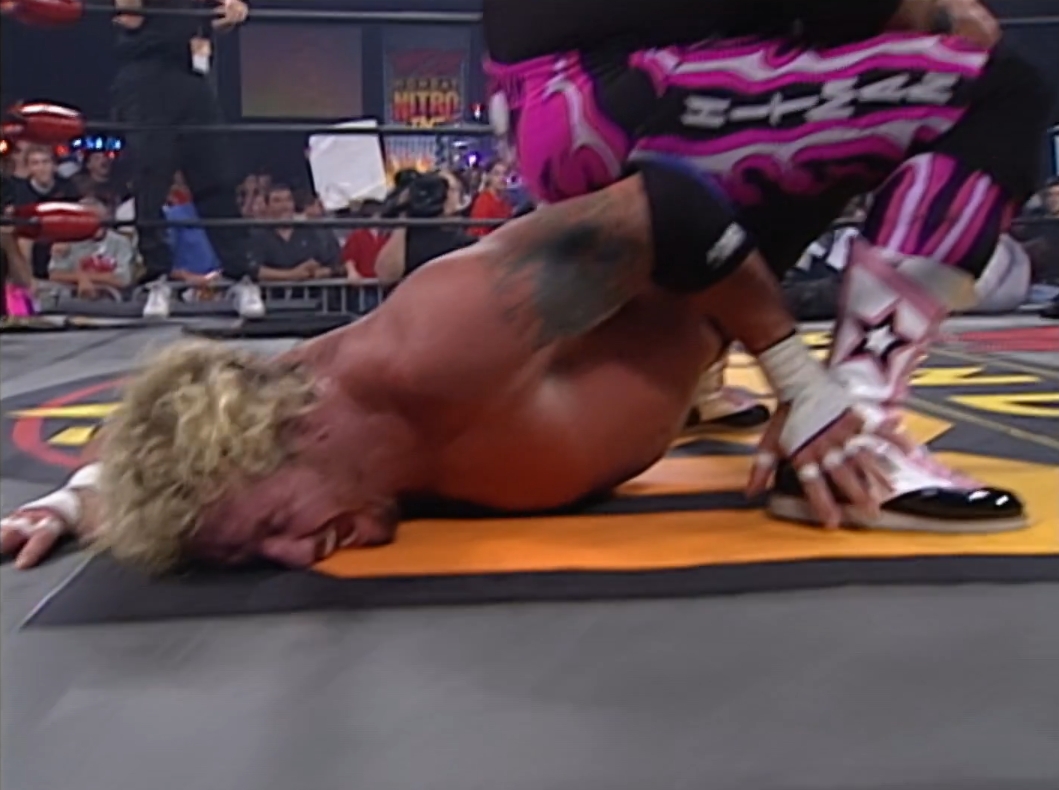 WCW attempts to right the two major wrongs of Halloween Havoc — audiences not getting to see Diamond Dallas Page wrestle, and booking DDP to lose a match he seriously should've won for a championship — by booking a match for everyone to see where DDP randomly wins a championship he probably shouldn't have. The main event is DDP vs. Bret Hart for the United States Championship, and yep, Page just straight up beats him with a Diamond Cutter to become the new champ. The highlight is nobody telling Bret how to take a cutter, and him trying to take it like a Stone Cold Stunner.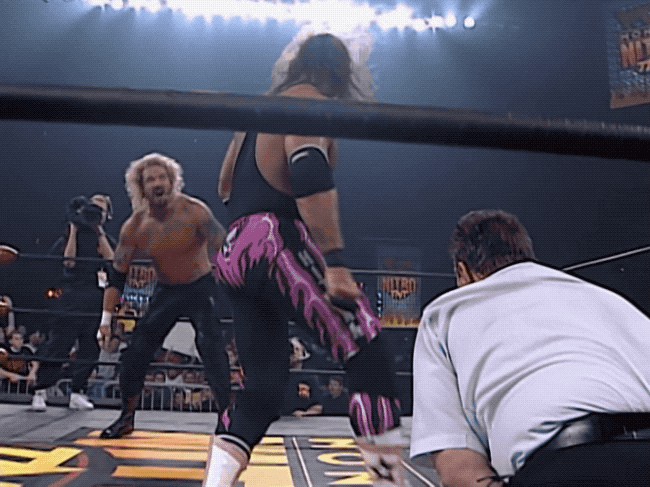 Because it's WCW and fans aren't allowed to be happy, not even for a second, Hart immediately attacks Page from behind during his championship celebration, beats him down with a steel chair, and locks him in the Sharpshooter. Page lets out these exaggerated barks of pain the entire time that sound like somebody accidentally backed a car over a Muppet. Goldberg eventually jogs out to make the save, but aw nuts fans, we're out of time!
Hm. Well, the Horsemen are still going great, right? What are the Horsemen up to in this episode? Something … great?
Early in the episode, Ric Flair and most of the Horsemen show up to do their thing, which is something, only to be interrupted by Eric Bischoff. Bischoff says that he realizes he's been wrong, and that people not only want to see Ric Flair on Nitro, they want to see him wrestle. So he guaran-damn-tees that tonight on Nitro, we will see Ric Flair wrestle. Flair seems hype about this, despite Bischoff's tone of voice suggesting as blatantly as possible that this is a Monkey's Paw situation and that what he says might be true, but not what he means.
Want to know how we see "Ric Flair wrestle" on this episode? Via an edited version of his match with Hulk Hogan from BASH AT THE BEACH '94, where it's only the parts with Hogan in control.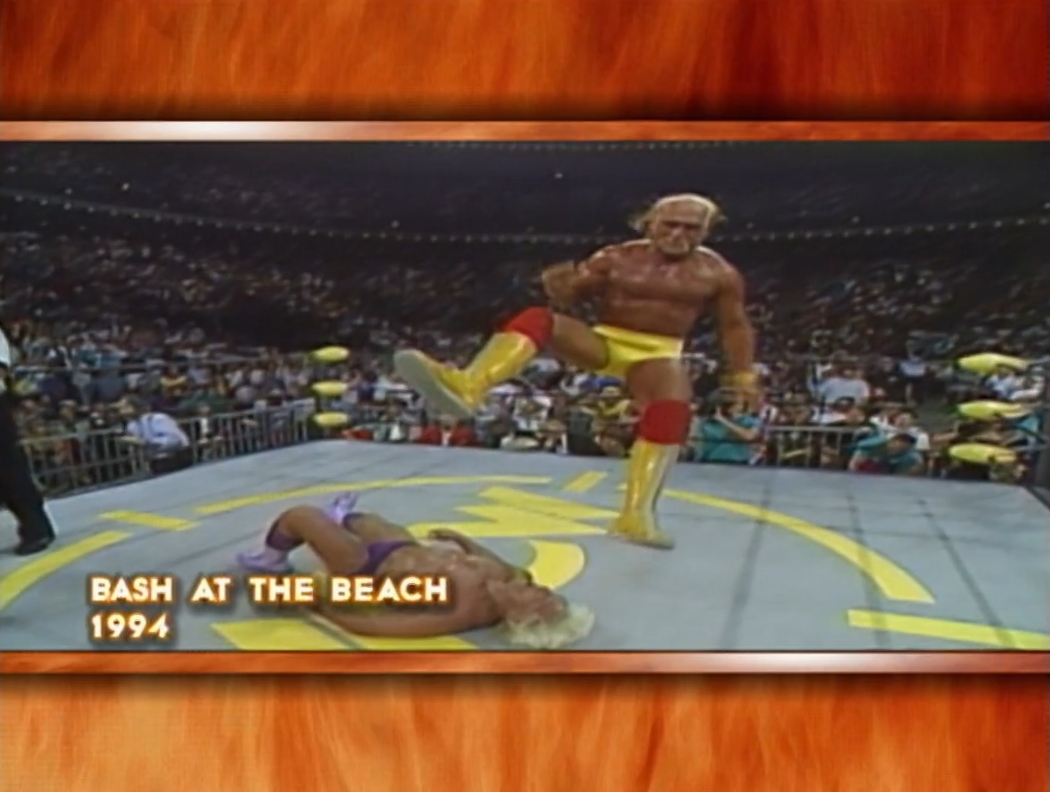 Keep in mind that WCW will never, ever show previous pay-per-view main events on television for free, at least not until they've made them as pro-Hulk Hogan as possible! Everyone's response to this, be it at the announce booth, in the arena, watching live at home, or watching on WWE Network 20 years later, is [beleaguered sigh].
So, following Halloween Havoc we've got:
a main event nobody saw, aired again for free, but only during Raw, because this is for integrity and not ratings
Nitro following up accidentally not showing Goldberg and DDP as advertised on pay-per-view by ending Nitro with, "we're out of time, sorry you didn't get to see the exciting Goldberg and DDP part"
Hulk Hogan getting his win back, inducting his terrible nephew into the nWo
Warrior trying to convince us that he actually won the match at Halloween Havoc by losing it
doctored footage from four years ago
a jobber becoming Tag Team Champion by losing a singles match
the nWo Wolfpac looking like gullible idiots at all times
the Four Horsemen looking like gullible idiots at all times
Diamond Dallas Page getting his ass kicked for winning a match
JJ Dillon getting his ass kicked for trying to book wrestling matches
Judy Bagwell: Mom On A Mission
SPEAK TO ME, CHLOE DOT GIF!
Also On This Episode
Finally, Kanyon proves that everybody nobody is betta than him with a win over top competitor Prince Iaukea. The announce team spends the entire match talking about other things, which takes their minds off another five minutes spent watching Prince Iaukea artistically shit on the concept they've all decided to devote their lives to. Hmmm what's Hulk Hogan doing, let's talk about that.
Bill Kidman defends his Crusierweright Championship against Juventud Guerrera. They play the hits, from "you can't powerbomb Kidman, you stupid fool, why do you keep trying to do it," to one of those shooting star presses where Kidman gets a full rotation on sheer will alone and comes down with his entire knee in your jaw and neck. Kidman could've stood on the top rope and dumped out an entire garbage can full of rocks onto your body and it probably wouldn't have hurt you as badly as his loosey-goosey acrobatics.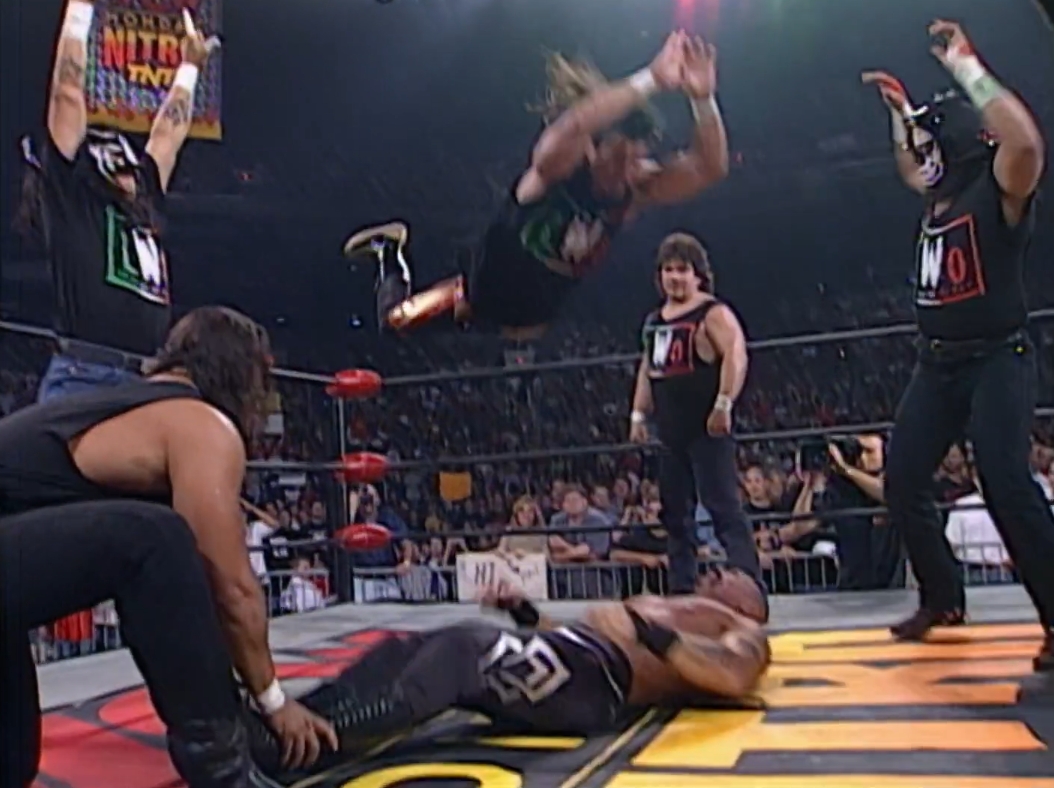 Eddie Guerrero and "new look" Perry Saturn have a match that would've been good if it hadn't ended in a couple of minutes via Latina World Order run-in. The highlight is definitely El Dandy running in and getting bitch-slapped into unconsciousness by Saturn in one of the saddest attempts at a run-in ever recorded. If Mean Gene Okerlund actually doubted El Dandy, and all signs point to that being the case, this is probably why.
Also of note here is that we get the debut of a new lWo member:
Meet Spyder, the short-lived "bodyguard" for the Latino World Order, because when your posse includes a guitar-playing skeleton and Weird Al in a bull mask, you need an average guy guarding their bodies. Spyder shows up here to hit a bad looking brainbuster on Saturn, and the announce team wonders who he is. He's actually Eddie's good friend Art Flores from Juarez, who got the job, "for old time's sake." He wrestles a handful of matches on the WCW weekend shows and pops up in a lot of the lWo group photos, but … that's pretty much it. Congratulations on surviving the tWiStEd WeB of SpYdEr~!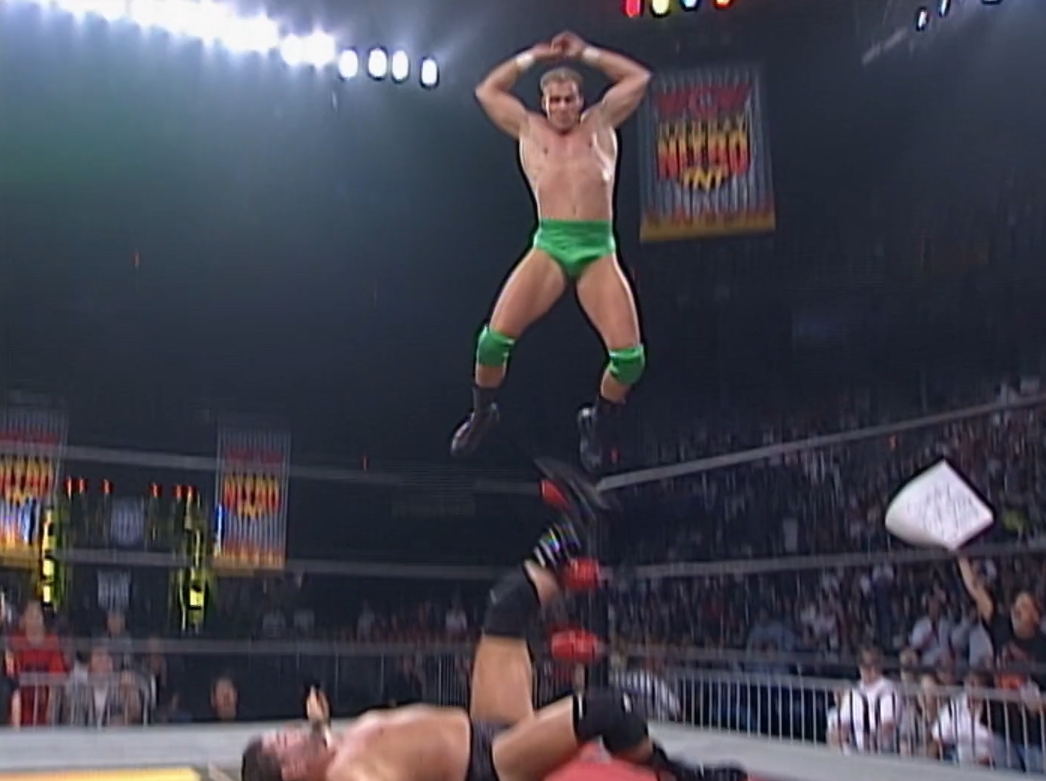 Alex Wright continues his quest to prove he's the best wrestler from Europe by taking on, uh, Israel's Barry Horowitz! Israel is in Europe, right? Barry's actually from Florida anyway, so it's fine. Not much to say about this one, other than that it's fun to sit at a crowded airport gate screenshotting Alex Wright matches. YES EVERYONE IT'S FINE, I'M JUST WATCHING THIS GERMAN PRETTY BOY PROVE HIS SUPERIORITY OVER THE HELPLESS JEWISH GUY IN AN UNDERWEAR FIGHT, YES I REALIZE THE GERMAN'S PANTIES ARE PULLED UP TOO HIGH AND MAKE HIS ENTIRE PELVIS LOOK LIKE AN OVERSTUFFED CAMEL TOE, GO ABOUT YOUR BUSINESS, THIS IS MY DAY JOB, I PROMISE.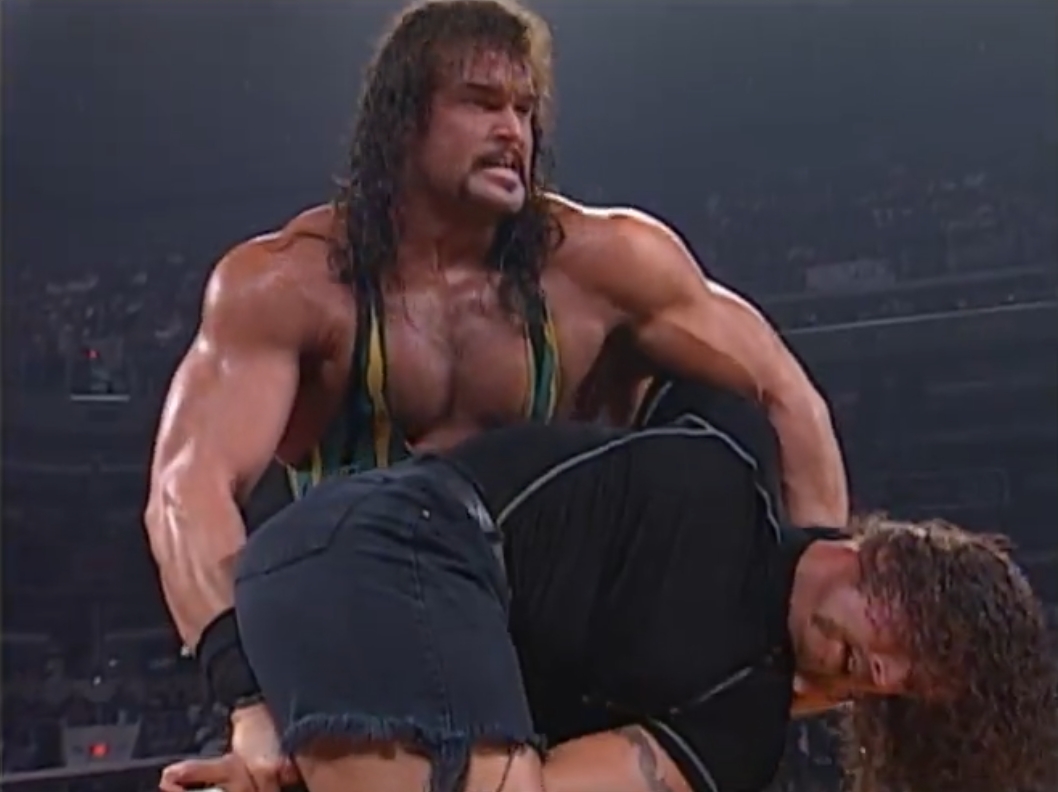 Speaking of totally normal things, here's Wrath defeating Sick Boy by making him stuck is arm up his own butt.
Next Week:
Household name RICKEY MEDLOCKE is in the house for … you know, more of this. We've officially reached the creative dead zone between Warrior and the WCW creative reboot that's mostly about watching the company choose to make Goldberg lose in the worst way possible — trust us — and then deal with the ramifications of that for an entire year. It's gonna be so much fun. See you then!