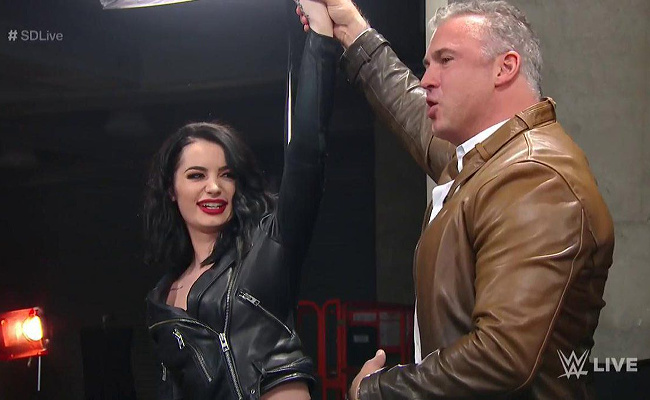 Last night in the opening segment of Smackdown Live, Paige was relieved of her duties as General Manager, although Shane McMahon promised "She's not going anywhere, just the role has changed." It's irritating that the McMahons are responding to Raw's problems by fixing Smackdown, which wasn't broken, but I'm not here to dwell on that too much today. I loved Paige as Smackdown GM, and now that she's been pushed out of that role, I'm anxious to see what the next stage of her career will be. Please bear with me as I contemplate some possibilities for Paige's next step.
Promoting Fighting With My Family
This is almost certainly her immediate future. The Rock and Stephen Merchant's movie about her life comes out in February, and although she's not acting in it (much to Zelina Vega's amusement), it's still likely she'll be a part of the press tour. In a month or so we'll probably see Paige, Florence Pugh, and the Rock peeling stickers off of printed out Google searches on Wired's YouTube page. Honestly, if giving Paige time off to promote Fighting With My Family is the actual backstage reason for the loss of her GM position, that makes me feel better about the whole thing, but it still leaves the question of what she'll do when she comes back.
Pre-Show Panels
Cageside Seats reported on "speculation" that Paige will become an analyst on PPV Kickoff Panels, "something like the role Booker T is in now." That would be a fine thing for Paige to do, and I'd be happy to see her doing it, but it's not enough for someone like Paige. That's a job for old men and guys you've never heard of who have radio shows, not charismatic 26-year-old performers who fans love. On the other hand, it's also possible a spot on those panels could be a stepping stone to something bigger.
Commentary
The previous host of WWE's PPV Kickoff Panels, Renee Young, is now a color commentator on Monday Night Raw. I could imagine Paige taking up that role on Smackdown. She's good on a mic — it's true her delivery can be a little loose and occasionally marble-mouthed, but she's quick on her feet and fun to listen to, plus she can play a face or a heel, depending on who you want her to put over. It would be great to see both main-roster shows move to a mixed-gender announce desk, and if she takes to commentary it could give Paige a role in WWE that could keep her around for a long time.
Backstage Interviews
Because of Paige's aforementioned mic skills, I wanted to present this as a possibility, although I don't think it's likely. Paige's character (and from all evidence, her real-life personality) is probably too dominant and contrarian to be a backstage interviewer. All the greatest wrestling interviewers, from Mean Gene to Renee Young, would let wrestlers go off in any weird direction with only the lightest objections. It's hard to imagine Paige letting a rant run its course without throwing in a "Babygirl, no."
Managing Wrestlers?
On the other hand, Paige's strong personality could make her a fantastic manager, and there are some women on the Smackdown roster who could benefit from having one. To start with, the new Smackdown Women's Champion, Asuka, could use a Paul Heyman-esque advocate to sell how dangerous she is more eloquently than she's able to do in English herself. Paige could be perfect in that role. We all love it when Asuka yells in untranslated Japanese, but I feel like it could be even better if Asuka let out a torrent of angry Japanese, and then Paige smirked at her opponent and added, "She says she's going to destroy you."
There have also been hints that Paige's former flunkies Sonya Deville and Mandy Rose might split up, with a possible face turn in store for Sonya. Paige could make a great manager for her as well. The hard-hitting athlete character that Sonya plays is perfect for having a manager, and while Sonya's not terrible at talking, she's not great at it either, and certainly not as good as Paige.

The soon-to-arrive Nikki Cross would also be a great fit. To start with, they're both pale punky girls from the UK, so they'd work well together visually. It could also be fun to really sell Nikki's chaotic nature by doing something similar to what Kongo Kong and Jimmy Jacobs do in Impact, where Nikki would be almost like the monster that Paige keeps on a leash. As a natural-born goth, Paige has a facility for being ominous, which would be the perfect tone for introducing Nikki Cross as a truly dangerous wild card.
As you probably already picked up from the previous three paragraphs, a managerial role would be my top choice for Paige, if it were up to me. It would give her a chance to have TV time, be a part of storylines, and use her popularity to get other women over. And yes, of course she could also manage a male wrestler, I just find that possibility somewhat less interesting. Plus WWE would probably make them kiss sooner or later.
Whatever comes next for Paige, I have faith in her ability to excel at it. When WWE put their faith in her to manage Smackdown after her retirement from the ring, she went on to do some of the best on-screen work of her career. I just hope she doesn't disappear from our TVs for too long, because Smackdown is better when she's on it, which honestly is not something I'd say about any of the McMahons.