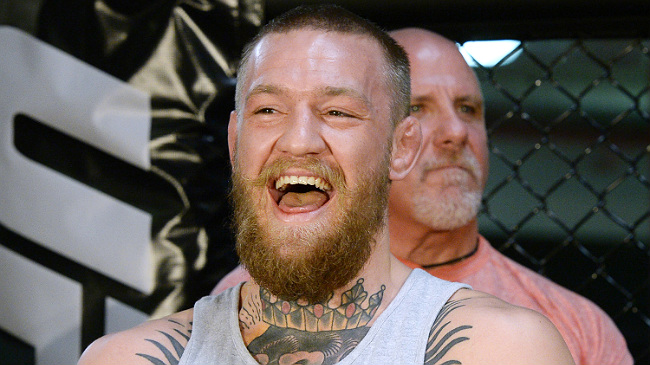 Is Conor McGregor going to show up at WrestleMania 33? It seems like a crazy possibility, what with Conor'sregular attacks towards the current crop of WWE superstars. But with the big pop the show got fromhaving Ronda Rousey in the house back at WrestleMania 31 and McGregor being the biggest thing in combat sports right now, crazier things have happened. Andthere have been rumors that WWE has been in talks with the UFC and McGregor.
During a special "An Experience With Conor McGregor" event in Manchester, veteran MMA reporter Ariel Helwani asked Conor point blank whether there was a chance he'd show up at pro wrestling's biggest show of the year.
"Never say never!" McGregor said with a laugh. "I know there's been conversation, I know Triple H was at the show. I'd love to go into the WWE and have a real knock. Let one of them have a real knock and see what's what. But we'll see. The conversation's ongoing. I've turned down some things. [With this], the conversation is ongoing."
Conor tried to explain his decision making process when it came to non-fight projects, saying it depended on how long a commitment would take and how much money it was worth. Recent promotional videos of McGregor riding a horse naked for the Pegasus World Cup Invitational raised some eyebrows, but McGregor said it was "three days for a hell of a lot of money."
"The horse racing thing was one thing because it was three days. In and out. This [Experience With Conor McGregor event] is one thing, it's in and out. Enjoy the fans, I get energy from this."
But McGregor has other things on his mind right now, like the birth of his first child in May. There's alsoa superfight with Floyd Mayweather he's trying to force into existence, something he says will be the first billion dollar fight in history. Given that, he's being very picky about what he will and won't do.
"Look I don't need nothing right now, I'm chilling," he concluded. "I'm trying to make something [the Mayweather fight] that I want to make happen … happen. I'm trying to make something that I feel will be historic. Like long after I'm gone it'll be told to kids, like some historical s**t."
That might sound negative, but all I'm hearing is that if the price is right and it only takes a day or two, Conor McGregor is more than happy to show up.