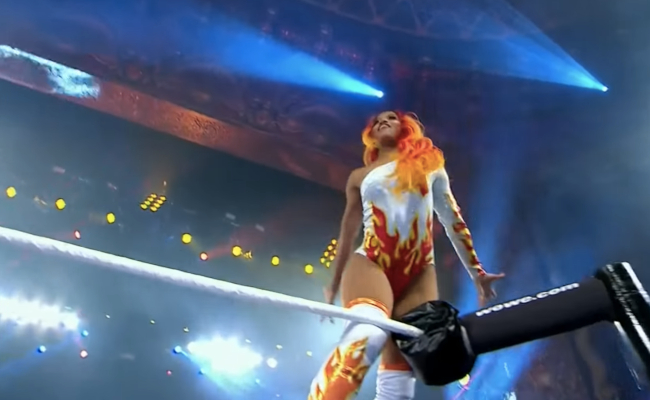 Friday night was the nationwide premiere of WOW: Women of Wrestling on AXS TV. WOW's been around as a promotion for a long time, and this is the premiere of their 5th season. However, previous seasons have only been available online, so this is their big step into the mainstream with a national cable TV deal. WOW is the brainchild of David McClane, who previously founded GLOW: Gorgeous Ladies of Wrestling, the original 1980s wrestling show that the Netflix comedy GLOW is based on. Despite the passage of 30+ years and the inclusion of more established wrestling talents, WOW still contains some of the spirit of GLOW.
I'm excited to recap this first episode of WOW (the first episode I've watched, anyway). This may become a weekly feature, particular if you read it, share it, and let us know you want to read more about what goes on in Women Of Wrestling.
Tessa Blanchard Makes Her Presence Known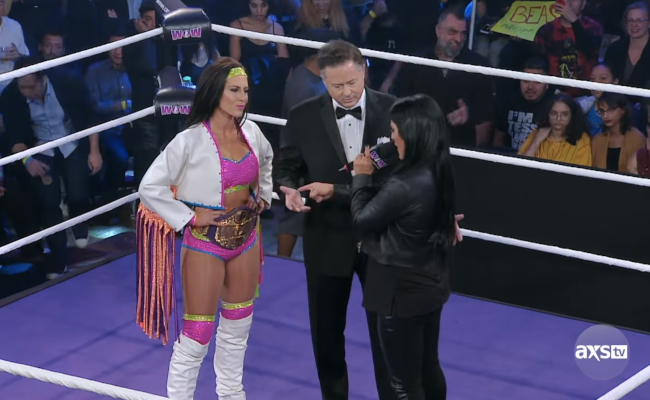 The move to AXS means some prominent new arrivals to WOW, so Tessa Blanchard showed up in street clothes at the top of the show to tell WOW Champion Santana Garrett that somebody more important that her is here to take that belt from her. David McClane, in his role as host, pointed that Tessa's title shot will have to be earned, but we all know that's only a matter of time. Even though each wrestling show takes place in its own continuity, it still seemed to make perfect sense to see Tessa arrive here so soon after losing the Knockouts Championship at Impact Homecoming. Tessa always needs to have at least one championship, and since she has to deal with Gail Kim before she can get that one back, she'll settle for this one for now.
Santana's dad was in the audience, looking in rather poor health. He had a career as a wrestler known as TNT Kenny G, and it seems that carrying on his legacy is a part of Santana's branding in WOW. This was naturally a perfect opening for Tessa Blanchard to point out that not only was her dad a wrestler that people have actually heard of, but her stepdad is a legend as well, and then there's her grandfather. Tessa's goal here was to give Santana the impression that her days as Champion were numbered the moment Tessa entered the company. Honestly, after watching Tessa dominate the Knockouts Division, I have to concede that Tessa's probably right. She's coming for that belt, and quickly.
The Beast Defeated Steph Slays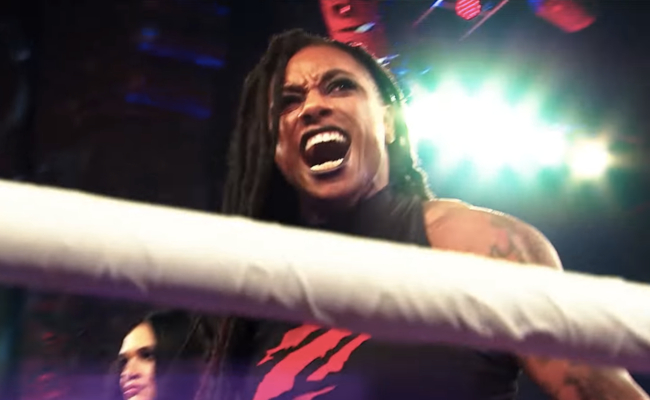 From the intro with two women I knew, we go directly to the first match, featuring two homegrown WOW talents. Stephy Slays is an avatar of post-Millennial youth, with a social media obsession and a finishing move with the delightful name "Delete Your Account." The Beast is a muscular powerhouse with the attitude that her name implies. You should read Emily Pratt's interview with her that also went live today; she really is something special.
I don't mean to sound backhanded here, but I have to admit one of the first things I thought watching this was "This is a real wrestling match!" Having never watched WOW, and knowing what GLOW was like, I was entirely sure what the WOW originals would be like, but it turns out they're extremely legit. Even in a match like this, which was all about the power imbalance — Stephy was tricked into accepting the Beast's challenge — they both put their all into the fight, which only made the Beast's dominance all the more impressive.
Of the people I didn't know already, the Beast is an immediate favorite. I can't wait to see her in the ring with somebody like Tessa Blanchard. I also look forward to seeing Stephy Slays in a match-up where she stands a chance, because she seems pretty cool too.
Abilene Maverick Defeated Fire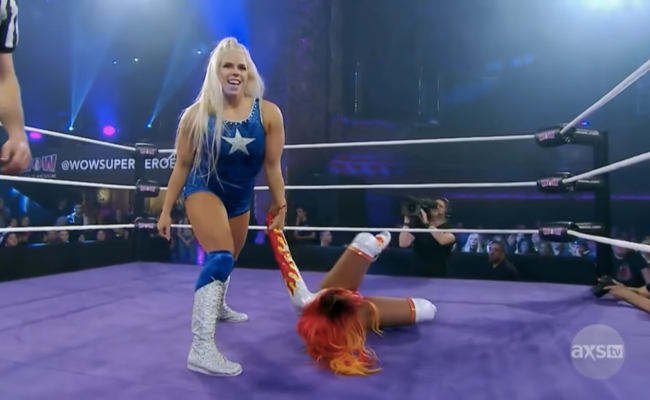 Fire is Kiera Hogan, also newly arrived from Impact and elsewhere. Actually, going by a video segment that preceded this match, Fire may be a separate person from Kiera who gained a life of her own when her counterpart attempted to burn all the memories of her past, or something like that. Regardless, Fire is Kiera Hogan with her superheroic aspect, already a clear part of her gimmick, turned all the way up.
Abilene Maverick, a veteran of WOW, also performed on the indies as Barbi Hayden. I knew and like Hayden, but the Abilene Maverick character was new to me, and I'm kind of all about her. Abilene is a bleach-blonde Texas horse girl with the nickname "the Governor's Daughter." She wrestles in gear that's suggestive of both Captain America and the Dallas Cowboys, and comes to the ring in a lacy robe. She's essentially a spoiled rich kid character of the kind we see plenty of in wrestling, but in a specific and believable Southern context that I found charming despite the character's obvious unlikability.
The match was great too, with Fire trying her hardest to get the best of Maverick and just not quite managing it. As much as I like Fire, she's an obvious underdog, and I think it bodes well for future storytelling that the Governor's Daughter put her away here. They had great in-ring chemistry, and I'm sure this isn't the last time we'll see them together.
Eye Candy Defeated Khloe Hurtz
Eye Candy is Willow Nightingale, an indie wrestler I'd heard good things about but never seen. Khloe Hurtz apparently wrestles under the name Katie Forbes, but I don't know her. In any case, they had a really great match, possibly the best on the episode. Eye Candy lived up to her hype, an embodiment of grace and in-ring charisma that would have made it obvious she was the hero even if she weren't facing a villain as cartoonish as Khloe Hurtz, a glamorous Kardashian-esque "influencer" who is accompanied to the ring by an entourage of muscular men who she calls (no kidding) her Ring Rats.
Eye Candy is another newcomer to WOW, and I hope to see more of her as a character in the weeks to come, and see what she's like in promos and ongoing storylines. If she's half as likable outside the ring as she is inside it, she ought to be a big star. Khloe Hurtz is a lot less likable, which is clearly on purpose, but I look forward to seeing more of her too. Basically if the goal of this episode was to get me excited about the WOW roster, it definitely succeeded.
Santana Garrett Versus Jungle Girl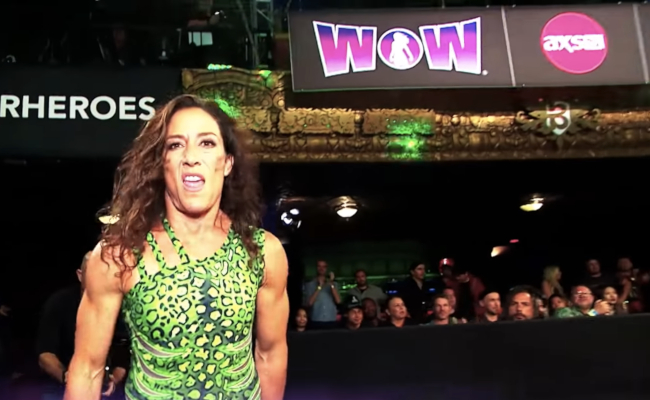 Perhaps the most "GLOW" thing about WOW is that there's a women in the title picture whose name is Jungle Grrrl. Even more interesting is that Jungle Grrrl isn't as silly as the name sounds. I mean yes, she wears great leopard print spandex and has a backstory about being born on the edge of the rainforest, but she's also a grown adult woman who speaks in full sentences, and there's a video package about her bond with her young son. She was the previous WOW Champion, and this was her rematch against Santana Garrett, who won the belt without actually pinning Jungle Grrrl.
Of course, while we got just enough of Santana versus Jungle Grrrl to make that prospect seem promising, the match became a total shmoz when Tessa Blanchard showed up and started attacking Santana's ailing father in the audience. That led to a DQ finish and a huge brawl between Tessa and Santana at ringside. Even if the ads for this season of WOW didn't feature shots of a Triple Threat between Blanchard, Garrett, and Jungle Grrrl, I think we could all guess where this is headed.
That's all there was of this first AXS TV episode of WOW: Women Of Wrestling. I'll definitely be watching the season going forward, and if you'd like me to keep writing about it, let us know here and on social media.