This Sunday is the Royal Rumble PPV, featuring the second ever Women's Royal Rumble match. The first women's Rumble last year was really good, although it featured a large number of returning legends to fill out the 30 spots. With 23 women already announced, this year's match seems like it will be less of a legend-fest and more of a storytelling opportunity for the current women of WWE. First of all, here are the women who are already officially in the Rumble, in roughly the order they joined or were announced:
Carmella
Ember Moon
Natalya
Bayley
Ruby Riott
Liv Morgan
Sarah Logan
Mandy Rose
Sonya Deville
Alicia Fox
Zelina Vega
Naomi
Mickie James
Billie Kay
Peyton Royce
Charlotte Flair
Tamina
Dana Brooke
Lana
Nia Jax
Nikki Cross
Alexa Bliss
Lacey Evans
That leaves seven spots for surprise entries. I've picked 12 women who seem likely to fill those spots, and I'd bet money that we'll see at least five or six of them on Sunday, even if there are also some surprises that I haven't forseen (and don't get me wrong, I hope there are). I've put them vaguely in order from least likely to most likely, but some of the positioning along the way is pretty arbitrary.
The Bella Twins
At least one Bella Twin seems inevitable, right? They're always around when WWE is talking about the importance of women's wrestling, and they were both in the final four of last year's Rumble, with Nikki making it to the final two before being eliminated by Asuka. Plus with the Women's Tag Team Championships being awarded at Elimination Chamber, now seems like just the time for Nikki and Brie to show up and get involved again. However, Ringside News is reporting that Dave Meltzer says not to expect the Bella in the Rumble. Meltzer says there's no plan for them to be included, and that they haven't been discussed backstage at WWE for months. That news moved Nikki and Brie to the bottom of this list, but it didn't knock them off entirely, because Meltzer is wrong more often when talking about the women's division, and this seems like one of those times WWE might just be working him to create a surprise when Nikki Bella comes in at 28.
Mia Yim
Mia Yim hasn't been in NXT that long, and doesn't have any particular reason to show up in the Rumble. I put her on the list anyway because as NXT Superstars go, she's pretty main roster-ready, and she'd make a great hard-hitting promise of things to come in the WWE women's division. She doesn't need a big spot, just let her come in somewhere in the middle, eliminate Lacey Evans or somebody, and then get tossed by a Horsewoman.
Victoria
I'm not expecting nearly as many returning legends in this year's women's Rumble as last years, so I didn't fill this list with those kinds of predictions. However, Victoria can still work recently announced that she's retiring from wrestling at the end of 2019. That means this is possibly WWE's last opportunity to include her, and I really hope they do. Despite being at the end of her career, she can still go in the ring, and WWE fans certainly remember her. So if they do have some legend spots this year, she really ought to be one of them.
Rhea Ripley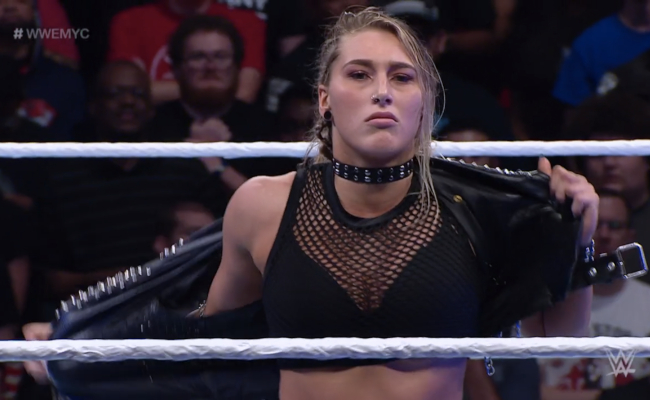 As a former NXT UK Women's Champion and semi-finalist in the Mae Young Classic, Rhea Ripley's made enough of a name for herself to justify entering the Royal Rumble. She's also a bit of a monster. That's always a plus in Royal Rumble matches, and there still aren't all that many female monsters in WWE. Have her come in late in the match, toss out some smaller girls, give commentary some time to talk about how powerful she is, and then let somebody who might win the match (Charlotte, or Becky if she's there) eliminate her
Kairi Sane
Kairi Sane is the only NXT Superstar who was in last year's Rumble and hasn't been called up since then. Her mix of quirky character choices and virtuosic physicality makes her perfect for Royal Rumble matches, and I can't imagine not wanting her to walk the plank and drop the elbow in every women's Rumble for as long as she's with the company.
Trish and/or Lita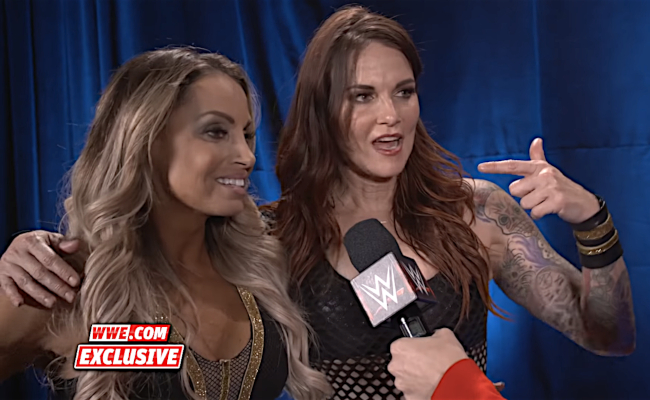 Trish and Lita are another pair I think we're all expecting to get involved in the Women's Tag Title scene. I don't think they need to hold the belts, but they ought to at least have a match for them at some point. If that's what we're leading up to, at least one of them should be in the Rumble to have a moment with Sasha and Bayley or the Riott Squad or whoever that eventual tag match is going to involve. Plus it's Trish and Lita! WWE still likes them, and fans still love them, so why not?
Io Shirai
Io Shirai has the best looking moonsault in the world, and the Royal Rumble would give her a chance to land on two or even three people. She already technically made a Main Roster appearance when she and Toni Storm competed in the Mae Young Classic at Evolution, so she's surely won over some WWE viewers whether they watched the entire MYC or not. But mostly, I just want to see that moonsault as often as possible. Maybe Io, Lita, and Charlotte can all do simultaneous moonsaults, and then Lita and Charlotte both eliminate themselves out of shame.
Toni Storm
Toni Storm is the reigning NXT UK Women's Champion, and she won the 2018 Mae Young Classic. If anybody outside Raw and Smackdown deserves a Rumble spot on the basis of their accomplishments in the company, it's her, hands down. She's also a really exciting, charismatic performer, and let's be honest she has that WWE look (I mean she's a very attractive blonde, if that code's hard to crack). Putting her in the Rumble just makes sense on a lot of levels, and I hope they let her hang around for a while.
Shayna Baszler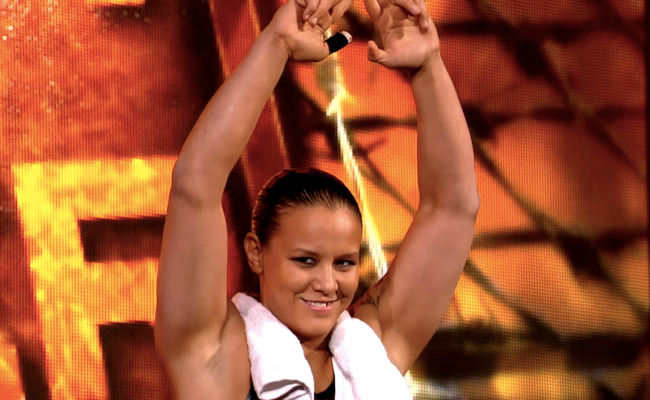 I think there's a good chance Shayna Baszler might lose her NXT Women's Championship to Bianca Belair at TakeOver Phoenix the night before the Rumble. If that happens, she's probably on her way to the Main Roster sooner rather than later. Whether she'll come up immediately or not, including her in the Rumble is the perfect preview for anybody who doesn't already know her. Submission wrestling is often a weird fit for the Royal Rumble, but honestly if she can just render somebody unconscious and then toss their limp body over the top rope, that would look pretty badass. And to be clear, I'm assuming there would be somebody at ringside to catch whoever gets thrown and bring their feet gently to the floor, because this is pro wrestling, not murder.
Becky Lynch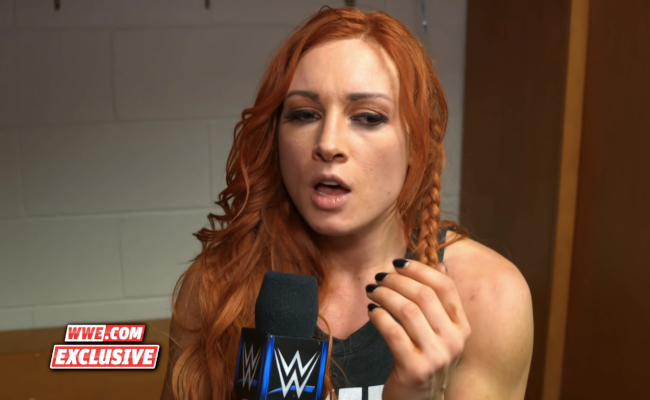 You know it, I know it, and WWE knows it whether they're acting on it or not (but at this point I'm assuming they are): We need Becky Lynch to show up in this match. Whether it's her direct path to facing Ronda Rousey for the Raw Women's Championship at WrestleMania (possibly in a Loser Leaves Town Match) or whether things are due to get more complicated along the way, everybody with an opinion worth listening to wants The Man to show up and kick some ass in the Rumble, and most of us expect that she will. It's so expected that it feels like cheating to have her top this list of "Surprise Entries," but she's not announced for the Rumble and has another match on the card, so she belongs on this list. Of course, there's always a chance she won't be in the match at all, and people will take that out on every woman who is. I hope that doesn't happen, and the easiest way to prevent it is for WWE to give us what we want for once, and add The Man to the mix.