WOW: Women of Wrestling is an all-female wrestling show that airs on Saturdays at 8pm on AXS TV. WOW is the brainchild of David McClane, who previously founded GLOW: Gorgeous Ladies of Wrestling, the original 1980s wrestling show that the Netflix comedy is based on. Despite the passage of 30+ years and the inclusion of more established wrestling talents, WOW still contains much of the spirit of GLOW, for both good and bad.
Previously on the Best and Worst of WOW, a Triple Threat to decide the Number One Contender to Tessa Blanchard's WOW Championship ended in a No Contest, and Tessa promised to pick her own contender for this week's title match. Also the new WOW Tag Team Championship was (re)introduced, with a vaguely-defined tournament to pick the champs.
And now, the Best and Worst of WOW: Women of Wrestling for September 14, 2019:
Best: Lucha Underground-Ass Telenovela Segments
This is really all I want out of a wrestling show. The champion in a big fancy house, all alone and contemplating her title belt, when a heel manager strolls in with a briefcase full of money in return for giving her client a title shot. Tessa Blanchard and Sophia Lopez have an exchange in unsubtitled Spanish, which just adds to the atmosphere. Dario Cueto could have strolled into the shot at any moment, and he would have seemed right at home.
Best: Real Housewives Of Women Of Wrestling
Meanwhile, in the WOW ring, some blonde women are having drama. Lana Star, who's been managing her protégé the Beverly Hills Babe (aka Amber O'Neal), announces that she's getting back in the ring, in pursuit of the WOW Tag Team Championship. Of course that means she'll need a partner, which Amber rightfully assumes will be her, but Lana instead announces that she's chosen Faith the Lioness, an even more blonde and much younger wrestler with a pop star gimmick. The obvious subtext is that Lana and Amber are both in their 40s, but Lana's decided Amber's over the hill and is aligning herself with a younger star instead. The subtext approaches text when Amber names botox as one of the aspects of the Hollywood lifestyle that Lana has introduced her to.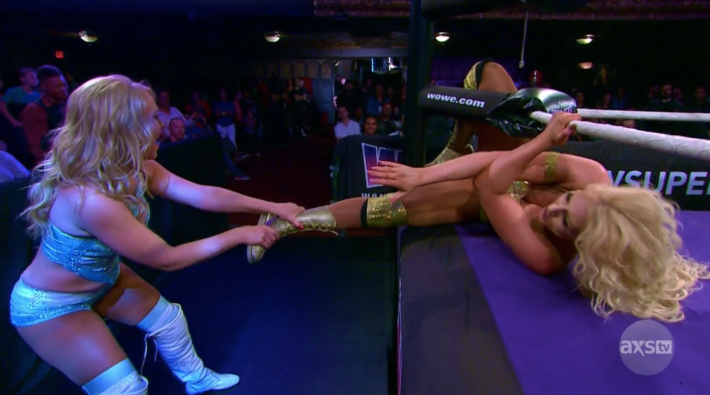 Naturally the Beverly Hills Babe ends up in a match with the Lioness for who gets to remain Lana Star's bff with (financial) benefits, which is about as All About Eve as pro wrestling gets. Amber is vicious in her attempt to maintain her glamorous lifestyle, working Faith's knee and even banging it against the ring post from the outside. Faith may be the lion, but Amber is willing to scratch and claw to keep herself from falling back down the mountain. Still, youth wins out, as it almost always does. In a backstage segment later in the show, Jessie Jones reminds Amber O'Neal that before she was made over by Lana she used to be way cooler as the Bullet Babe. Jones promises she has something that will make Amber feel better (I assume it's bourbon) and they leave together. It sounds like these two may form some sort of bullet-based club to compete for those tag titles.
Best: Daughter Of Privilege
Spoiled horse girl Abilene Maverick, the Governor's Daughter, is excited to be back in the ring, but she has no idea what she's in for, going up against a brand new member of the WOW roster, Adrenaline. Despite her enigmatic name, Adrenaline will be familiar to anyone who remembers Diamante from LAX on Impact, or who follows Kiera "Fire" Hogan's Instagram. We don't know much about her WOW charactar yet, except that she's just as energetic as her name implies, and has no trouble taking it to Abilene despite being the smaller opponent. Once Adrenaline has hit her with a hurricanrana and a dropkick, plus catching her in a wicked waistlock and planting her face down on the mat, Abilene decides that if Charlotte Flair is wrestling face these days, somebody needs to pick up the Nature Boy's legacy (who is that Governor, anyway?):
For a moment it seems like Maverick might have gotten the upper hand with her Flair gambit, but Adrenaline escapes from a rear naked choke hold and the two go back and forth with nearfalls until Adrenaline manages to hit a Code Red and take Abilene down for the count. This wasn't the best match of tonight's episode, but it could have been the best match of plenty of other WOW episodes (or the best women's match of just about any WWE show). These two were great together, and are easily two of my favorite members of the WOW roster right now. I can't wait to see more of them.
Worst: Anti-Bullying Is Ineffective Against The Supernatural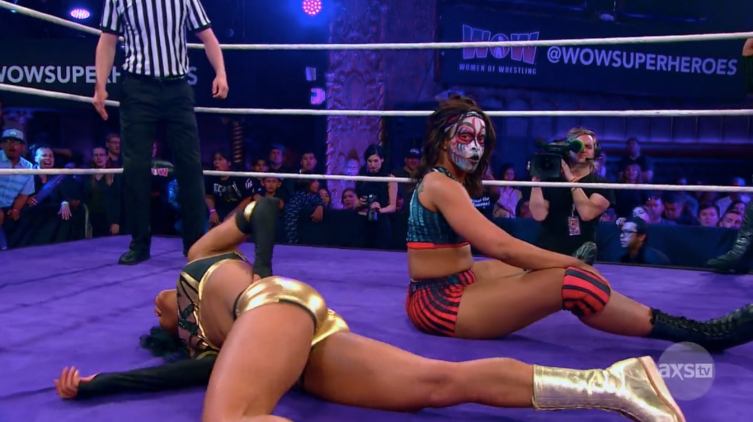 Here's the thing: Steffy Slays and Keta Rush are a semi-superheroic tag team called the Bully Busters. That's a silly name, but their gimmick is that they take down bullies, and that's an easy concept to respect. The kids love them. They could have done well in the WOW Tag Team Championship Tournament if only they'd gone up against a team of bullies. Fighting bullies is what they do! Nobody's stealing anybody's lunch money on their watch! But instead they faced Siren the Voodoo Doll and her zombie pal HoliDead, and they never stood a chance. You can't use your anti-bullying skills on Halloween Monsters from beyond the grave! This is the risk of specialization.
Things got pretty chaotic in this match, and it seems like the legality of the finish might be in question, which might be a way to get Steffy and Keta back into the tournament, possibly against opponents they're better suited for. For now, this is the second week in a row that the tag tournament match has been won by scary women in facepaint, which bodes will for future rounds if you ask me.
Best: Two Snakes In A Ring
We don't know how much cash (or what besides cash) was in that briefcase that Sophia Lopez gave Tessa Blanchard, but was it enough to have to fight a genuine snake monster, the terrifying Yuan-Ti of wrestling, the artist formerly known as Kobra Moon (and also known as Thunder Rosa), Serpentine? Tessa clearly thought so at the time, but she changed her mind over the course of this match.
See, if there's a problem with Tessa Blanchard being the Champion of WOW, it's that she's such a bigger star than anybody else on the roster that it's hard to imagine who could take the belt off of her. She seems likely to hold it for a long time yet. But nobody told Serpentine that. She's not here to make Tessa look good and then go down, she's here to win by any means necessary. It's almost enough to make Tessa the babyface in this match. Almost. The live crowd seems pretty split, which commentary addresses a couple of times.
Storytelling-wise, the problem seems to be that Tessa Blanchard is used to fighting human opponents. Sure, the Beast is called that, but she's a person. Havok is probably even a person. And never mind Rosemary and Su Yung, that was in a different continuity. Serpentine is not a person, at least not entirely. She's a snake, and she moves like a snake, despite also being surprisingly good at using her arms and legs. She also does stuff like lock Tessa in a weird hanging submission hold and then rock her head into the bottom turnbuckle:
Despite what I said above, not to mention the fact that there are three Number One Contenders to this title, none of whom are Serpentine, this match is so intense that you really wonder at times if next week's episode is going to feature WOW World Champion Serpentine. Tessa clearly has that image in her mind as well, which is what leads her to make a face like this:
Still, Tessa Blanchard is one of the best wrestlers in the world, and she only needs a moment. As close as Serpentine gets, she misses a double stomp off the top rope, and that misstep is all Tessa needs to hit a Superkick and her Diamond DDT to pin the snake and retain the title. She's still the Champion, and she'll probably think twice before she takes a bribe to give some rando a title shot again.
That's all for this installment, just me next week for another Best and Worst of WOW, when the quest for the Tag Team Titles continues, and Tessa Blanchard might face some consequences for her shady dealings.